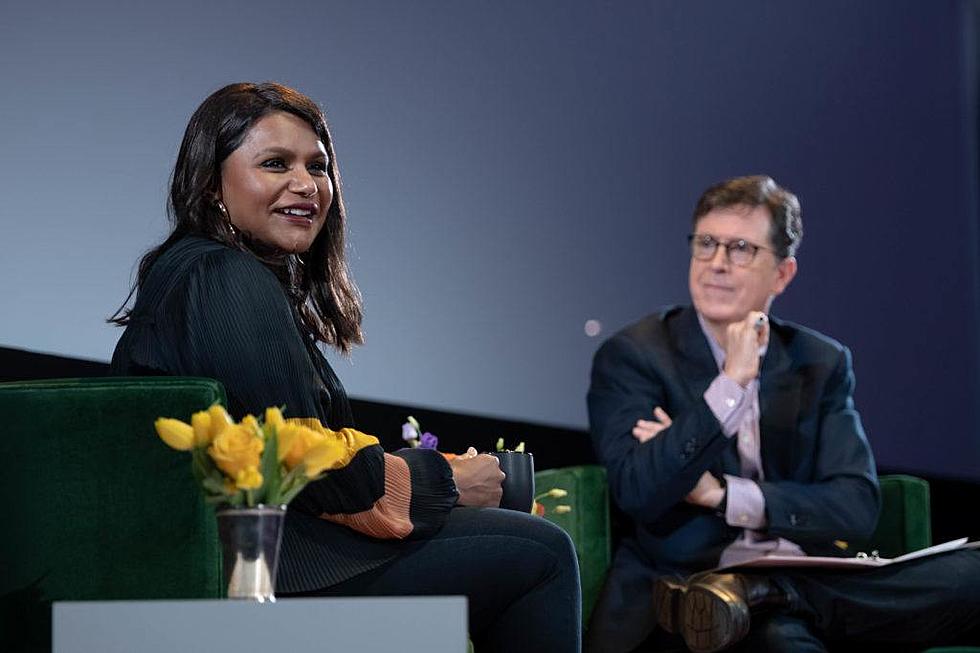 2019 MFF: Mindy Kaling on Smash Mouth, comedy and life
Mindy Kaling talks to, and cracks up, Stephen Colbert. COURTESY NEIL GRABOWSKY/MONTCLAIR FILM
By GRACE L. WILLIAMS
For Montclair Local
It isn't often that one is asked on the spot to sing the lyrics of a song from college days to theater that's jammed with fans, but the Montclair Film Festival is anything but common.
Straight away after introducing writer and comedian Mindy Kaling to the crowd, Stephen Colbert, comedian and host of "The Late Show With Stephen Colbert," noted that she was in college in 1999 when "All Star" by Smash Mouth was a Billboard top hit and asked her to take a stab at the lyrics.
Laughing, Kaling humored him, reciting about two lines from the chorus and then shrugging while the audience cheered. "I question if you ever went to college at all," a deadpan Colbert replied.
Kaling, 39, joined Colbert onstage at the Wellmont Theater on Saturday, May 4, as part of the Montclair Film Storyteller series lineup. She talked candidly about life and her upcoming movie "Late Night," which screened later on in the same venue.
Kaling, who described herself as a "quiet overweight kid till age 14," first began writing while she was killing time at her mother's office after school. The office, where her mother worked as a doctor, allowed her the options to nap, read, or type on the nearby typewriter that was used to type up reports. Kaling often chose to sit at the typewriter, where she ended up writing two-act plays. "My mom would come in after giving somebody a pap smear and I'd ask her to take a look," said Kaling.
_______________________________________________________________________
READ: 2019 MFF; NATIONAL REPUTATION, LOCAL GOALS
READ: 2019 MFF; DON'T-MISS PICKS FOR YOUR FESTIVAL LIST
______________________________________________________________________
Her entry into comedy began as a child, when her family would take long car rides and listen to throwback comedians like the improv duo Nichols and May, as well as NPR's beloved staples Click and Clack of "Car Talk." Kaling would watch shows like "Late Night with Conan O'Brien" and study them. "I would look at what they said and what happened and get a sense of what the format of a comedy sketch is," she said.
Kaling's film "Late Night," which will be released in the U.S. on June 7, tells the story of aging late night talk show host Katherine Newberry, played by British actress Emma Thompson. Newberry finds herself grasping for relevance in a changing world that she refuses to embrace, and ends up hiring Kaling's character, Molly Patel, as her only female and minority staffer. The character Molly is a semi-autobiographical one for Kaling, who said she was a "diversity hire" when she interned for Conan O'Brien, an experience that she described as "totally magical."
To Kaling, Thompson seemed like a natural fit for the lead, where women of a certain age are often cast as mothers, grandmothers, or, "Harry Potter characters."
"I cast her as the lead because I wanted to see it. She's fun and sexy and [middle-aged]," said Kaling. "There are not that many roles like that, but she could pull that off."
Kaling said knowing that Colbert was screening the film, which gives viewers a hilarious look at the writers' room of a comedy show, made her "nervous."  
WRITING AND LIFE
The pair discussed their individual processes when it is time to sit and write. Kaling, who wrote for eight years on NBC's "The Office" and then went on to do Fox's "The Mindy Project," admitted that she's a "writer who hates writing." Rather than waiting for the muse to come and sit on her shoulder, she prefers to talk into a recorder (usually her phone) and then have the conversation transcribed. "It tricks my brain into thinking I'm editing when I'm actually writing," she said.
Colbert, who has written extensively throughout his career, admitted to feeling nauseous when it is time for him to sit down and write. His cure: "I turn on music beforehand and it helps," he said.
The current social tone was also part of the conversation, including their shared love of comedian Bill Cosby, and grappling with that  after the news came out about his sex crimes.
"I watched 'The Cosby Show' from age 6 to 11 and I loved the show," said Kaling. "I don't know what to do. Am I supposed to exorcise that?"
Agreeing with Kaling, Colbert referred to a tragedy in his childhood that claimed the life of his father and siblings, and how listening to Cosby's standup helped him through it. "Cosby saved my life and mind," he said. "And now, I can't listen to that. I can't listen to any of it."