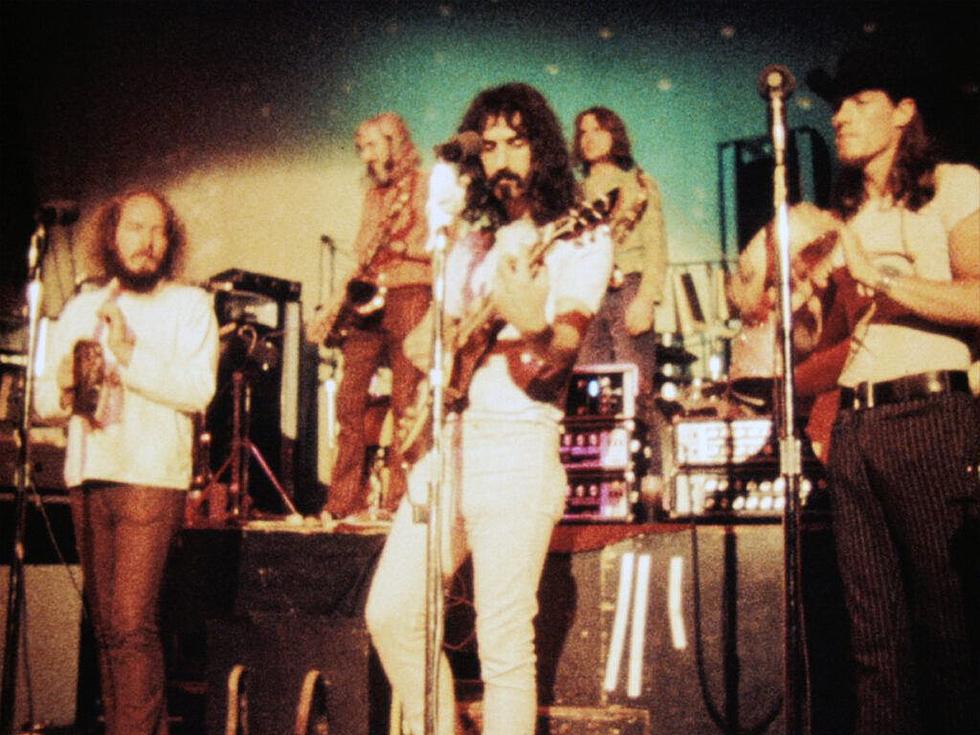 2020 MFF: 'Zappa' and voters and Montclair
Zappa performs with the Mothers of Invention, in "Zappa." COURTESY MAGNOLIA PICTURES
Montclair Film Festival 2020
Montclairfilm.org
Democracy in Action shorts:
montclairfilm.org/education/democracy-in-action/
By GWEN OREL
orel@montclairlocal.news
So, some of the fun things about the film festival are not possible this year, due to COVID-19. There wasn't a red-carpet opening night at the Wellmont, with a dance after. Stephen Colbert is hosting conversations, but this year he will not be taking questions from a live audience, because the conversations are prerecorded. Instead, MFF attendees can catch up to the conversations while the festival is running — virtually.
The Montclair Film Festival 2020 began on Oct. 16 and continues through this Sunday, Oct. 25. It has a few Carpool Theater centerpieces, but the bulk of its offerings this year are virtual: You buy a film pass and log on and watch the films and Q&As at home.
But there are still some terrific offerings, paced to catch your attention: Not everything drops at once.
Since March, all film festivals have been virtual, after all.
Some of the things that catch our attention: the Storyteller Series, a category that includes everything that is not a film but is a conversation. This series includes Montclair's Stephen Colbert in conversation with actress Sienna Miller, and with Aaron Sorkin, among others. 
Panels include "New Jersey Filmmaking in a Post-COVID Environment," "Hungry to Learn: Food Insecurity in New Jersey" and "Creating Equity and Opportunity in Documentary Film."
Some eye-catching features are "Us Kids," a documentary by Kim A. Snyder about the teen activists who led the March for Our Lives movement after the shooting at Marjory Stoneman Douglas High School on Valentine's Day 2018; a new incarnation of Noel Coward's "Blithe Spirit," starring Dan Stevens, Judi Dench and Isla Fisher, and a documentary called "Behind the Strings," produced by Michael Peroff, long of Montclair, now of Little Falls, follows the Shanghai Quartet, who often perform at Montclair State University. Montclairian Kahane Cooperman's documentary "The Antidote" is also in the festival.
________________________________________________________________________
READ: MONTCLAIR FILM AND MSU PRESENT 'CARPOOL THEATER' – NEW TIME
READ: VENUES CAN RE-OPEN, BUT WILL THEY?
________________________________________________________________________
All of the films are eligible for Audience Awards. Prizes will be given in the documentary, fiction and world cinema categories, and, for the first time, there will be a juried award for short film. 
Movies shown as Carpool Theater offerings will be voted on with email ballots. Virtual films have ballots appear under the image window while being viewed (those watching on Montclair Film Roku or Apple TV will need to cast their ballots at watch.eventive.org/montclairff).  
Overall, MFF 2020 includes 14 Carpool Theater drive-in movies, 34 virtual features, 53 virtual short films and 11 conversations and special events.
But though much of MFF 2020 is virtual, there is still a definite hometown connection.
As always, local students have created films for the Emerging Filmmaker competition.
Montclair Film interns and volunteers also have created public-service announcements for the "Young Voter Project: Your Vote Is Your Voice." The short films were created under the direction of filmmaker and Montclairian Reuben Atlas ("ACORN and the Firestorm") and Montclair Film Education Director Sue Hollenberg. The League of Women Voters also worked with the students.
And one of the documentary films, "Zappa," was directed and co-produced by Alex Winter. Viewers might know Winter as "Bill" from "Bill & Ted's Excellent Adventure" (1989) and its follow-ups.
But some people might remember him as an MHS graduate, Class of '83.
'AGGRESSIVE AND SURREAL'
"Zappa" is not a rock documentary. Instead, Winter said, it's a portrait of a big cultural figure who was "complex, if not self-contradictory. Zappa was not only a brilliant artist, but he was also engaged in the time he came up in." The idea that convinced Frank Zappa's widow, Gail, to let Winter make the documentary was that it would not be a film about a rock musician, but one that was about a man committed to being an artist in a particular time in American history.  
The film opens in 1991 in Prague, where Zappa is about to give a concert to an enthusiastic crowd.
Zappa was beloved in the Czech Republic; President Václav Havel was a fan, and an underground band called the Plastic People of the Universe had taken its name from a Zappa song, "Plastic People."  
It was one of Zappa's last concerts before his death in 1993 of prostate cancer at age 52.
By then he was someone who had become involved in civil rights and global issues, and was a beloved and respected artist, Winter said.
Zappa, who released over 110 albums in the course of his career, was an avant-garde artist, a rock musician, a composer, an original.
His biggest hit was "Valley Girl" (1982), recorded with his daughter, Moon Unit, which went to number 32 on the charts.
The next year, Zappa created an album with the London Symphony Orchestra of his own compositions.
Winter's film relies mainly on archival footage from Zappa's vault. For two years, he and his team shifted gears to preserve the endangered video, film and tape. Winter even launched a Kickstarter campaign to keep it going. 
Zappa was interested in the art of splicing tape, from early childhood. 
"We spent a lot of time studying the material we were getting from the preservation work. We started replicating his style, building sequences that were aggressive and surreal," Winter said.
Early on, for example, Zappa describes making a stag film: The image is a giant squid.  The visual dissonance is deliberate, often funny and strangely logical.
When the preservation was done, "we still had no financing for the documentary," Winter said with a laugh. Fortunately financing came through, and the next two years were spent putting the film together.
"Zappa" was meant to premiere at SXSW in March, but the festival was canceled. (Officially, SXSW was the premiere, but reviews have been held.) Magnolia will release "Zappa" at the end of November in movie theaters and video on demand.
In 2015, Winter brought his documentary "Deep Web: Deep Into the Darknet" to MFF. It played at the Clairidge, where once upon a time he used to eat stolen popcorn. (His friends were the ones selling it).
He will be in Los Angeles this year, but said he's proud the film will be seen in his old hometown. 
USING HER VOICE
The Young Voter Project began over the summer, said Montclair Film Education Director Hollenberg. A number of interns and volunteers had signed up and hoped to work on the film festival, but the festival had been postponed due to COVID-19.
The education department could not do the "Reel World" filmmaking projects it had done in previous years, where students made films for nonprofits such as Jazz House Kids or Montclair Community Gardens. 
The Young Voter Project was a way to connect young filmmakers with doing something else for the community, and contributing to the civic dialogue.
The spots fall under the umbrella of Montclair Film's "Democracy in Action" initiative, Hollenberg said. Montclair Film Executive Director Tom Hall selected seven movies to be part of the "Democracy in Action" theme, and the spots will be shown as trailers before the films.
While the young filmmakers received notes from Atlas and Hollenberg, the final product is their voice, Hollenberg stressed. Nine people participated to make the short films, some as directors, some composers, some in production.
One of the films begins with a young woman describing how she is "overwhelmed with bad news… how do I begin to make an impact in this world?"
Another begins, "I am a college student. I see my friends work two jobs to pay off their student loans. Working-class people cannot afford to stay home during this pandemic. They also cannot afford to sit out of this election."
That spot is by Arya Bondre, 20, who has been a volunteer for MFF since 2018. At first, she was a bit hesitant to make a spot, but then Ruth Bader Ginsburg died. It upset Bondre so much she decided to see if she could find some way to use her skills to contribute.
"I really wanted to encourage my friends to vote," she said. She appears in the film; her mother did the camera work. Atlas and Hollenberg gave her a lot of notes, she said.
Even though New Jersey is not a swing state, Bondre said, "voting is one of the ways that you can make sure you get your voice out."