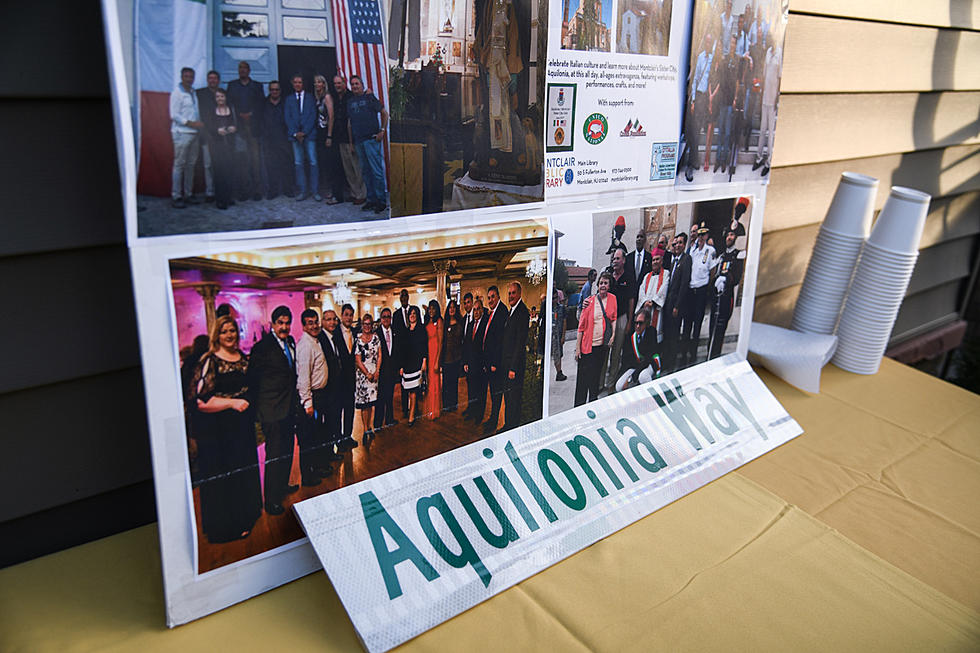 A celebration of sister cities: Montclair gets its 'Aquilonia Way' (PHOTOS)
The Aquilonia Way street sign is displayed on a table with a photo collage celebrating the sister cities, Montclair and Aquilonia, Oct. 28, 2021. (KATE ALBRIGHT / FOR MONTCLAIR LOCAL)
Next time you stroll from Clairemont Avenue to Grant Street, things won't look very different.
You'll pass Our Lady of Mount Carmel Church, slated to reopen in late November. You'll see signs for the Club Aquilonese San Vito Martire, a treasured institution for a century. American and Italian flags will wave above you.
But look up, and you'll see the street sign has changed. The stretch of what's previously been Pine Street is now known as Aquilonia Way — in honor of the township's continuing relationship with its sister city of Aquilonia, Campania region of southern Italy.
The Montclair Township Council passed an ordinance renaming the street in August, and community members joined officials Thursday, Oct. 28 for the sign posting, and a celebration of the bond between Montclair and Aquilonia.
Aquilonia is the most recent addition to Montclair's slate of sister cities in 2017. Delegations from Montclair and Aquilonia visited each other's communities that year, and residents of Aquilonia were on hand for the sign posting Oct. 28. Officials, church patrons and members of the Club Aquilonese San Vito Martire have all celebrated the neighborhood in the Fourth Ward as one where African American and Italian Americans shared a community and helped build much of Montclair's history together.
"The Fourth Ward will always be Montclair's most diverse ward and Montclair's most historical ward," Councilman David Cummings said at the dedication. He recounted the names of Italian American families he knew growing up, and pointed to the street where his grandmother lived when she moved to Montclair in 1920. "And that continues today as we name this street at the Aquilonia Way."
Montclair Councilman Bob Russo said his mother had attended Mount Carmel Church, and that his family came from the Aquilonia region. He said he was proud to have been Montclair's first Italian American elected mayor in 2000. Deputy Mayor Bill Hurlock, the son of an Italian American mother, told the crowd: "Every Sunday, I put a pot of gravy on and make my meatballs and get my risotto." And Mayor Spiller said that having a sister city is about appreciating another culture — "constantly learning, constantly growing, becoming more worldly. I think that's what we're so proud of here in Montclair."
Raffaele Marzullo — co-chair and founder of the Montclair-Aquilonia Sister Cities organization as well as co-chair of a community outreach program made up of Mount Carmel parishioners — has told Montclair Local the idea to rename part of Pine Street first came up more than a year ago, in discussion with Spiller, Hurlock and the outreach program. Mount Carmel itself has a long history of welcoming immigrant families to the Montclair Community.
"Families from Aquilonia and other cities from southern Italy came to Montclair to help build this new shining city on top of the hill," Marzullo said at the dedication. "They clustered together, ending up living in the same block, or even the same tenement building. They preserved many of the social institutions and traditions [of Italy]."
PHOTOS BY KATE ALBRIGHT / FOR MONTCLAIR LOCAL
Raffaele Marazullo, president of Club Aquilonese San Vito Martire, begins sharing the history of Montclair's sister city bond with Aquilonia, in the Campania region of southern Italy. "Families from Aquilonia and other cities from southern Italy came to Montclair to help build this new shining city on top of the hill. They clustered together, ending up living in the same block, or even the same tenement building. They preserved many of the social institutions and traditions [of Italy]," he said. (KATE ALBRIGHT / FOR MONTCLAIR LOCAL)[/caption]