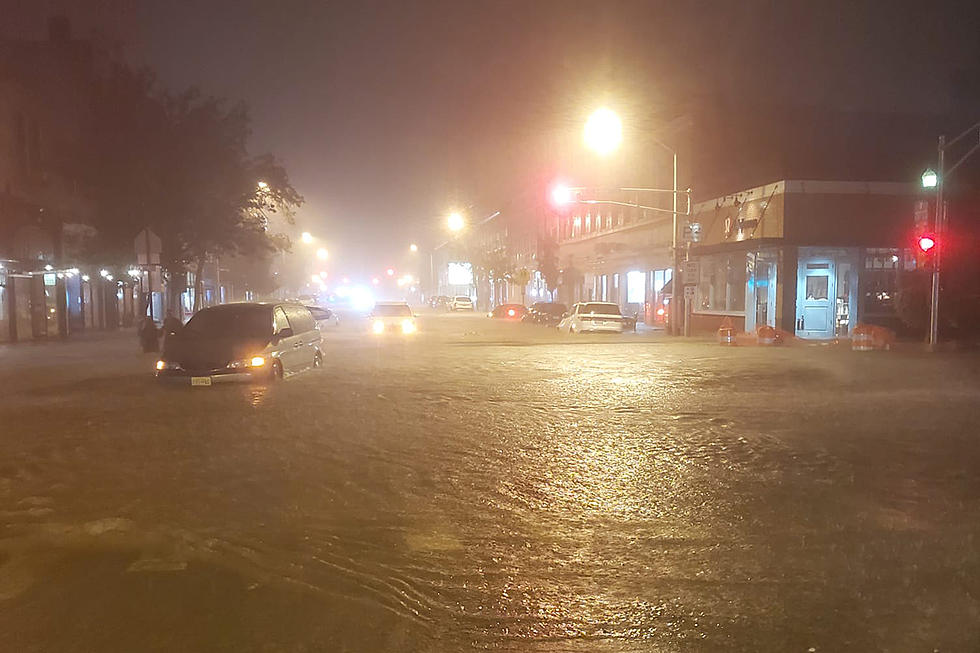 A small reason to be thankful for Tropical Storm Ida (Town Square)
Aminah Toller took this photo of Bloomfield Avenue and Park Street in Wednesday night's serious storm, as the remnants of Ida moved through the Montclair Area.
By DIANE MASCUCCI
Special to Montclair Local
Most people have probably forgotten about Ida, the tropical storm (and former hurricane) with fierce winds that ripped through our area the night of Sept. 1, flooding restaurants like Samba Montclair and killing a total of 107 people, including 30 here in New Jersey.
I wasn't aware of the deadly storm, formed in the tropics on Aug. 26, 2021, while I was eating oysters at Long Beach Island on my birthday. But it caused $75.25 billion damage in the United States according to the National Weather Service,  and New Jersey declared a state of emergency. Honestly, with all the wildfires, tornadoes and variants, it's hard to keep track of the latest weather emergency and mandates to follow.
Effective May 1, we New Jersey residents are more preoccupied with the new mandate to carry our own grocery bags, which is supposed to help our environment. I don't know if it will help prevent more hurricanes, but we're all tired of ugly plastic bags hanging like ghosts in our cherry blossom trees so, hey, we will do our part!
I try to do my part.  I pay my taxes and bills. Which is why I was shocked to learn, when I walked into my local CVS pharmacy with my new organic bag, that the Medicare prescription plan I've had for seven years was canceled. "You have been disenrolled for failing to pay," the insurer told me.
But, I pleaded, I never got a bill.
I don't do automatic payments for all bills because they sometimes change amounts and then I'm either overpaying or underpaying.
I was confused!
If I had inadvertently missed a bill, couldn't I pay it and reenroll in the same plan?
I pursued these questions with Medicare and insurance representatives from 8 am. through 6 p.m. on a Tuesday, but for a one-hour break for pilates.
I panicked. I was covered for hospitalization, but nothing else.
Even after I paid up the $70.20 due, I couldn't renew. I don't have a lot of meds but anything can happen. I'm on the circuit now; anybody over the age of 70 is likely spending more time at memorial services than birthday parties. Blood pressure changes; when you're older the arteries stiffen, causing blood pressure to rise.
And mine was rising!
My paper trail of receipts showed the insurer had erroneously mailed information to my old Montclair address, which I changed two years ago.
The exasperated representative, however, refused to provide me with their notices and changed tactics; perhaps I qualified for a compassionate exemption due to a family emergency?
For 20 minutes, she grilled me about my spouse's medical crisis that might have distracted
me.
I qualified.
But it was all for naught; on May 3, Medicare and its affiliate insurers told me I had missed the final April 28 deadline. "But I only today learned I was disenrolled," I pleaded. "How could I make that deadline?"
Nobody was going to forgive me for my sins. And I could not even buy a new plan for 2023 until Oct. 15, the open enrollment for Medicare.
My landline rang. (Yes, I still have one, because only a landline worked years ago, when another storm hit Montclair; my cell didn't work so my land line kept me connected to PSE&G.)
I picked it up and a friendly insurance broker from North Carolina had seen my online pleas. "You can't help me," I told her. "Nobody will. They said I cannot even buy a new plan until next year. Sorry."
She noticed I lived in New Jersey. "Wait," she said. "You can get in on an emergency basis."
I don't have an emergency, I told her.
"But you can get in because of Hurricane Ida!"
Within 15 minutes, she had me enrolled in a new prescription plan. It was a loophole.
The governor had not withdrawn New Jersey's emergency status from Ida, which allowed Medicare recipients who couldn't change plans between Oct. 15 to Dec. 7 to do so past the window due, due to the emergency.
Could a poor delinquent like me could still qualify to enroll in a new Medicare plan?
Just like that, I was enrolled in a plan, effective June 1, that costs me only $12.90 a  month compared to $35.10 a month for the same things. How about that?
Saved by Mother Nature! Thank you, Ida!
Diane Masucci is a resident of Montclair Township.
---
Montclair Local's Opinion section is an open forum for civil discussion in which we invite readers to discuss town matters, articles published in Montclair, or previously published letters. Views expressed and published in this section are solely those of the writers, and do not represent the views of Montclair Local. 
Letters to the editor: To submit a letter to the editor, email letters@montclairlocal.news, or mail "Letters to the Editor," PO Box 752, Montclair, NJ, 07042 (email is preferred). Submissions must include the name, address and phone number of the writer for verification. Only the writer's name and town of residence will be published. Montclair Local does not publish anonymous opinion pieces.
Letters must be no more than 500 words in length, and must be received by the Sunday prior to publication to be eligible for use in any Thursday print issue. Letters may be edited by Montclair Local for grammar and style. While our goal is to publish most letters we receive, Montclair Local reserves the right to decline publication of a letter for any reason, including but not limited to concerns about unproven or defamatory statements, inappropriate language, topic matter far afield of the particular interests of Montclair residents, or available space.
Town Square: Montclair Local also accepts longer-form opinion essays from residents aiming to generate discussion on topics specific to the community, under our "Town Square" banner. "Town Square" essays should be no more than 750 words in length, and topics should be submitted to letters@montclairlocal.news at least seven days prior to publication.