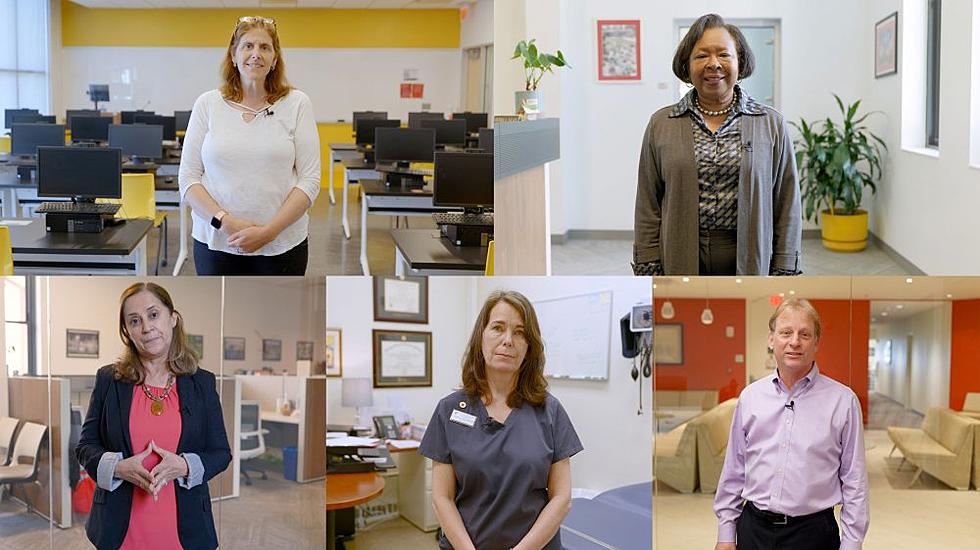 About 50% of Montclair University employees check in to say they're vaccinated (so far)
Several Montclair State University employees said in a recent promotional video that they took part in the Vax Check program. Clockwise from top left are writing studies professor Emily Isaacs, associate vice president and dean of students Margaree Coleman-Carter, finance systems director William Neal, University Health Center director Patricia Ruiz and student development and campus life administration coordinator Sonia Rios. (MONTCLAIR STATE UNIVERSITY)
By LAUREN PEACOCK
for Montclair Local 
Montclair State University is asking faculty and staff members to voluntarily disclose if they're vaccinated against coronavirus. So far, more than half of all employees uploaded images of their vaccine cards to the school's Vax Check system.
The school still isn't requiring faculty and staff to be vaccinated, though several higher education institutions in New Jersey are doing just that. In June, Princeton University said it would require all faculty and staff to prove they'd received vaccines. Seton Hall University, New Jersey Institute of Technology and Stevens Institute of Technology all announced the same requirement over the last few months.
MSU is, however, requiring students returning to campus to be vaccinated.
MSU spokesman Andrew Mees said the school is seeking guidance from the state on whether it can require employees to be vaccinated. Asked what may be different about MSU's circumstances than those of others that are requiring employee vaccinations, like NJIT, Mees said by email, "You would have to ask NJIT for their reasons."
In the meantime, on June 17, MSU launched the Vax Check portal. Mees said the information is confidential — supervisors and students can't see if a particular MSU employee is vaccinated. By June 30, 50.9%, or 934 employees, had uploaded their cards to the system.
"We believe that many of our full-time employees are vaccinated or are in the process of being vaccinated, and we are looking forward to seeing what the numbers from Vax Check tell us," Mees said.
He said the school was "hoping to see as many full-time employees vaccinated as possible," and that the information collected would be used as the school considers safety policies, such as whether to continue to require mask use indoors. 
"At this point, we are simply trying to determine how many full-time employees have been vaccinated so we can develop the appropriate safety measures in our mixed environment, " Mees said. 
The school is offering perks as well. Employees who participate in Vax Check can win free use of the campus' recreation center, gift cards to Panera or Dunkin' Donuts, a coupon for clothing at the university's bookstore, or free parking in a deck that normally charges.
"I uploaded to Vax Check because I thought it was important that the university had crucial data that would allow us to make important decisions for our community," Margaree Coleman-Carter, the school's associate vice president and dean of students, said in an MSU promotional video for the Vax Check program. 
Employees in the video stressed the importance of vaccination to protect themselves, their families and the campus environment.
"I uploaded my vaccination to Vax Check because I want to see Montclair State University get really high percentages, 85% to 90%, so that we can feel like we're the safest campus around," Emily Isaacs, executive director for faculty advancement and a professor of writing studies, said.
Because the program is voluntary, the figures it collects don't present a complete picture of how many employees may be vaccinated. According to the state Department of Health, as of July 2, 68% of all Montclair Township residents and 82% of all township adults were fully vaccinated. That's ahead of the state overall —  where just 55% of all residents had been vaccinated.
"The more complete picture we have, the better policies we can have in place that will keep everyone as safe as possible," Mees said.