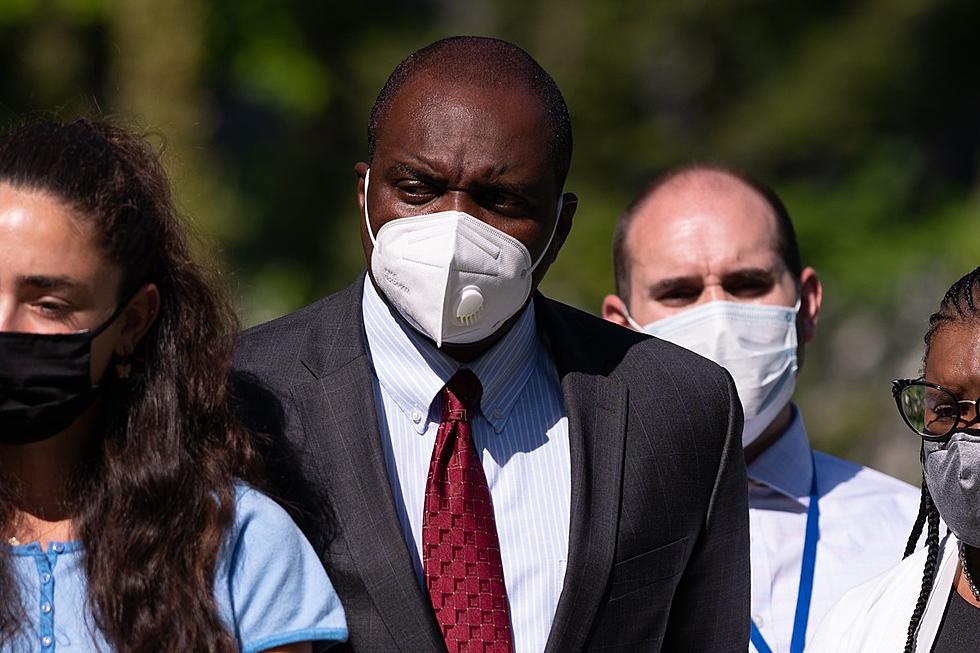 Action coming soon on whistleblower complaint about Montclair schools, Ponds says
Montclair Schools Superintendent Jonathan Ponds. (LOUIS C. HOCHMAN / MONTCLAIR LOCAL.)
By TALIA WIENER
wiener@montclairlocal.news
Montclair's board of education on June 21 "will take action" on its investigation into a self-described whistleblower's allegations that for years, buildings and grounds staffers were mistreated and safety hazards were allowed to fester in district schools, Superintendent Jonathan Ponds said.
Ponds made the announcement at a June 2 Board of Education meeting — but he didn't say what that action might involve. 
He'd previously announced an outside entity would investigate the matter and asked the public for patience at the May 17 board meeting. He wouldn't say who that outside entity is, after being asked to do so by representatives of the Montclair Education Association. 
"Let us do our work so we can do this thoughtfully and meaningfully and let's not put pressure on our investigators," Ponds said May 17. "That is not safe and that is not right."
Montclair Local has submitted a public records request seeking any contracts or payment vouchers for investigators, and is awaiting a reply. 
A 32-page April letter by Montclair Buildings and Grounds Supervisor Robert H. Kelley IV made dozens of allegations against four current or former officials. Two head custodians interviewed by Montclair Local say they can confirm incidents involving them, and both consented to having Kelley tell their stories.
The officials who were still with the district when the letter was written — Business Administrator Emidio D'Andrea and Director of Buildings and Grounds Anthony Bispo — have not responded to email inquiries or phone messages left with their offices since April 21. 
D'Andrea was at a May 5 school board meeting where Ponds publicly acknowledged the letter and investigation, but not at the May 17 or June 2 meetings. Nishuane School head custodian Kimberly Raison previously Montclair Local as of May 13, she had last seen D'Andrea at her school May 10, and hadn't seen or heard from Bispo in weeks. Montclair Local has not yet been able to contact Raison for an update.
D'Andrea had already announced he would retire at the end of this school year, and the district has job openings available for both an interim and permanent school business administrator/board secretary, each listed to begin July 1. 
Former Montclair buildings and grounds director John Eschmann, also named in the letter, now works at Madison public schools as director of facilities. Madison's superintendent, Mark Schwarz, said May 13 officials in his community became aware of the allegations the day before, when Montclair Local's published a detailed report on Kelley's letter, and the accounts of several people cited in incidents it describes. Schwarz said this week Madison schools are continuing their own investigation, and Eschmann remains employed with that district.
Eschmann has not responded to email inquiries sent to his Madison district email since April 28. Bounceback messages suggested his email account was disabled in mid-May, but it appears to currently be functional. Eschmann's office phone voicemail redirects to the district's technology coordinator.
Kelley's letter is expansive, and Montclair Local's May 12 report only discusses some of its dozens of claims. Only one of the officials it accused of abusive behavior — former Buildings and Grounds Supervisor John Postas — has replied to messages seeking comment, acknowledging being fired after being accused of bullying and racism, but denying the behavior itself. 
Among Kelley's letter's other claims:
Kelley's letter alleges Eschmann and Postas tried to edge Raison out of her job in 2019. He says they wanted Kelley, at the time a line custodian at Nishuane, to make complaints against her, the district's only Black, female custodian — using his own status as a Black man from Montclair as a shield against accusations of racism. Postas told Montclair Local he did indeed want Raison out of a job, but says it's because she couldn't handle the work.

Raison and Kelley say that in late 2019, Eschmann and D'Andrea cut back cleaning staff at Nishuane classrooms, leaving them dirty enough to risk students' health. MEA President Petal Robertson confirms getting complaints of uncleaned classrooms as well. Teacher Marissa May says she believes dust from her classroom led to nodules on her vocal cords. Kelley's letter and Raison both say temperatures in Nishuane were excessively hot or cold because of a faulty boiler Eschmann refused to fix.

Kelley says Eschmann and D'Andrea gave Postas a list of employees to reprimand, seeking retribution against those they saw as disloyal — then later gave Kelley the same list. Postas told Montclair Local he never received any such list, but agreed with his supervisors that some employees weren't doing their jobs and needed to be held accountable. Robertson said the union also filed an unhealthy workplace complaint about Postas' behavior to staff. 

Kelley says Eschmann and D'Andrea lied to state health investigators in a late 2019 meeting, claiming they didn't know about ahazards at Montclair High School described in a Public Employee Occupational Safety and Health complaint by staff, despite an email from himself about a rodent infestation and another he says came from then-Superintendent Kendra Johnson about a litany of issues. Robertson, also at the meeting with state health investigators, says Eschmann and D'Andrea said they didn't know about the issues.

Kelley says Eschmann made racist comments and jokes about Hispanic people all being in the country illegally, and says the manager of a night cleaning company, ACB Cleaning was "gravely offended." But ACB's manager, Julio Deza, told Montclair Local he does not remember talking to Kelley about any jokes of Eschmann's, and said comments made by Eschmann may have been misconstrued.

As recently as the run-up to schools reopening this year, Kelley says, Bispo and D'Andrea ignored work needed to make school buildings safe, blaming custodial staff for slow repairs.