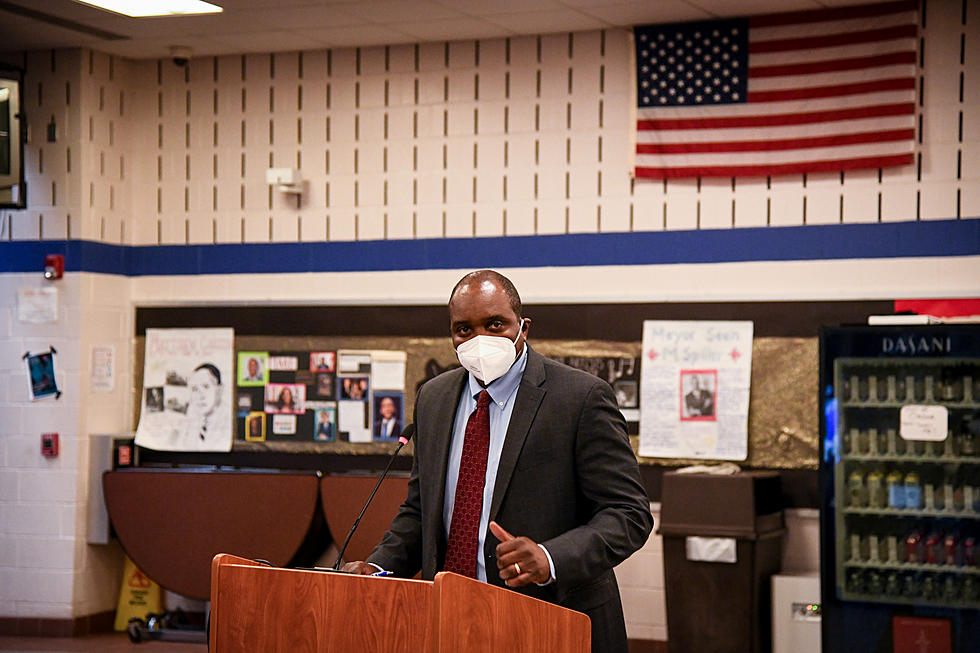 After 3 months, coronavirus testing to resume soon in Montclair schools
Coronavirus testing will begin again in Montclair schools, after an almost three-month lapse since a previous testing contract expired in December. While the risk of coronavirus is low in Montclair, the district is still doing everything it can to keep students safe, schools Superintendent Jonathan Ponds said at a Wednesday, March 2 Montclair Board of Education meeting. (KATE ALBRIGHT/FOR MONTCLAIR LOCAL)
By TALIA WIENER
wiener@montclairlocal.news
Coronavirus testing will begin again in Montclair public schools in the next few weeks, just short of three months after the district's previous testing contract expired. 
In December, the district's near-$300,000 contract with vendor Ginkgo Bioworks, first approved Oct. 6, expired with no replacement for in-class testing in place. The cost of the contract had been "unsustainable," Montclair Board of Education President Latifah Jannah said at a Jan. 5 board meeting. 
Testing costs had been covered up front by existing funding from the Elementary and Secondary School Emergency Relief Fund, schools Superintendent Jonathan Ponds said at an Oct. 7 board meeting. Testing costs were then reimbursed in full by an American Rescue Plan/Elementary and Secondary School Emergency Relief III grant, according to a Jan. 21 community message from Ponds. 
On March 2, the Montclair Board of Education unanimously approved a contract with Sunrise Diagnostics, a subset of Sunrise Group of Companies, to administer nasal PCR tests at no cost to the district.
Insured students will be asked to provide their insurance information, but won't be charged copays, Sunrise COO Anwer Qureishi said. Sunrise has not had any issues with insurance companies rejecting claims for weekly coronavirus testing for asymptomatic individuals, he said. If that changes, Sunrise would notify the district.
For uninsured students, Sunrise submits claims to the federal government under the Coronavirus Aid, Relief, and Economic Security Act, Qureishi said. 
Sunrise will provide test results within 12 hours of a test reaching the lab in South Plainfield, and they will be sent to the school district the morning after testing, Qureishi said. The district will then notify families of any positive results, Felice A. Harrison-Crawford, assistant superintendent of Operation and School Support Services, said at the Wednesday meeting.
Sunrise testing will be individualized, a change from the pooled testing system used previously in the district (under the pooled testing system, if a positive result was found in a pool, students and staff from the pool would then get follow-up individual tests). 
Sunrise staff will conduct the nasal swabs, also a change from the previous routine, where students were self-administering swabs. 
Students will be called for testing together by class, Harrison-Crawford said at the meeting. 
Testing would take place at a few schools each day, Monday through Thursday, Qureishi said at the meeting. Sunrise made its plans based on the number of students who'd consented to testing in the district earlier this school year, 3,589, (the pooled testing had been offered on a voluntary, opt-in basis).
Qureishi gave an example: On Mondays, Sunrise would conduct 853 tests — 566 at Montclair High School, 146 at Renaissance at Rand Middle School and 141 at Edgemont School. 
The number of interested students may change, but Sunrise is equipped to expand or shrink services as necessary, Qureishi said.
Harrison-Crawford has not yet responded to questions sent Thursday to her district email asking for clarification on testing locations.
Sunrise and the district will need two weeks to prepare for testing to begin, Harrison-Crawford said at the meeting. She did not share an exact date when testing would begin.
Board members Eric Scherzer and Crystal Hopkins said at the March 2 meeting that they were concerned about the possibility of false positives from students who have already had coronavirus and are no longer infectious. 
"The possibility is there," Qureishi said in response to their concerns. "But I would say 99% of the time our results are very accurate."
Consent forms will be sent out through Genesis, the school's information portal for families, as they have been previously, Harrison-Crawford said. She did not say when the form would be sent. Parents and caregivers can change their permissions at any point, giving or revoking consent for testing, Harrison-Crawford said.
The district will also continue to offer after-school testing opportunities throughout the year, Ponds said Wednesday. Medi Mobile of Livingston provides free, rapid antigen testing three days a week at the George Inness Annex of Montclair High School, at 141 Park St., on Tuesdays, Wednesdays and Fridays, from 4 to 6 p.m.
"We're going to do everything we can to make sure we can keep schools open, keep people safe and keep things running," Ponds said at the meeting.
On Saturday, March 5, the district is also hosting a free vaccination clinic from 10 a.m. to 3 p.m. at Charles H. Bullock School, with no appointments necessary. 
As of Thursday, March 3, there had been a total of 437 student cases of coronavirus and 116 staff cases since the beginning of the 2021-22 year, according to the district's COVID-19 data dashboard. In the past week, the district reported 11 student cases and one staff case.
Sunrise first provided information about a testing plan for Montclair schools at the Jan. 6 board meeting. At the meeting, Qureishi said he would be prepared to make a formal presentation at the board's Jan. 19 meeting. The presentation did not occur, and there was no mention of Sunrise Group or any other testing vendor at any meeting until the March 2 one.
Ponds also announced this week that masks will be optional for students, staff and visitors on Montclair school property once a statewide schools mask mandate expires March 7. The decision was based on guidance from the Centers for Disease Control, the state Department of Health and the Montclair Health Department, and encouraged by a decrease in cases and low transmission and risk rates in the region, Ponds said in a community message.
"We are continuing our testing, actually increasing our testing, because we believe although we're in a 'low' place and it doesn't require testing, we can still be safe," Ponds said at the board meeting.