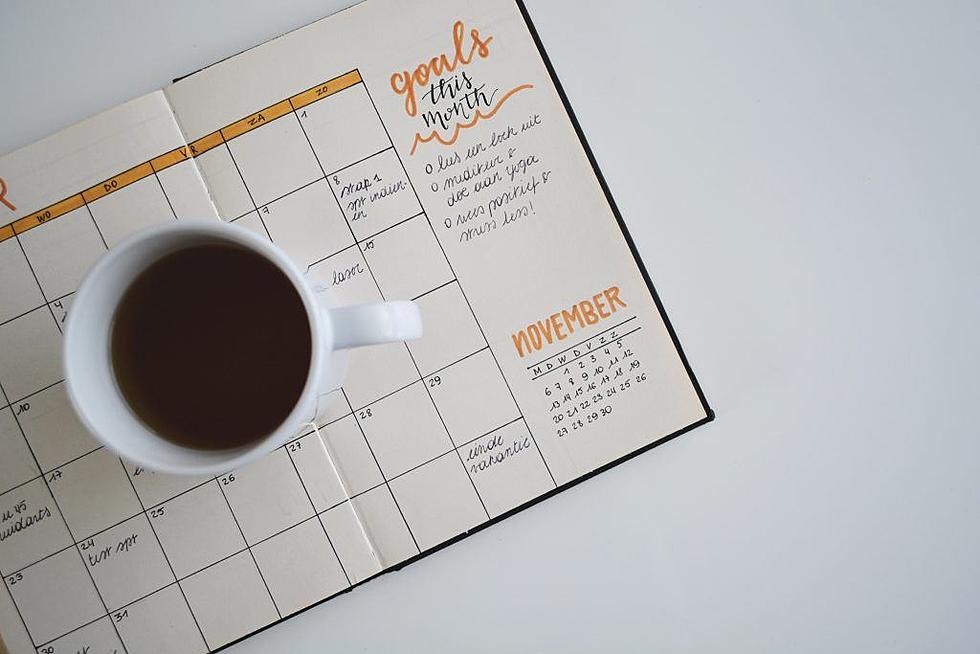 All Write Now: The power of the deadline
A planner keeps deadlines at bay. COURTESY ESTÉE JANSSENS ON UNSPLASH
By MELISSA D. SULLIVAN
For Montclair Local
"All Write Now" reflects the writing life. Melissa D. Sullivan is an attorney by day, writer by
night, mother of two and a 2019 Pushcart Prize nominee. Her writing has appeared in Hippocampus Magazine, Nightingale & Sparrow, Sum Journal and elsewhere. She splits her time between Montclair and Bucks County, Pa. You can learn more at melissadsullivan.wordpress.com and follow her on Twitter @MelDSullivan.
Deadlines have always had a strong power over me. 
When I was in fifth grade, my middle school started handing out planners: skinny eight-by-11 books with flimsy laminate covers and a plastic spiral binding in the school's colors of golden yellow and royal blue. In the planner, there were lists helpful to the pre-iPhone generation — a list of state capitals, metric measurement conversions and all the major holidays. 
But my favorite part was the calendar. Over two pages, the entire week was broken down into neat columns with narrow lines for jotting down each day's assignments. Even at the tender age of 11, I took visceral satisfaction in filling up each section with the things I had to do on that particular day: submit a shoebox diorama of "The Boxcar Children," attend a Halloween dance, submit forms for my basketball uniform. 
________________________________________________________________________
READ: ALL WRITE NOW; HOW TO PACK FOR YOUR VERY FIRST WRITING RESIDENCY
READ: ALL WRITE NOW; WRITING IS AN EXPLOSION
_______________________________________________________________________
My issues with documenting deadlines only deepened in high school. This time, the planner was scarlet and white and had the periodic table on the back flap, but the pages were only half-sized. I had to keep my words short and use abbreviations to fit everything in the insufficient space: AP His. Midterm, Band Prac, Lttle Shop o'Horr rehers. By senior year, I had a whole system of symbols and color coding and extra exclamation points to delineate what absolutely must be done by when. 
By the time I was enrolled in the honors program at Rutgers University, I had gone high-end, selecting a black faux leather portfolio that snapped closed from my local office supply store. For four years, I tracked my daily, weekly and monthly to-dos and crossed off each deadline as it passed. Paper on William Carlos Williams. Strike. Art History 102 midterm. Done. Election Commission Meeting. Complete. Opening night of The Wild Party. Fin.  
On the rare weekends I visited my parents, my organization skills were always a topic of conversation. Some time after the dinner plates were cleared and my younger brothers had retreated to their rooms, my mother would end up talking about their struggle with keeping track of all the deadlines necessitated by American high schools.
"Please speak to your brothers," she would say in a low conspiring voice. "Help them get organized. Tell them what you do."
But while I could wax poetic about the joys of custom planners and brightly colored gel pens, I couldn't give them the one tool they really needed: fear of missing a deadline.
For me, that fear — that I would miss a deadline and then everything in my carefully organized life would fall apart — drove me to write down each obligation, appointment or test. This same anxiety made me work weeks in advance on any major project, usually starting by making a list of smaller deadlines and goals that would ensure I would be done well in advance of the actual deadline. I was afraid that if I left anything to the last minute, like many of the other honors students did, I would freeze up and, consequently, end up missing the deadline completely. 
Now, as an adult, I have even more deadlines: project deadlines for work, school form due dates, insurance renewals, medical appointments. To manage it all, I've employed a family wall calendar, several list-making apps and a plethora of notebooks. In my actual life, I still fear the deadline.
But in my writing life, I have learned how to harness its power.  
Left to my own devices, I can scribble away for months at a first draft of a novel or fall down the rabbit hole of research for days on end. So, in an effort to keep me moving, I impose my own deadlines. Sometimes, I'll set out a calendar of mini-goals for a month, deciding that I will write a certain number of words every day for 30 days. Other times, I'll search out a call for submissions from a literary magazine that actually pays and commit to submitting something, even if I have to start a new story from scratch. And still other times, setting a group goal, such as requiring every member of a writing group to submit new work on a certain schedule, motivates me when I would otherwise flounder. And these deadlines have resulted in my first completed novel and my latest published short story. 
So while I still deal with the stress of deadlines imposed on me by the other forces in my life, in the world of my writing, I am the master of my fate, the captain of my soul and the setter of the deadlines.  
Until I get that book deal. Then, yes, I will gladly write down those Penguin Random House publishing deadlines.