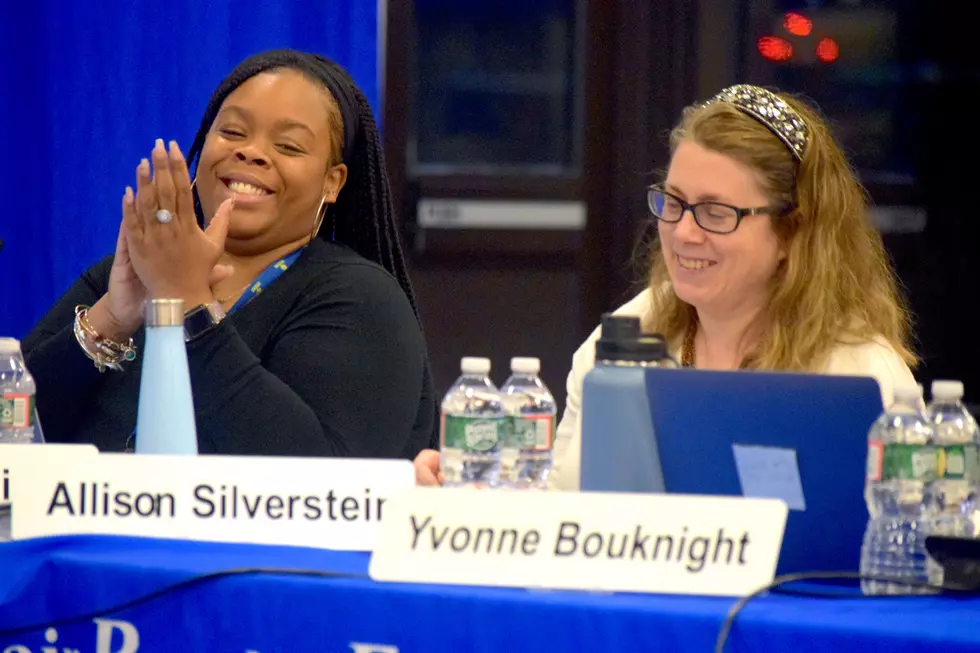 Allison Silverstein and Crystal Hopkins to lead Montclair Board of Education
Allison Silverstein, right, and Crystal Hopkins.
(TALIA WIENER/STAFF)
The Montclair Board of Education welcomed its new members Thursday and elected new board leadership. 
Allison Silverstein will serve as the board's president and Crystal Hopkins as vice president. The two were both elected to their positions by unanimous votes. 
Silverstein joined the board in September 2020, after an appointment by Mayor Sean Spiller. At the meeting on Thursday, Jan. 5, Silverstein thanked her fellow board members for their faith in her. 
They replaced former president Latifah Jannah and vice president Priscilla Church, who attended their final public meeting in December, marking the end of their terms on the board. 
"I'm looking forward to a productive year and continuing to make the improvement that our students need and our staff and to just be better," Silverstein said at the meeting. 
Silverstein's seat will be up for reelection in November, along with those of board members Melanie Deysher and Phaedra Dunn. Deysher and Dunn were both elected to the board for a term of one year and nine months during a special election in March 2022. 
"The leader that I am looking to be is someone who is not using just my ideas and moving forward with them, but rather getting input from everyone," Silverstein said. "Everyone has something to offer to the collective, and we are stronger and better when we work together and we all contribute and listen to each other and participate."
Crystal Hopkins joined the board in May 2021, also appointed to the position by Spiller. Her seat will be up for reelection in November 2024, alongside those of Kathryn Weller-Demming and Eric Scherzer, both also appointed by Spiller in 2021. 
Also at the meeting, the newly elected board members – Yvonne W. Bouknight, Brian Fleischer and Monk Inyang – were sworn in. The three won their seats in the Nov. 8 election, with Bouknight receiving 9,594 votes, 30.44%; Fleischer receiving 8,052 votes, 25.55%; and Inyang receiving 7,137 votes, 22.64%. They will each serve a three-year term.
The fourth candidate, Noah Gale, trailed Inyang by just over 1% of the votes, receiving 6,734 votes, 21.37%.
Inyang has served on the board since January 2022, when he was appointed by board members in January to fill the seat of the late Dr. Alfred Davis Jr.
The new members took the seats of Jannah and Church, with Inyang retaining his post.
Montclair Board of Education members sworn in, Jan. 5, 2023
During her first meeting as president, Silverstein explained that she planned to enforce the three-minute public comment limit during meetings. In the past year, commenters have often continued to speak after their allowed time has expired. 
"One of the things, and this is a big thing for me, is we have rules and we need to follow the rules and the rules apply to everyone equally," she said. "This is the way we can be fair and impartial."
To ensure commenters are aware of their remaining time, the board will present a timer with the countdown, which will beep when time is up, and Hopkins will hold up a 30-seconds remaining sign.
At the Jan. 5 meeting, the board also approved committee and liaison appointments. 
A few changes were made to the committees, an effort to ensure attention can be given to each focus area. The Curriculum, Special Education and Technology Committee was split up – curriculum and special education both became individual committees, and technology was removed from the committee list. The Facilities and Finance Committee was also broken up, with facilities becoming its own committee, and finance being merged with the Budget Committee. The facilities committee is tasked with overseeing progress of the $187.7 million referendum project to repair and upgrade Montclair schools.
"We weren't getting as much done as we would have liked, so we decided to split those," Silverstein said at the meeting.
The committee and liaison appointments are as follows.
Board Committees:
Climate and Culture: Monk Inyang, chairperson

Brian Fleischer, Crystal Hopkins, Kathryn Weller-Demming

Communication: Phaedra Dunn, interim chairperson

Monk Inyang, Eric Scherzer, Brian Fleischer (will become chairperson)

Curriculum: Crystal Hopkins, chairperson

Melanie Deysher, Kathryn Weller-Demming

Facilities: Eric Scherzer, chairperson

Yvonne W. Bouknight, Brian Fleischer, Monk Inyang

Finance and Budget: Melanie Deysher, chairperson

Phaedra Dunn, Monk Inyang

Policy: Phaedra Dunn, chairperson

Yvonne W. Bouknight, Crystal Hopkins

Personnel: Allison Silverstein, chairperson

Melanie Deysher, Phaedra Dunn, Crystal Hopkins

Special Education: Melanie Deysher, interim chairperson

Kathryn Weller-Demming, Allison Silverstein, Yvonne W. Bouknight (will become chairperson)
Ad Hoc Committee:
Calendar/School Start Time: Brian Fleischer, chairperson

Monk Inyang, Crystal Hopkins
Negotiations:
Montclair Education Association: Eric Scherzer, Melanie Deysher, Phaedra Dunn, Allison Silverstein

Montclair Head Custodians Association: Brian Fleischer, Crystal Hopkins, Yvonne W. Bouknight

Montclair Principals Association: Eric Scherzer, Melanie Deysher, Allison Silverstein
Liaisons:
Civil Rights Commission: Phaedra Dunn

Essex Regional Educational Services Commission: Phaedra Dunn

Essex County School Boards Association: Kathryn Weller-Demming

District Leadership Team, Labor/Management Collaborative: Allison Silverstein, Melanie Deysher, Eric Scherzer

Martin Luther King, Jr. Breakfast: Yvonne W. Bouknight

Montclair Fund for Educational Excellence: Allison Silverstein

New Jersey School Boards Association: Kathryn Weller-Demming

PTA Council: Brian Fleischer

Restorative Justice: Crystal Hopkins

Special Education Parent Advisory Council: Melanie Deysher

Montclair NAACP: Brian Fleischer

Brother to Brother: Monk Inyang

Sister to Sister: Monk Inyang

Montclair Neighborhood Development Corporation: Monk Inyang, Crystal Hopkins

AAPI Montclair: Allison Silverstein

Latinos of Montclair: Phaedra Dunn

Student Representatives: Crystal Hopkins

Succeed2gether: Kathryn Weller-Demming

Urban School Boards: Yvonne W. Bouknight