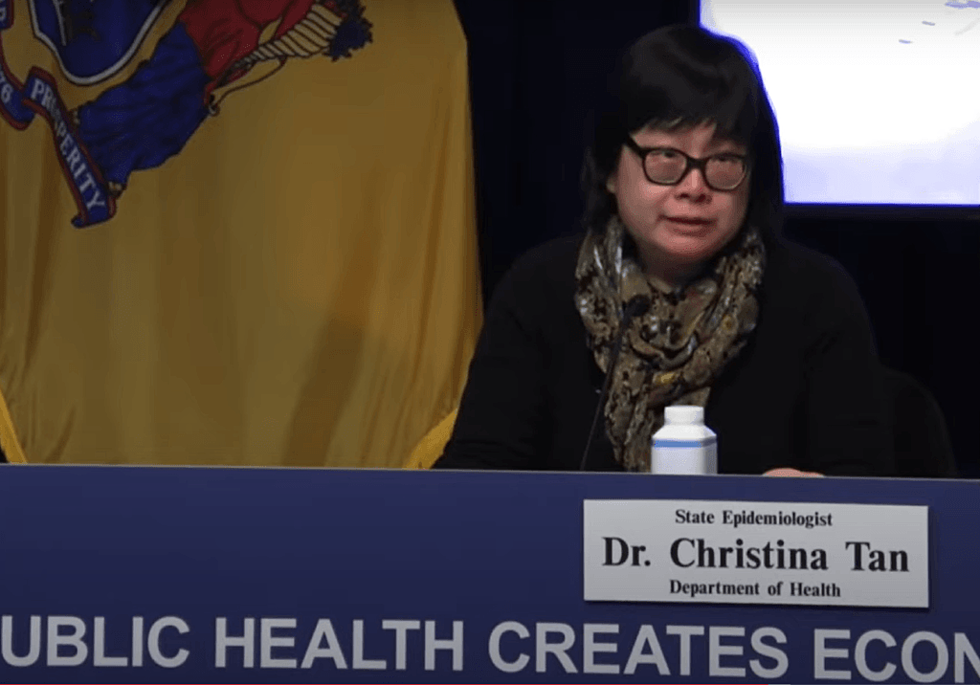 COVID-19: New Jersey prepares for arrival of first vaccines
COURTESY STATE OF NEW JERSEY State Epidemiologist Christina Tan speaks at a Dec. 4 press briefing in Trenton.
By ERIN ROLL
roll@montclairlocal.news
As new daily cases hit a record high on Dec. 4, with 5,673 new cases being reported, New Jersey is preparing to receive its first doses of vaccine next week.
Pfizer's vaccine is expected to start shipping to New Jersey 24 hours after it receives emergency use authorization from the Food and Drug Administration, which could be as soon as next week. 
Moderna's vaccine is expected to arrive about a week after Pfizer's vaccine. 
"We are ready for this moment," Gov. Phil Murphy said at a Dec. 4 press briefing in Trenton. 
Seventy-six hospitals around the state are being prepared to receive the first batch of 76,000 doses, though Murphy would not comment on which hospitals will be the first to receive the vaccine. 
The state has a goal of vaccinating 70 percent of adults in New Jersey over the next six months. Health care workers are expected to be given priority for the first shipments of the vaccine, followed by other vulnerable populations, and then the general public. 
Even though the vaccine marks a turning point, Murphy cautioned that the vaccine won't suddenly mean that life can return to normal. 
"To be clear, the presence of a vaccine in our state does not mean we can flip a light switch and remove every restriction and every advisory," Murphy said. Instead, he compared it to turning on a dimmer switch and gradually turning it brighter. 
Health officials have cautioned that the winter months could be difficult ones, with cold weather and increased social interactions for the holidays increasing the risk of spreading the virus. 
State Epidemiologist Christina Tan reminded the public that next week is National Influenza Vaccine Week. 
She said that getting the flu vaccine is more important during a pandemic since getting vaccinated cuts down on the number of people who need to be hospitalized, and in turn reducing pressure on hospitals and health care staff. 
"We're in for a very rough couple of months," Murphy said, urging residents to continue with social distancing and mask wearing, since those measures helped bring down the curve of the first wave of the pandemic. "Our behavior can make it less rough, and that's an important point." 
Today's numbers
Cases continue to rise with 5,673 new cases being reported, up from 4,913 on Dec. 3. The total number of cases now stands at 356,662. 
The highest single-day number reported during the first wave in the spring was 4,391.
The positivity rate now stands at 10.42 percent, and the rate of transmission is now at 1.05, compared to 13.68 percent and 1.08, respectively, on Dec. 2. 
Officials reported 48 new deaths, compared to 64 on Dec. 3. The death toll now stands at 15,419, with another 1,836 classified as probable COVID-19 deaths. 
Hospitalizations are also increasing with 3,315 patients last night compared to 3,292 patients the night before.
Murphy noted that the number of patients in critical care - 615 critical care patients of which 386 patients were on ventilators - is the highest it has been in several months. On Dec. 2, hospitals reported 610 critical care patients and 366 patients on ventilators. 
Essex County reported 582 new cases on Dec. 4, compared to 473 on Dec. 3, and the total now stands at 37,100. Another four new deaths were reported, down from 10 on Dec. 3, and the total is now 2,200. 
Montclair health officials reported 22 new cases on Dec. 4, compared to 14 on Dec. 3, with the total now at 1,031. The number of deaths remains at 57.