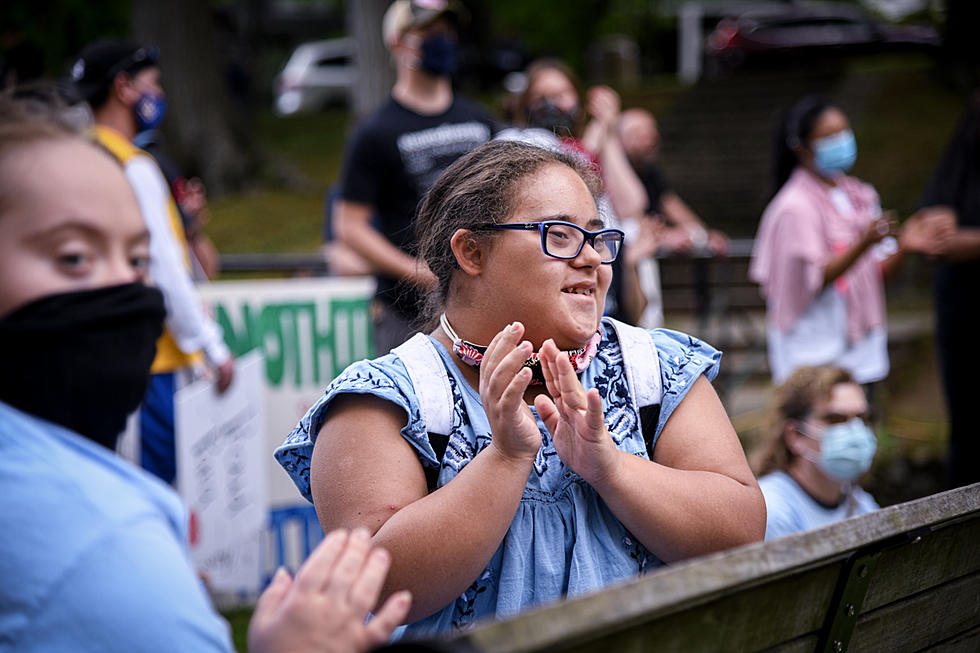 At disability parade, Montclair is 'proud to know everybody'
Zoe Henry applauds the speaker at Saturday's Disability Pride Parade, (KATE ALBRIGHT / FOR MONTCLAIR LOCAL)
By KATE ALBRIGHT and TALIA WIENER
wiener@montclairlocal.news
About 100 people marched from Heningburg Field to Rand Park on Sunday as part of Montclair's first annual Disability Pride parade.
Organized by the Montclair Friday Group, a support and social action group for parents of children with disabilities, the parade was an effort to address what participants saw as a lack of community recognition of Autism Awareness Month — which occurs in April — this year. 
Board of Education member and mother to a 10-year-old with autism Allison Silverstein said she had been "really looking forward to April 2 as World Autism Day," hoping the day would be a chance for disabled kids to be recognized and celebrated. 
"But the moment came and went and almost nothing happened," Silverstein said. "I was sad, and I was disappointed."
She shared those feelings with the Friday Group, an online community and weekly drop-in group for parents of children with special needs in Montclair.
"From that conversation, an idea started," said Silverstein, who is also on the leadership team for the community's Special Education Parents Advisory Council.
Montclair Friday Group founder Alma Schneider said members decided to have their own version of Disability Pride New York City Parade, which was cancelled this year due to the coronavirus.
"We decided, let's just do it ourselves," Schneider said. 
Mike LeDonne, founder of the NYC parade, said the idea sprung from his desire for the world to see his daughter, Mary, in the same way he did. Mary has a rare syndrome called Prader-Willi (a genetic condition that can cause weak muscles, difficulty feeding, and developmental delays) and hydrocephalus (an abnormal building of fluid in the ventricles of the brain that puts pressure on brain tissue).
He was planning for the NYC parade to be a small, local event but it has become something much bigger, he said. 
"Disability pride means we're proud to know everybody," LeDonne said. "And the people that are disabled, they have rights, same rights everybody else does."
In Rand Park, community members spoke about the importance of the parade and normalizing disability. Sign language was used throughout the event. 
Julia Frances, a mother of a daughter with Down syndrome and who has a disability of her own, said there are lots of possibilities for "different-abled" people in this country. 
"We are here because we have to tell the world that we are here and we are here to stay," Frances said. 
Montclair High School senior Minal Rosenblum shared her experience with Down syndrome, saying she's learning to advocate for herself as a student in MHS's Center for Social Justice, an interdisciplinary program focusing on the impact of social movements. 
"People who have Down syndrome are basically normal," Rosenblum said. "They do regular things like hanging out with friends and going to work. They enjoy life. Some people don't care about disability. They think some people with disabilities should not be included in school, and they should be separate. That is called discrimination."
Rosenblum said people with disabilities should be proud of who they are and paraphrased Lady Gaga's song "Born This Way".
"I have a disability, and nobody can mess with me," Rosenblum said. "I love myself the way I am because I am born this way." 
Ezra Rifkin, who has autism and who will graduate this spring from Montclair High School's Community Based Transition program, said laws like the American Disabilities Act "can't work when they are ignored or disobeyed" — and said it's important for those with and without disabilities to work together to fight discrimination.
"Make sure that people with disabilities are at the table when you are discussing them. 'Nothing about us without us' means that when you are talking about town planning, building construction, transportation, education and jobs, make sure we're there to represent ourselves," Rifkin said.
Patrice "Trish" Jetter, a former Montclair crossing guard who now works in Hamilton and who was recently featured in Netflix's "Worn Stories," spoke about being bullied and abused before meeting people who supported her and helped to turn her life around. Jetter was born with cerebral palsy and partial hearing loss at birth. 
"If people don't support your dream, find people and surround yourself with people that do," Jetter said. "Don't ever let other people's negativity steal your joy."
Montclair officials including Mayor Sean Spiller, Councilman Bob Russo, Councilman Peter Yacobellis and Superintendent Jonathan Ponds attended the event. 
Russo said he'll be the new liaison to the People with Disabilities Committee. Russo said he had a "personal commitment to this" and shared that his nephew with autism, who passed away last year at the age of 53, had difficulty finding schooling options. 
Russo said he will work with Spiller and other council colleagues to assemble the committee. 
Spiller said the unique differences and individual strengths of each person in Montclair makes the town special.  
"You are seen. You are heard," Spiller said to the crowd. "We are here to do everything we can to support you and your families, and to do everything we can to make sure that our town is as inclusive as it can be and as supportive as we can be for everyone to make sure that everyone's dreams and goals are obtained."
An earlier version of this post incorrectly described the Montclair Friday Group and the People with Disabilities Committee.