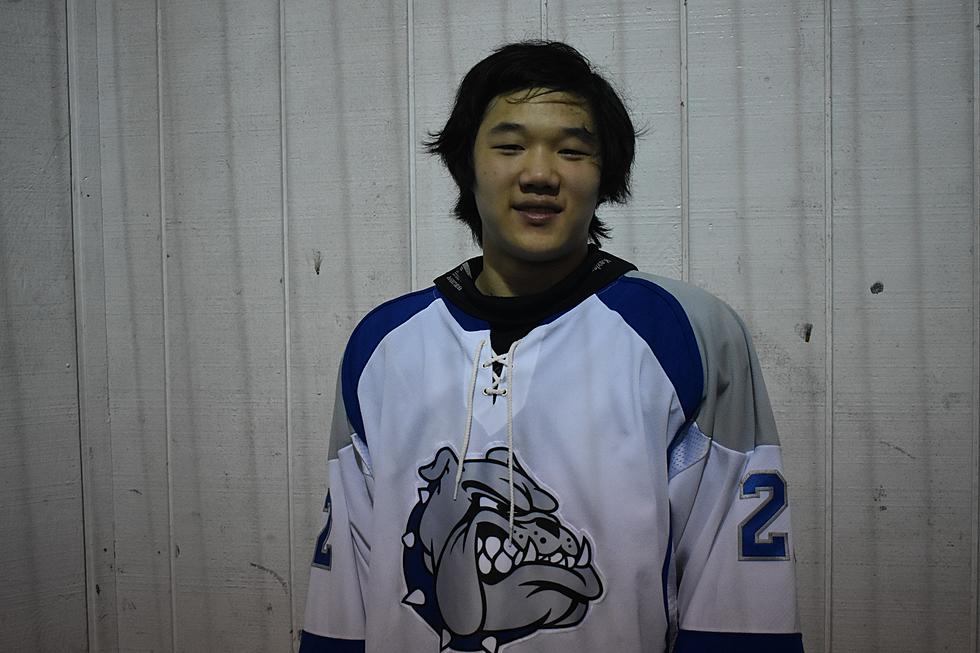 Athlete Spotlight: Aiden Hsieh, Montclair High School, senior, hockey
Aiden Hsieh, Montclair High School, senior
ANDREW GARDA/STAFF
by Andrew Garda
garda@montclairlocal.news
Like many of the seniors on the Montclair High School hockey team, Aiden Hsieh was disappointed in the Mounties' 3-3 tie with Glen Rock on Friday, Jan. 24, when the team held its annual Senior Night.
That didn't stop him from taking away some positives from the evening, such as the ability to come back from one goal down, not once, but twice during the game.
"We've always been good coming back from a deficit," he said after the game and Senior Night ceremony. "In earlier games we've been down a goal and always came back.  We have that tenacity."
It took a little bit of tenacity for Hsieh to get through the Senior Night ceremony as well, as being the center of attention isn't something he's comfortable with.
With balloons, pictures and family members holding large paper cutouts with each seniors face on it, it can be overwhelming.
"I appreciate it, but I'm probably one of the easier people to embarrass," he said. "But my brother's here, my mom's here.  So it's nice everybody came to see a game."
Hsieh was kind enough to take a few minutes out of his night to talk to us for this week's Athlete Spotlight.
Have you started looking at colleges? I applied to like 25, 27 and you know that's a large amount. I still have three more I need to apply to. I'm hoping for Duke, and even though the odds are like 100 to 1, I'm hoping for Stanford. 
What do you want to study? I like to understand the basic aspects of the universe, and the basic aspects of how we live. So it's either physics or biology, and I'm thinking biology more. My dad's in Guatemala right now, and I went to Guatemala in August with nine of my friends. We helped out with a family there [who] ran a school and an animal sanctuary, and they need doctors. So that's what I'm thinking about doing. 
How did you get interested in things like physics? So [the docuseries] "Cosmos, a Spacetime Odyssey" by Neil deGrasse Tyson, I loved that. I have the DVD and everything. But it's harder for me to understand because I can't visualize it. I think it might be easier to visualize the human body because we're experiencing it right now. And my dad's a doctor, my mom's a nurse. They have experience in the field so they can like help me.
How does it feel to be one of the seniors as your Mountie career closes? I met people who I would not have met otherwise and I had a lot of fun. The last game of every season I see all the seniors crying because it went by too fast. I'll probably be one of the people crying in a month. 
Are you going to try and play club hockey in college?  Yeah club, definitely.