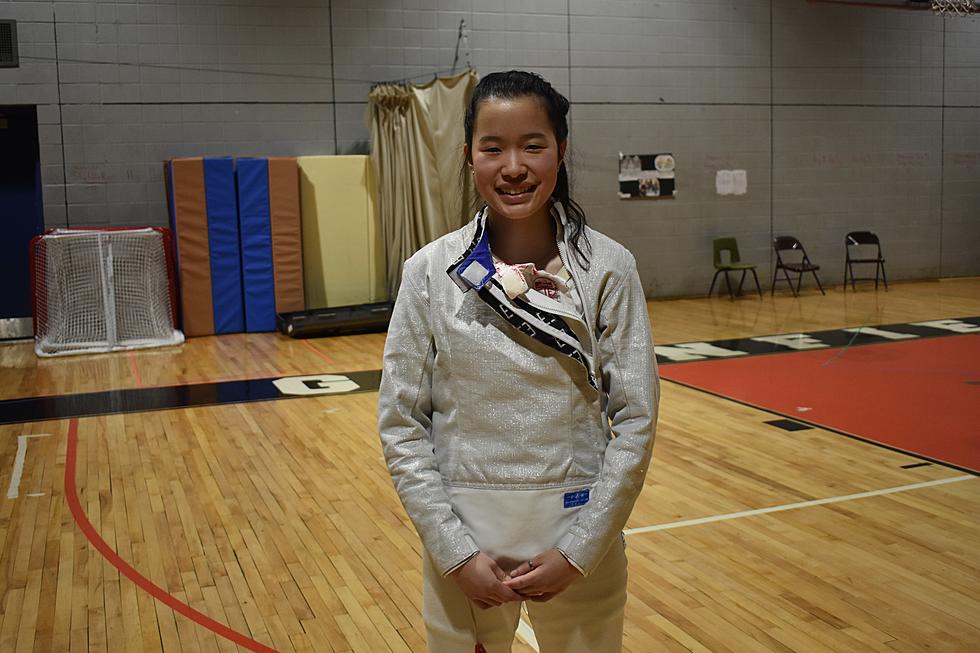 Athlete Spotlight: Grace Van Atta, Montclair High School, fencing
Grace Van Atta, Montclair High School, Senior, fencing
ANDREW GARDA/STAFF
by Andrew Garda
garda@montclairlocal.news
For Montclair High School senior Grace Van Atta, Thursday's NJSIAA girls fencing state tournament victory over Chatham was just the latest in a long line of successes she's experienced as a Mountie fencer.
It's hard to pick a favorite one, she said after the win, but some stand out.
"I think last year at the state [team] finals when we came in second," she said. "It was just really amazing to be able to go to the finals and like, everyone's watching and it's really good energy. We fought really hard and we came in second, which is the best like done for the fencing program, ever."
For Van Atta and the Mounties, it's not enough as they aim for a repeat appearance in the finals, this time ending in a win. To do that, Van Atta and her fellow sabre fencers will need to play a big part.
Sabre always goes first in a match and Van Atta, who is one of the team captains, said the squad embraces that opportunity to set the tone for the match.
"Sabre starting off first, I find is important because if you start off strong, it really sets the momentum for the rest of the meet," she explained. "So that's good for sabre and it's one of our strongest squads this year."
Van Atta, who will be fencing and attending Johns Hopkins next year, took a few minutes to talk fencing and more for this week's Athlete Spotlight:
What are you planning to study in college? 
I want to study neuroscience, so probably pre-med track, but I haven't liked committed to that 100 percent. But most likely that. 
How did you start fencing? 
So in fifth grade, my mom signed me up for the middle school fencing program. She didn't want me sitting at home reading too much, she wanted me to get into athletics. We had tried so many sports, and I just fell in love with fencing, like the strategy and the individuality of it. 
How big a difference is the high school team vs. club? 
I wasn't used to fencing for a team. It's very different than when you fence for a club. Because you have everyone screaming for you [in high school], and the club is more individual. So it's kind of like a crazy scene.
The sabre squad seems like a really tight group. 
Grace [Edgington] and I, we came on the team together along with Charlie [Blim] and Nathan [Weiss], because we all used to go to Lilov Fencing Academy. So, we've known each other throughout all four years. We lost Emily Hand last year but Nzingha Mutkabbir, who's a junior, has really stepped up to fill that in and we try to build up the team's so in the following years, they'll just be as strong as we have been.
What will you miss most about Montclair? 
The people. The community. The fencing team provides you with great friends, upperclassmen, underclassmen. You make really great friends in Montclair.