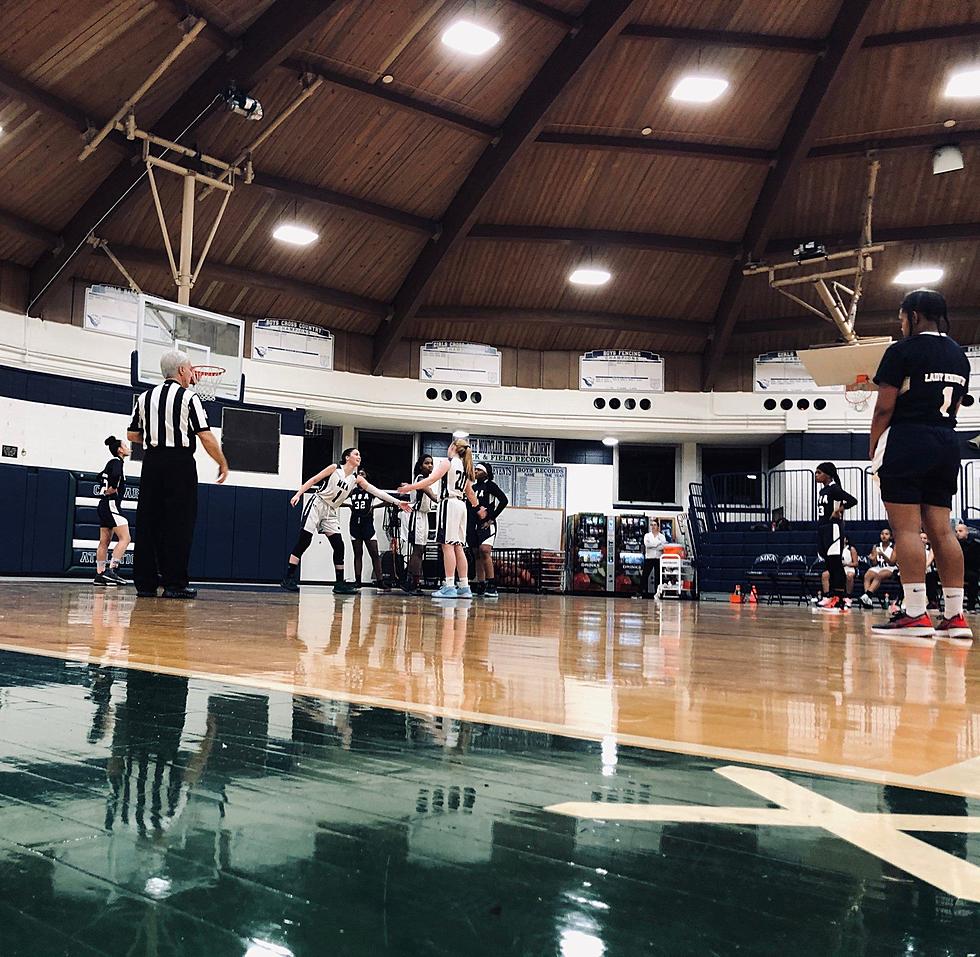 Basketball Notebook: Lions seeded third in ECT, MKA wins game 3-on-5

MKA's Vanessa Amsinger and Taylor Powell congratulate Patricia Columbia-Walsh after she made a free throw against North Star Academy. Amsinger, Powell and Columbia-Walsh were the only three players on the court for the end of the fourth quarter and overtime after three other MKA players fouled out. Despite that, MKA would win 57-49.
COURTESY MKA ATHLETICS
by Andrew Garda
garda@montclairlocal.news
The Immaculate Conception High School girls basketball team landed the No. 3 seed in the Essex County Tournament at the seeding meeting Monday night, earning home-court advantage through the quarterfinals.
The Lions (9-5) reached the championship game of the ECT last year, falling to West Orange, and will open tournament play on Saturday, Feb. 8, with a Round of 16 game against the winner of a bracket featuring 14th-seeded Newark Tech, 19th-seeded Mount St. Dominic, and 30th-seeded Science Park.
If they advance, IC will also host a quarterfinal game Saturday, Feb. 15, on their small home court, where they are intimately familiar with all the angles and are deadly from 3-point range. The potential opponent could be sixth-seeded Caldwell, 11th-seeded Newark Central, or perhaps an upset-minded Montclair Kimberley Academy, the No. 22 seed, or Montclair High School, the No. 27 seed.
The Cougars (9-2) and Mounties (1-11) are slated to play each other in a preliminary round game this Saturday, Feb. 1, at the MKA Upper School gym.
The ECT semifinals will be played at Weequahic High School on Wednesday, Feb. 19, with the finals set for Saturday, Feb. 22, at West Orange High School.
The Lions would love a shot at redemption against East Orange, a potential semifinal opponent, who defeated ICHS 46-40 on Jan. 14.
See the full pairings on page 21.
MKA OVERCOMES THE ODDS
They may not have a lot of players on the roster, but the ones they have play with a ton of heart.
If you want an example, you don't need to look further than last week, when the Cougars beat North Star Academy 57-49 in overtime with just three players.
That's right. After three players fouled out in the second half, the Cougars had to first tie the game, then win it in overtime with only three players on the floor.
"We fouled out Ayantu [Flowers] in the third quarter, who is our second leading scorer," said head coach Ilirjana Lulgjuraj. "And then going into the fourth, we fouled out Monica [Labib] who is our freshman point guard. And then we foul out Jess Christian. So that's three players fouled out."
The Cougars and North Star had traded the lead back and forth for much of the game, but as each MKA player went out, NS was able to start gaining a lead. By the time Christian went out, the Cougars were down by four points with four minutes to go in regulation.
"I had three timeouts," said Lulgjuraj. "So, I took one and I told them, 'Girls, we have three players. You girls are all great players, so if you want it, you can do it.'"
The three remaining players — Vanessa Amsinger, Patricia Columbia-Walsh, and Taylor Powell— rallied, playing smart basketball and making their shots count. 
By the time the four minutes were out, the Cougars had tied the score and the teams were heading to overtime.
Lulgjuraj had two more time outs left, and made sure she used them to give her three players a break when they needed it. North Star, a tall, athletic team, played aggressively in the overtime, and the Cougars went to the free throw line numerous times.
"Free throws are key. So, it was important for us to make our free throws and we did."
The Cougars would outscore North Star 13-5 in overtime, leaving the court victorious. 
Composure and patience are things Lulgjuraj preaches to her team all the time, and never were they more critical than when the players faced a 12 minute stretch with just three players.
It wasn't the first time Lulgjuraj had faced these odds, and the same went for Amsinger.
"[Amsinger's] freshman year I was an assistant coach, Jess Bishop was the head coach and we down in a similar situation," Lulgjuraj recalled. "And we had just three players on the court. We ended up losing I think by one point, I think against Shabazz."
While things didn't bounce MKA's way three years ago, Lulgjuraj felt the experience helped Amsinger composed, and through her, the other two girls as well.
"I told the parents, we're experienced. We got this," Lulgjuraj said. 
TOUGH SCHEDULE PAYING OFF FOR RED-HOT IMMACULATE
Ask any basketball expert and they'll tell you it's a game of runs.
At any moment, a team can heat up on the floor and score 15, 20 points while throttling the opposition and holding them to just five or even three points.
After four straight wins — three of them by an average of 27.6 points — ICHS might be starting a run just in time to make some noise in the ECT.
This is all according to plan, of course, as the Lions are always scheduling tough teams throughout their schedule so they can be battle tested when the Essex County and NJSIAA tournaments come along. 
Losses to Washington D.C.'s Sidwell Friends, and New Jersey powerhouses Hudson Catholic and Rutgers Prep might sting at the time, but come February, the hard lessons learned in those games translate to wins.
ICHS won't take their foot off the gas between now and Feb. 8 when they enter the ECT — before then, they'll face a Canadian powerhouse, St. Laurent of Ontario, as well as University, the SEC-American Division leaders and odds-on favorite to bring home the county tournament title.
STILL TIME TO REBOUND FOR MOUNTIES
Montclair's 45-21 loss to Caldwell on Tuesday, Jan. 28, makes it 11 in a row for the Mounties, but the hard-working team still has time to turn things around. The key will be improving their defense and finding a way to improve on their 23.6 points per game average. 
It'll take more performances like that of seniors Janyia McGainey-Rodgers, who scored 15 points against Caldwell, and Rahzier Kelly, who had 14 rebounds in the same game. McGainey-Rodgers is also averaging 3.3 rebounds per game, with junior Karen Hankerson right behind her at 3.2.
The Mounties' schedule should provide some competitive games down the stretch including MKA in the county tournament, as well as Irvington, Millburn, Kittatinny and Newark Collegiate.