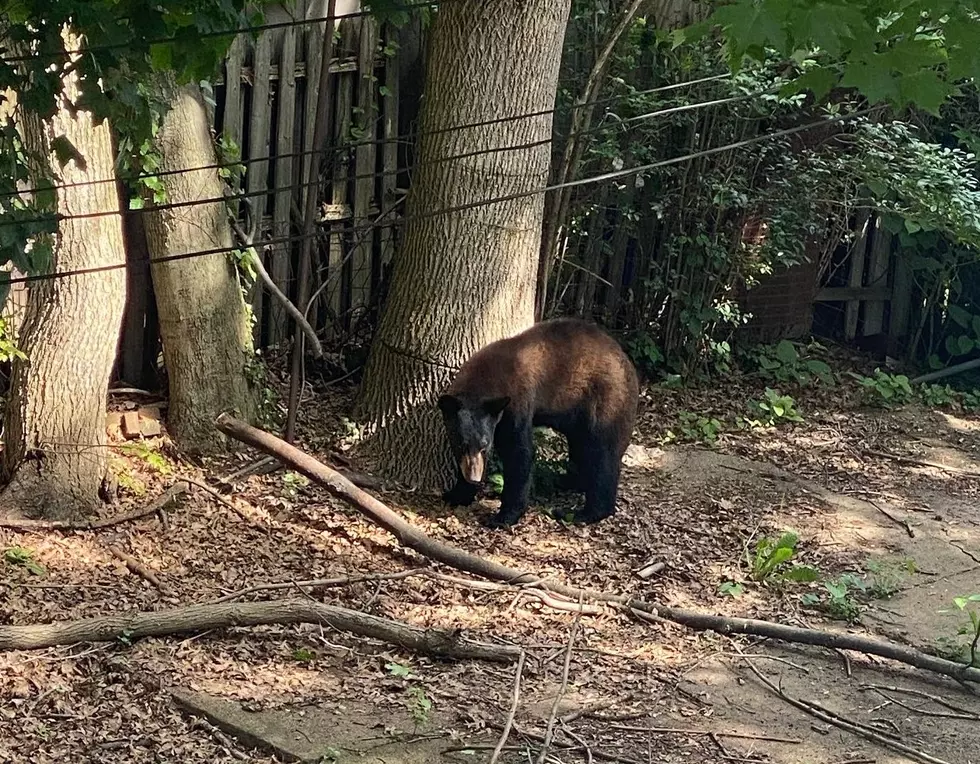 Bear tranquilized and relocated out of Montclair
A bear in Montclair, May 23.
PHOTO COURTESY BETH CHUCKER
A black bear made a brief stop in Montclair on Monday before New Jersey Fish and Wildlife officers tranquilized and removed it.
The male bear, thought to be about a year and half old and 140 to 160 pounds, was first spotted around 8 a.m. in the area of Gates Avenue behind the Verizon building, Montclair Animal Control Officer Michele Shiber said. 
Due to the general traffic in the area and nearby Charles Bullock School, New Jersey Fish and Wildlife was called in and decided that the bear should be tranquilized and relocated. 
"Most of the time we monitor the bear until it can make its way back home, making sure people keep their distance, but the bear would have to go all the way down Gates to make it back to Eagle Rock [Reservation]," Shiber said. 
At around 11 a.m., officers from Fish and Wildlife netted the area under a tree that the bear had made his way up into. He was darted with no incident and loaded onto a truck for relocation, Shiber said.
"It was a collaborative effort with Montclair Animal Control and Montclair Police," Shiber said. "The fire department also donated its manpower to assist with securing the bear in [New Jersey Department of Fish and Wildlife] netting during the tranquilizing process."
Animal Control Officer Shaune Jones also assisted Shiber, she said.
She speculated that the "teenage" bear was chased out of his home by an older "resident" bear and that Fish and Wildlife would most likely take him to a less congested county with more open space for release there. 
Ed Durkin, a Montclair resident, said his mother watches his son during the week while he's at work, so he'd been outside waiting for her to arrive Monday morning.
"As she pulled up the street, she saw a bear, which I didn't believe. I drove down the street to check myself and there was this big black bear," said Durkin.
He said when he drove up, the bear ran off and climbed up the tree.
Durkin said he left after a few minutes, but called police. Animal control officers arrived a short while later.
"What caught my attention was how big he was, and I didn't want a resident who was outside to have a problem," Durkin said. "My wife and I frequently walk our son in that area."
The last time a bear made its way to Montclair was last June of last year, when one was sighted in the area of Nassau Road and Patton Place ravaging a resident's bird feeders.
Animal control officers tracked that bear for a short period, but it eventually made its way to some wooded areas and disappeared.
In 2016, a bear wandered into the downtown area on Church Street. Due to it being in the downtown area and its proximity to Hillside School, the bear was tranquilized and relocated by Fish and Wildlife, Shiber said.