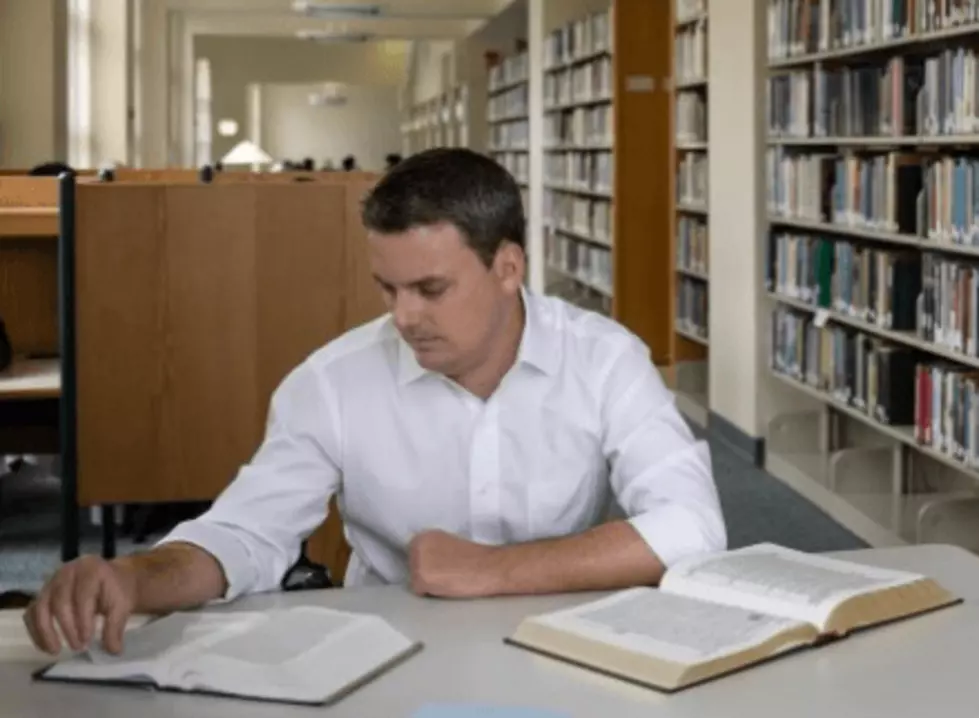 After early Bible discovery, MSU English professor garners Genius Grant
COURTESY MSU
Jeffrey Alan Miller, Associate Professor of English at Montclair State University, is among the 2019 MacArthur Fellows.
Editor's Note: The following was submitted by Montclair State University. 
Jeffrey Alan Miller, Associate Professor of English at Montclair State University, is among the 2019 MacArthur Fellows, recipients of the prestigious award commonly (but unofficially) known as the "Genius Grant." The highly selective award is given to "extraordinarily talented and creative individuals as an investment in their potential."
Along with the other Fellows, Miller will receive $625,000, to be paid out in equal quarterly installments over five years — no-strings-attached.
The John D. and Catherine T. MacArthur Foundation made the announcement on Wednesday, Sept. 25.
A Rhodes Scholar, Miller achieved international recognition in 2015 when he announced his discovery of the King James Bible's earliest known draft, which he identified while doing research in the archives of Cambridge University's Sidney Sussex College. Published in 1611, the King James Bible is the most widely read work of English literature of all time and, it follows, one of the most influential. Experts characterized Miller's discovery as being "perhaps the most significant archival find relating to the King James Bible in decades."
"I am deeply honored (as well as more than a little taken aback) to have been selected as a MacArthur Fellow," says Miller. "I'm also extremely grateful to the entire Montclair State community of students, faculty and staff, who have always been so supportive of me and who have helped enable the work I've tried to do in ways too numerous to count. It's very much an honor in which Montclair State will, I hope, share."
The MacArthur grant is the latest development in what has been an eventful past year for Miller. Recently, Miller was awarded two prestigious fellowships from the National Endowment for the Humanities (NEH): an NEH Fellowship and a fellowship through the NEH Awards for Faculty at Hispanic-Serving Institutions program. Each fellowship (he was required to choose one) was to support a full year of dedicated work to complete a book-length critical edition and study on the discovered draft of the King James Bible.
In addition to his work on the King James Bible, Miller is also nearly finished with a book on John Milton, the 17th-century writer and author, most notably, of Paradise Lost. It was actually Miller's research on Milton that first paved the way to what would become his world-famous discovery of the King James Bible draft, as it was while researching an essay in graduate school on Milton that Miller first began exploring the archive of papers in Cambridge formerly belonging to the King James translator, Samuel Ward, whose early draft of part of the translation Miller would later come to identify.
Miller credits his achievements to highly supportive mentors, colleagues and family members over the years. "I spent three years researching something that was supposed to be just a little essay on Samuel Ward for a collection of essays on the King James Bible, during which time I overshot the initial deadline for the essay by over a year. So it took a lot of support but also patience from a variety of people – not least of all from the volume's editor Mordechai Feingold [of CalTech], who had commissioned the essay – to allow me to persevere with the research, not knowing exactly how it would all turn out or what the real payoff might be. It was thanks to that freedom, as often happens with these things, that very late in the research process I finally happened to turn my attention to the manuscript notebook of Ward's that turned out to contain an early, seemingly first draft of part of the King James Bible."
The MacArthur Foundation recognizes both Miller's King James Bible research as well as his work on Milton, and Miller notes that those two main strands of his research and writing are in various ways interconnected. For instance, a central concern of Miller's research is the extent to which the writing processes behind texts and the material remnants of those processes that still survive today in archives played a role in shaping the development of some of the 16th and 17th century's most important works, whether those be works by Milton or the King James Bible itself.
His advice to students:
"Try to follow your instincts, try to maintain curiosity, try to surround yourself with people who are supportive and whom you can learn from. Do work you find meaningful; do work you find exciting. Draw inspiration from and associate yourself with other people who you think are also doing exciting work and trust that that will be its own reward. No one sets off doing this kind of work thinking they are going to win an NEH grant or MacArthur grant."