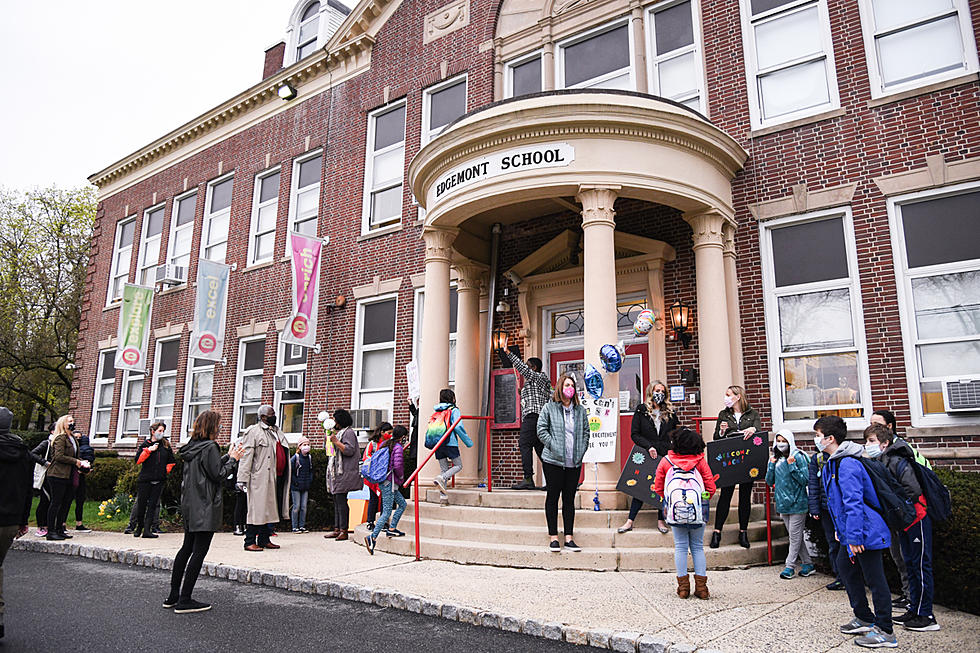 Big drops in Montclair school enrollment — kindergarten down 22% so far
First day back at Edgemont School, April 12, 2021. KATE ALBRIGHT / FOR MONTCLAIR LOCAL
By TALIA WIENER
wiener@montclairlocal.news
Enrollment in the Montclair public school district for 2021-2022 is at its lowest in 22 years — with kindergarten enrollment down 22% from the fall of 2020 so far.
Those numbers, though, are in flux, as families consider their fall plans after a year that saw children mostly learning from home, and expectations for a return to classrooms constantly shifting. What it means for school staffing and class sizes remains in question as well.
Already, some local private schools are seeing interest in enrollment grow rapidly — with applications to Montclair Kimberley Academy's kindergarten at the highest level they've been in five years.
Total public school district enrollment for preschool through high school for 2021-22 was at 6,071 students — not including out-of-district placements — according to a report provided to Montclair Local July 7. That's a decrease of 293 students from October of 2020, when 6,364 students were enrolled, according to an annual report the district published at the time.
At that time, students had started their school year with all-remote learning. The district was already seeing a significant drop from the 6,597 students enrolled in the fall of 2019 — the last time it started a school year in pre-pandemic conditions.
If the numbers for the coming year hold steady, Montclair will experience an 8% drop over two years, districtwide.
Most grade levels aren't seeing major changes as students move up through the school system. For instance, 486 students were in their junior year in 2020-21, and 492 are slated to start their senior year in the fall. That sort of stability appears typical at most grade levels.
The year-to-year grade-level comparisons aren't perfect, but they're close. The October reports break all special education students in self-contained classrooms into a separate tally, regardless of grade level; the figures provided to Montclair Local this month don't. In the fall of 2020, there were 161 such students districtwide — an average of about a dozen per grade level.
The biggest drops are seen at the incoming kindergarten level. As of July 7, there were 296 kindergartners registered for fall. Kindergarten enrollment in October of 2020 was 381. In 2019, it was 484.
As things stand now, the incoming kindergarten class is only 61% the size of the class from 2019.
"Kindergarten enrollment is typically higher at this time of year," Felice A. Harrison-Crawford, the district's director of operations and school support services, said. But the district has seen a surge in kindergarten registrations over the past two weeks, she said.
A district enrollment projection from October 2020 estimated 514 kindergartners would be enrolled in 2021 — 218 more than currently enrolled for the fall. That same projection estimated a districtwide enrollment of 6,592 for 2021 — 521 students higher than current enrollment.
"By Aug. 1, we should have a firmer position on enrollment, which may impact class size or staffing," Harrison-Crawford said. District officials have not commented further on how a lower kindergarten population might affect staffing in the district. 
None of the 13 classroom teachers the district cut from its staff for 2021-22 in May were kindergarten teachers, according to Montclair Education Association President Cathy Kondreck, who took the union leadership role this summer. 
Prekindergarten enrollment is also lower than in years past, with 32 students currently enrolled for the fall. In October of 2020, there were 54 prekindergarten students, and 55 the year before that.
As the public school population decreases, interest in Montclair's private schools appears to be growing. 
At Montclair Kimberley Academy, applications were up 15% from 2020-21 and up 11% from 2019, Alyson Waldman, MKA's director of admissions and financial aid, told Montclair Local on July 12. Applications and enrollment for MKA kindergarten for the 2021-2022 school year were the highest they've been in five years, up 34% from last year, Waldman said. MKA offers only full-time kindergarten. 
Immaculate Conception High School has been seeing steady growth since 2015-16, when it had 129 students — up to 236 in 2020-21. It's expecting to top that with 240 to 250 students in 2021-22, Principal Michele R. Neves said.
Losses in the pandemic
The public school enrollment drops coincide with the pandemic — which saw Montclair schools closed to in-person learning for most of the school year. School officials originally planned to begin a return for hybrid instruction in November, but those dates were pushed back first by the district and then because of a dispute with its teachers union. Ultimately, a staggered return began, with elementary schools coming back in April. High schoolers didn't return until the final weeks of the school year.
Parent Juliet Jones told school officials at a June 21 school board meeting families have lost their trust in the district and are wary about the fall.
"The continued lack of communication, lack of reasoning and last-minute changes have left everyone reeling," Jones said at the meeting. "Nothing less than the full opening of schools will regain this trust and stop further flight from the district. And although that has been stated, it is hard to trust this because of how we will remember this year, and how we failed."
Jones has two children in elementary school in the district.  
For 2021-22, Gov. Phil Murphy has said, all districts will be required to provide full five-day in-person instruction, making accommodations only for students or staff with particular health concerns. 
The district submitted its Safe Return to School Plan to state officials June 24, and shared the plan with families in a weekly community message on June 25. The plan is a "living document that will change throughout the summer," Superintendent Jonathan Ponds said in the message. 
Parent Carolyn Corbran, throughout the past year, frequently advocated for a return to school buildings, organizing a rally last fall, pushing for outdoor learning as concerns remained about facilities' safety, and petitioning online to have the district give families the option for in-person learning.  She said she's "finally feeling optimistic" about the district's return in the fall after the spring transition to in-person "went so well."
"I know being in-person made a huge difference with my child's academic progress this spring, and it's necessary for a return to full-time schooling to help the kids who didn't do well during remote learning to finally catch back up next year," Corbran said. 
In May, Mayor Sean Spiller announced the Full Time Task Force, a group created to help shape the environment to which public schools students will return for full-time classroom instruction in the fall, and to look at opportunities to improve facilities and programs beyond that. The group is made up of parents, students, educators, district administrators, school board members and himself.  
The task force reviewed the Return to School Plan with the district, Chair Debra Jennings told Montclair Local. The group will meet with selected community members at a July 29 meeting to discuss social-emotional learning — which deals with students' emotional intelligence, behavior and skills — and the resources that are available to students in Montclair, Jennings said.