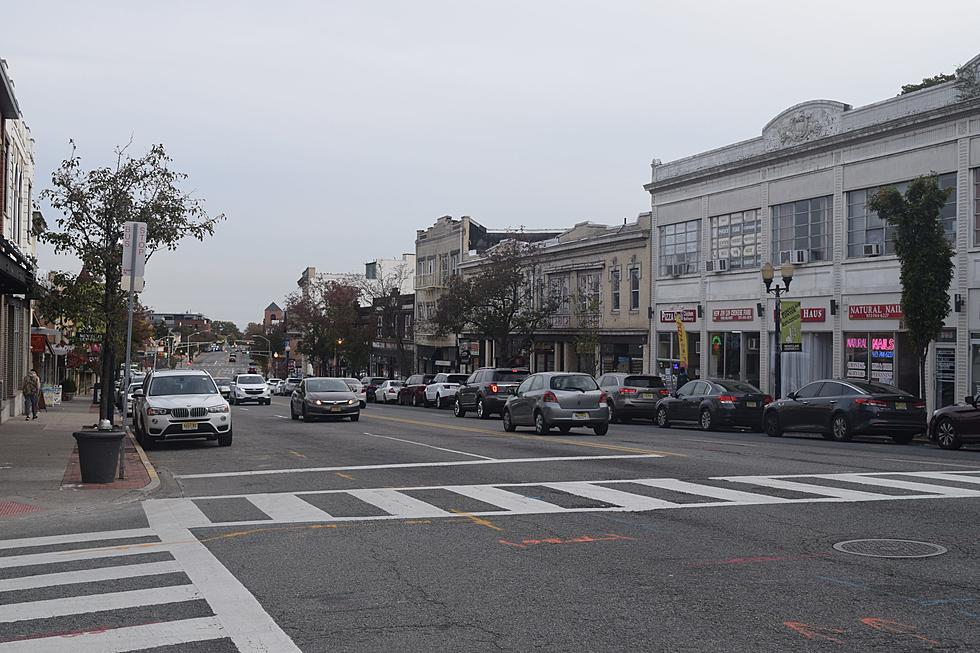 Bloomfield Avenue upgrades on track to be completed May 2022
The intersection of Willow Street and Bloomfield Avenue is one of 12 along Bloomfield Avenue undergoing updates to increase pedestrian safety. The project is on track to be completed in May 2022. (TALIA WIENER/STAFF)
By TALIA WIENER
wiener@montclair.news
An Essex County project to update 12 intersections along Bloomfield Avenue in Montclair is progressing on schedule, with completion still expected in May 2022, according to county Principal Engineer Asif Mahmood.
The project for the county-owned roadway was first detailed in 2019 and is part of an effort to overhaul 40 intersections in several county communities using $15 million of federal funding. Construction had originally been described as wrapping up in 2021, but county engineer Sanjeev Varghese told Montclair Local the work saw delays because the federal Department of Transportation's Office of Civil Rights didn't approve a subcontractor previously attached to the work.
In fall 2015, Montclair Planning Board member Martin Schwartz sat down with Essex County commissioner and Montclair resident Brendan Gill over coffee to share his concerns about Bloomfield Avenue's safety. "Five Corners," the nickname for the intersection of Bloomfield Avenue, Church Street and North and South Fullerton avenues, was "dangerous and not working," Schwartz told Montclair Local. 
"I just got tired of seeing accidents at the corner of Fullerton and Bloomfield, people stuck in the middle of the intersection, people not knowing when to walk, and backups all over the place as a result, with cars unable to turn and proceed," he said. "I just got fed up."
In October 2018, 52-year-old Montclair resident Samson Hum was hit by two cars and pronounced dead half an hour later on Bloomfield Avenue, near Lloyd Road. 
"Why before my outreach to Brendan Gill, why the county has not done any of this, I don't know," Schwartz said. "Supposedly, it was on their radar, but nothing had happened. So really the impetus came from the pressure the proposal generated locally."
Schwartz's goal was to get people to be able to walk across Bloomfield Avenue safely, both at Five Corners and by Seymour Plaza, where the Wellmont Theater, the arts plaza and the new development are now, he said.
For Bike&Walk Montclair president John Sullivan, the changes to Bloomfield Avenue intersections in Montclair do not bring the street "up into the place that we'd hoped to see it come to or we think it could be."  
Bike&Walk Montclair advocates for "policies, programs and street designs that support safe biking and walking," according to the organization's website.  
"We feel that signal changes are more of a nod to getting cars through in a more efficient way and not really taking a holistic look at how we make this better for people," Sullivan said. "When you shut the entire street down and you invest all this money in it, that's the time to dream big, and I think we're just playing it more conservative and basing it around moving cars through efficiently."
Bloomfield Avenue is officially part of County Route 506. The intersection work includes a 1.2-mile section beginning at the intersection of North Mountain and South Mountain avenues and extending to the intersection of Maple Avenue and Pine Street.
The improvements are being funded through a grant from the North Jersey Transportation Planning Authority, ultimately originating from the Federal Highway Administration's Local and Rural Road Safety Program. The county will pay $1.3 million to KS Engineers for design and inspection services and $6.7 million to Trench Technologies for construction. The grant also supports work on nine intersections along Park Avenue in East Orange, county spokesman Anthony Puglisi said.
The underground intersection work — traffic light and signal foundations — has been completed between North and South Mountain avenues and Park Street, Mahmood said. The construction team is now moving north on Bloomfield, from the intersection of Maple Avenue and Pine Street up to the Five Corners intersection. 
Traffic signals will be installed at the intersection of Bloomfield Avenue and Midland Avenue, and at the intersection of Bloomfield Avenue and Seymour Street. A pedestrian crosswalk signal, equipped with backup power in case of power failures, will be installed at the intersection of Bloomfield Avenue and Seymour Street. 
Newly installed crosswalk signals will feature a countdown of remaining time to cross, Mahmood said. Intersections will continue to receive new roadway pavements, striping and signage. Sidewalks and curbing at the intersections will be repaired or replaced where necessary, according to the county. 
Sullivan and other Bike&Walk Montclair members spoke during the public comment period for intersection plans, but their ideas for more sidewalk bump-outs like those on Valley Road, longer crossing times and double-width sidewalks like those on South Park Street did not make it into the final plans, he said. 
"It's working against our town economically, and even socially," Sullivan said. "People come to Bloomfield Avenue and want to be in a place quickly, because it's an inhospitable place to kind of socialize or be, which is really detrimental to a town's downtown."
Given the size of Bloomfield Avenue and its use by the county as a thoroughfare, bike lanes were not part of the consideration, Schwartz said.
"Unless they agree to lose one traffic lane, which would slow down traffic and likely have some impacts countywide, hardscaped bike lanes on Bloomfield Avenue here are currently unrealistic," he said.