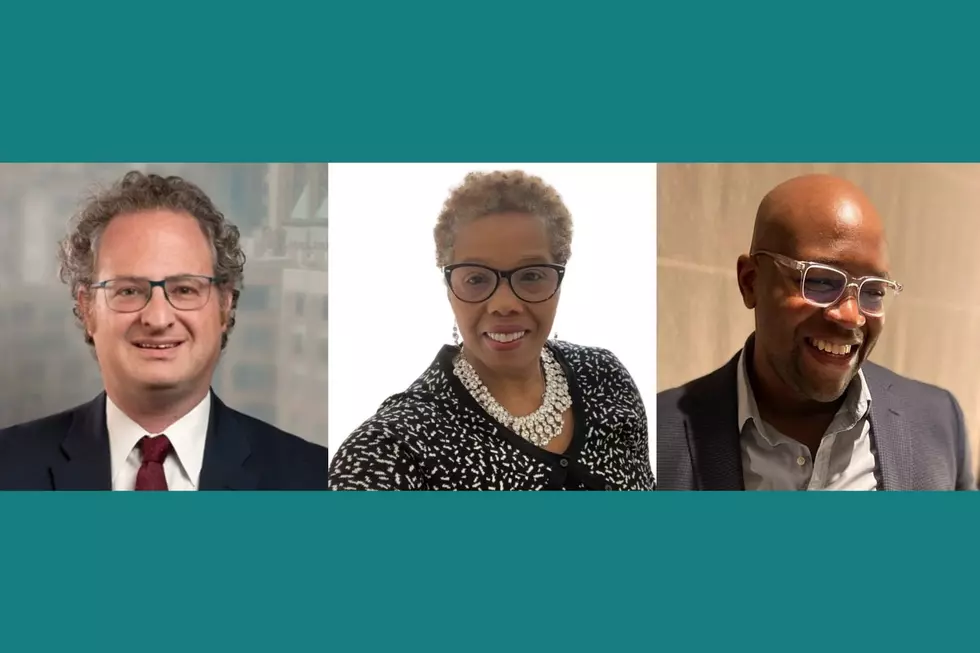 Bouknight, Fleischer, and Inyang elected to Montclair school board
Yvonne W. Bouknight, center, Brian Fleischer, left, and Mfreke "Monk"
Inyang. (COURTESY OF THE CANDIDATES)
More than a week after the Nov. 8 election, the full results for the Montclair Board of Education race are in.
Montclair voters elected Yvonne W. Bouknight, Brian Fleischer and Mfreke "Monk" Inyang to the board, where they will each serve a three-year term, beginning on Jan. 5, at the board's reorganization meeting.
Bouknight received 9,594 votes, 30.44%; Fleischer received 8,052 votes, 25.55%; Inyang received 7,137 votes, 22.64%.
The fourth candidate, Noah Gale, trailed Inyang by just over 1% of the votes, receiving 6,734 votes, 21.37%.
Results from 2 of Montclair's 41 districts were not reported until Wednesday, after poll workers failed to return the results on election night, Essex County Clerk Christopher J. Durkin said last week. The votes remained under seal until a court order was granted. 
Inyang has served on the board since January, when he was appointed by board members in January to fill the seat of the late Dr. Alfred Davis Jr.
The new members will take the seats of outgoing board President Latifah Jannah, and board Vice President Priscilla Church, with Inyang retaining his post.
"I am both honored and humbled by the opportunity that the voters of Montclair have given me to serve this Montclair community and these Montclair schools I love as a member of the Board of Education," Fleischer said Thursday. 
He congratulated Bouknight and Inyang on their election to the board.
"I look forward to working in collaboration with both of them and the other members of the board to advance the critical work of both sustaining and improving our district to meet the educational, social and emotional needs of every child," Fleischer said. 
And he congratulated Gale "on his thoughtful and positive campaign."
"Noah will always be a winner in my estimation, and I hope and expect that he will remain a critical voice in our community and our work as a board and as a district," he said.
Fleischer also said he was grateful Montclair voted in support of the referendum, which passed in the Nov. 8 election with 84% of the vote.
"I promise within the scope of my service on the board to work to ensure that the school district and the board earn the community's continued trust in our ability to efficiently and effectively execute this capital plan," Fleischer said.
Bouknight said she was thankful for the town's support for her and the referendum. 
"People just showed up, and I'm just so happy that that happened," she said. 
Inyang has not yet responded to an email sent Wednesday after results were posted. 
Gale said Wednesday he's enjoyed spending time with the other candidates and knows they will serve the board well.
"Although I was hoping for a different result of the election, I would like to congratulate Monk, Brian and Yvonne on the victory," Gale said Wednesday. "I am blown away and beyond proud."
In November 2023, the seats of board members Melanie Deysher, Phaedra Dunn and Allison Silverstein will be up for election. 
Deysher and Dunn were elected to the board in March in a special election for terms of one year and nine months. The election was historic, coming months after Montclair voters put aside the municipality's long-held practice of filling the board with mayoral appointments. Montclair joined nearly all of New Jersey's school districts in giving voters a choice. The November 2021 referendum question passed with more than 70% of the vote. Voters backed an elected board in all 35 voting districts, across Montclair's four wards. 
Silverstein was appointed to the board by Mayor Sean Spiller in August 2020. 
The seats now held by Kathryn Weller-Demming, Crystal Hopkins and Eric Scherzer, all appointed by Spiller in April 2021, will be up for election in November 2024.