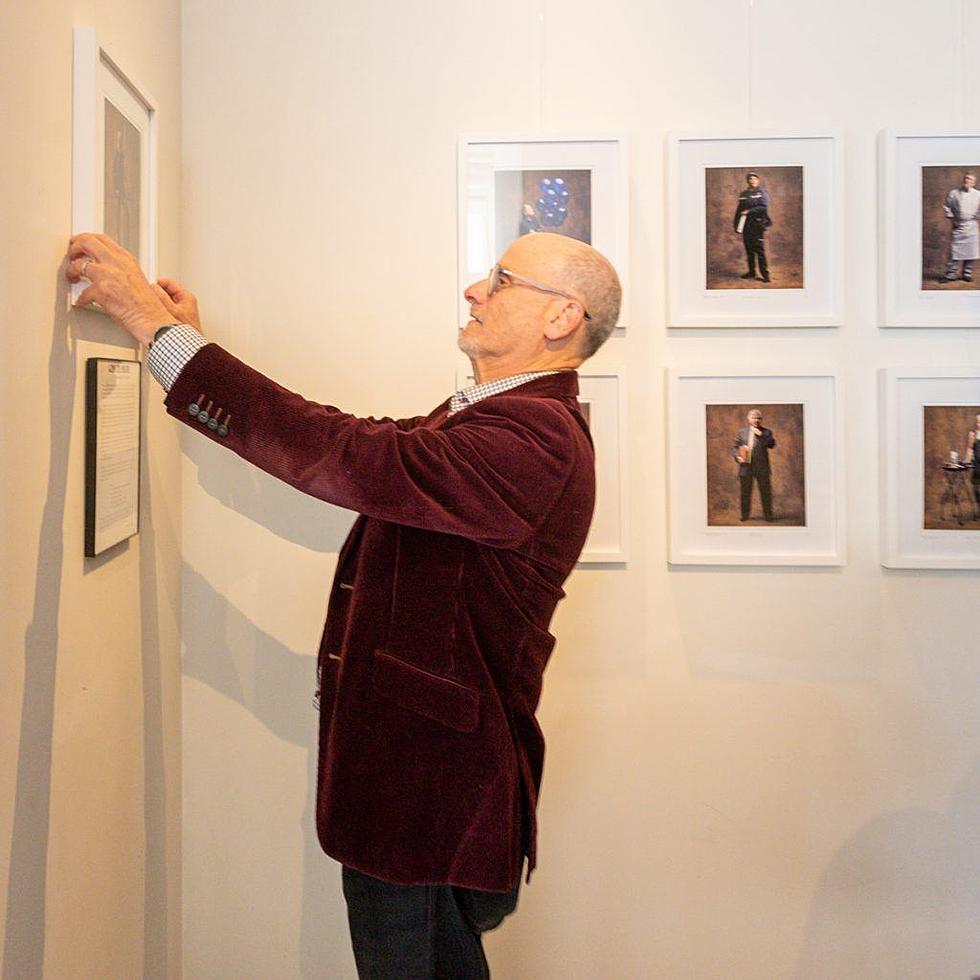 All in a day's work: portraits of workers by Phil Cantor
Montclair photographer Phil Cantor hangs images for his "Line of Work" show of 40 portraits of township tradespeople and professionals, in the Berkshire Hathaway Gallery on Bloomfield Avenue, open to the public through July 31. ADAM ANIK/FOR MONTCLAIR LOCAL
Line of Work
Portraits by Phil Cantor
Opening reception
Thursday, June 13, 6-8 p.m.
The Gallery at Berkshire Hathaway
695 Bloomfield Ave.
Show runs through July 31
By GWEN OREL
orel@montclairlocal.news
What are the tools of your trade?
Will people still be using them in 100 years? What about 50 years?
These are some of the questions Phil Cantor hopes people will consider when they view his new exhibition, "Line of Work," opening tonight at The Gallery at Berkshire Hathaway.
The exhibition consists of more than 40 portraits of working men and women in Montclair, with a few from neighboring towns, photographed at Cantor's studio.
All of the subjects were photographed the same way, using a single light source, a simple backdrop, and tools of the trade of the subject: for a physical therapist, a model of a pelvis, a table. For a photographer, cameras. For an artist, frames.
Cantor was inspired by Irving Penn's 1951 book, "Small Trades," a collection of portraits of workers in Paris, London and New York.
He began the project two years ago, slowly. "First I made a list of the occupations I wanted to highlight," Cantor said.
He's been working in Montclair for 30 years, and in that time has been the president of Montclair Center BID (Business Improvement District), sat on an advisory committee, and had many local clients. If there was a profession he wanted but didn't have a person in mind, often a friend could point him in the right direction.
"When I look at the Irving Penn photographs, I'm looking at occupations from 60 years ago," he said. "A lot of those occupations don't exist anymore. Coal carriers. Chimney sweeps. In France, someone who watches your car on the street."
What will be lost in 50 years? "Who would have guessed that taxi drivers are on the way out?" he said.
Art teacher Marco Munoz has known Cantor for a while; the two connected over photography. Munoz wanted to get good pictures of his artwork, and began investigating photographic techniques. One day he visited Cantor's studio and Cantor told him, "I want to photograph you for this show."
________________________________________________________________________
READ: OVERLOOKED, AND LOOKING; NICK LEVITIN'S HOMAGE TO PINE STREET
READ: A GIFT FROM THE COMMUNITY IN EXHIBITION
________________________________________________________________________
Munoz, who teaches at Ronald Reagan Academy in Elizabeth, said Cantor's portraits show the personality of each person. "You can see what that person might be about, or let your imagination fill in the blanks," he said. He is photographed with a frame, representing how he teaches children "to look at a framework and explore that space with their imagination."
As a portrait photographer, Cantor tries to make people look their best.
For this project, he was looking for a serious expression. "They are not supposed to be gorgeous portraits," he said. "Being pretty was not my main driving force." And he was enthralled by the dignity people naturally brought to the challenge.
Raphael Badagliacca interviewed all the subjects and distilled their words to just a few sentences. Some of those quotes will be on the wall at the exhibition. Cantor hopes that, like Penn, he will be able to create a book.
Some of the people Cantor photographed are Montclair notables, such as Mayor Robert Jackson and Lora S. Urbanelli, director of the Montclair Art Museum.
Others are less well-known. Salvatore Gangi is a crossing guard Cantor spotted on Watchung Avenue one day, who was wearing a furry hat and aviator glasses.
"I pulled a hard stop, ran back, and invited him to be in this," Cantor said. "He brought his stop sign."
Physical therapist Karen Donalson said she thought the people Cantor chose are all passionate about their work. "I came to New York as a professional dancer. By the time I was 30, I went to physical therapy school at NYU. It's something I really believe in. Our ability to move without pain and keep ourselves independent is one of the fundamental most professional things we can do," she said.
Donalson's husband, Robert Benno, does not work at all: or rather, the retired professor works on his golf game, and on piano, performing and studying with Jazz House Kids' Adult Big Band. He's photographed surrounded by golf clubs. He retired from William Paterson University two years ago after teaching biology for 35 years.
"I work at other things now," he said. "I'm always working, but now I'm more of a student. One of my goals in life is to shoot my age. It's not so easy. Most people are able to do this between the ages of 76 and 79. That's where I am."
Both Donalson and Benno look forward to seeing the show. It's a time capsule, Donalson said. "We will be able to look back and show our relationship to work in 2019."