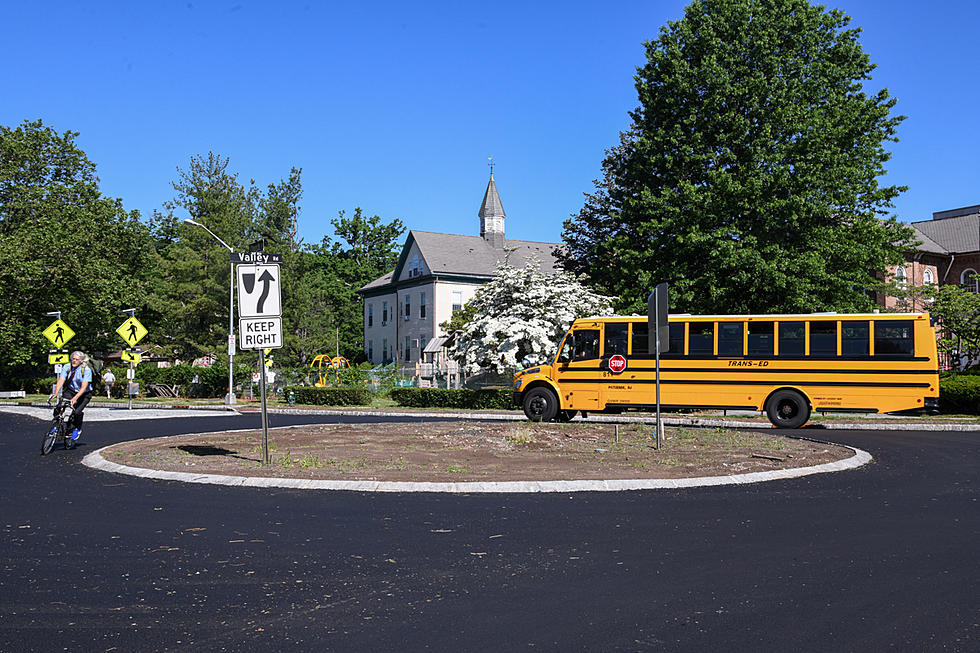 Church Street Circle roadwork underway
Work began on the Church Street and Valley Road traffic circle recently, after the roadway fell into disrepair over several years. (KATE ALBRIGHT / MONTCLAIR LOCAL)
By JAIMIE JULIA WINTERS
winters@montclairlocal.news
It was once a centerpiece to Montclair — and after years of neglect, work has begun on the unruly Church Street Circle. 
The roundabout that encompasses Church Street and Valley Road is riddled with potholes, lacks yield-control signage and pedestrian crosswalks. It until recently contained a fountain that hasn't worked in eight years. Last week, work on the roadway, at least, began. 
In November 2019, the Township Council approved schematic designs drawn up by Arterial needed to provide to the New Jersey Department of Transportation in order to apply for state funding for the project.
Recently, the project experienced a setback due to a materials shortage and significant cost overruns, so Montclair looked to source new materials both to bring costs down and to speed things up, Councilman Peter Yacobellis said.
Nationwide, prices for goods used in construction jumped 3.5% from February to March, and 12.9% since March 2020, Associated General Contractors said in an April press release. Both the monthly and yearly increases were the highest recorded in 35 years, AGA said.
After going out bid, Montclair was able to settle on a contract for the construction with Vektor Corporation in the amount of $547,234, of which $333,430 will be covered by a New Jersey Department of Transportation Municipal Aid Grant, township Communications Director Katya Wowk said.
The contract covers replacement of curbs, creation of raised mountable traffic splitter islands and ADA curb ramps, signage and striping, and repaving of the asphalt, Wowk said. 
"Some of my colleagues and I have raised concerns in an effort to ensure both striping and signage are clear for drivers and non-drivers, as things are quite unruly as-is," Yacobellis said.
Real estate developers LCOR gave $40,000 to be used for design improvements to the traffic circle, as part of the site plan approval to build the Valley & Bloom apartments.
Plans for the fountain are still up in the air. It is currently being designed by an outside architectural firm, Wowk said. 
The fountain was constructed in 1976 to commemorate the nation's bicentennial. Design plans presented in the past by Arterial included ones where the water spout is also a piece of art, or where the fountain would be replaced with a classic sculpture or modern piece of art. 
The fountain construction budget had been $150,000 in 2019. But at the time, then-Councilman Sean Spiller, now mayor, said the cost could rise to $250,000 if the council chose a more elaborate design.