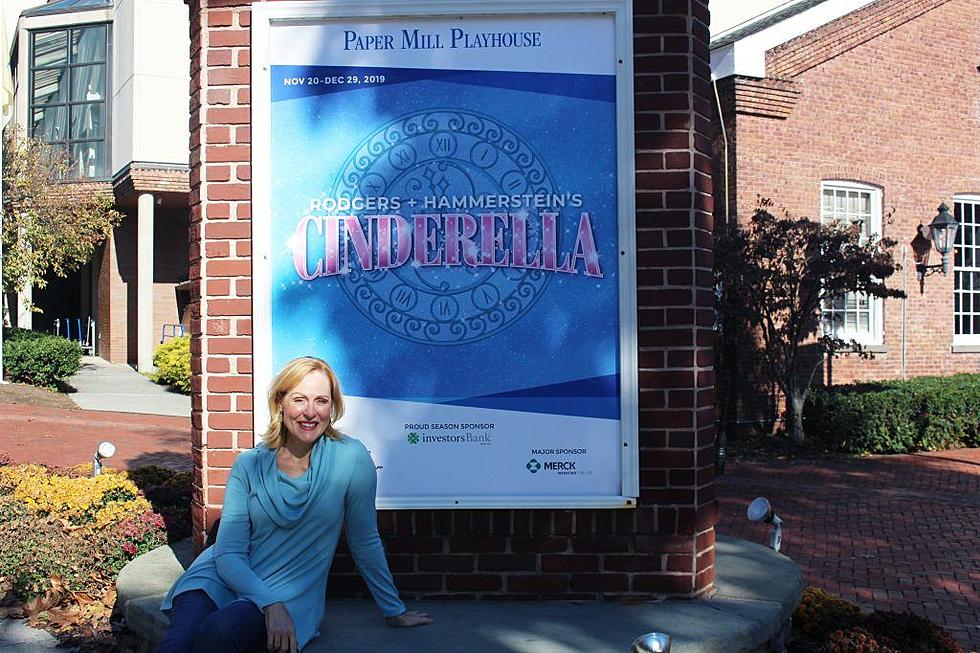 Cinderella magic: it's possible!
Donna English, featured as Marie/Fairy Godmother in "Rodgers + Hammerstein's Cinderella," stands outside Millburn's Paper Mill Playhouse.
COURTESY EMMA RHYNER/FOR PAPER MILL PLAYHOUSE
Rodgers + Hammerstein's Cinderella
Music by Richard Rodgers, lyrics and original book by Oscar Hammerstein II
New book by Douglas Carter Beane
Through Dec. 29 
Special autism-friendly performance Thursday, Dec. 26, 1:30 p.m.
Paper Mill Playhouse
22 Brookside Drive, Millburn
Papermill.org, 973-376-4343
By GWEN OREL
orel@montclairlocal.news
There was a little fairy dust right at the beginning of actress Donna English's career.
The Montclair performer, who is about to open as Marie/Fairy Godmother in Paper Mill Playhouse's "Rodgers + Hammerstein's Cinderella" next week, with a revised book by Douglas Carter Beane, majored in performance at Northwestern University in Chicago.
She was in her senior year, and playwright Alfred Uhry had come to do some work on a new show that he'd written with Gerry Freedman and Bob Waldman and John Weidman.
Freedman, who had directed "Hair" on Broadway, had gone to Northwestern, and was directing the musical about Al Capone.
"I hit it off with Alfred and Bob," she said. It was before Uhry's blockbuster hit, "Driving Miss Daisy," and Uhry was busy sprucing up old '20s musicals at Goodspeed Opera House in Connecticut.
It was too bad she wasn't through with school, because she'd be perfect for the ingenue in a musical about golf called "Follow Through."
Oh, well.
Then, senior week, she gets a call that they've fired the ingenue. Could she fly to New York the next day to audition? She called her parents in Oklahoma, and they said she could.
________________________________________________________________________
READ: THEATER REVIEW; LUMIERE LIGHTS UP 'BEAUTY AND THE BEAST'
READ: THEATER REVIEW; JUDY GARLAND FINDS HER WAY
READ: THEATER REVIEW; 'ANNIE' IS A GIFT
________________________________________________________________________
She auditioned in the casting director's kitchen in Greenwich Village.
She sat on the stoop while they decided. "I didn't know, I thought this was how New York auditions work, I guess," she said.
Then they offered her the job. She flew back to Chicago, got her things, and went back in two days to East Haddam.
She got a nice notice in the New York Times. Friedman hooked her up with his agent.
"I was a principal at a major theater, and had an agent," she said. She bypassed the open calls, the Equity showcases.
It was like magic.
Alfred Uhry was a fairy godfather. And she learned the big lesson Cinderella learns: "anything is possible." With one call, she was a professional. She learned her craft by working with good directors and watching how older actors work. "And I'm very aware that now I'm that person, and I take that responsibility really seriously."
Like the Fairy Godmother.
In this version of the Rodgers and Hammerstein musical, the Fairy Godmother is also the woodsy "bag lady" Marie, who has watched over Ella as she grows, protecting her ever since her father died.
"And Cinderella is the only one who is kind to her, and they have a tender relationship," English said. Marie looks crazy, and she's funny, which is fun to play: "and then there's this delight in getting to reveal myself. I get a lot prettier," she added, laughing.
People of course will know the story of the girl whose wicked stepmother and sisters turn her into a housemaid, and who will not let her go to the prince's ball where he intends to pick his bride. Cinderella's Fairy Godmother turns a pumpkin into a carriage, mice into horses, and gives Cinderella a beautiful gown, but she has to leave the ball at midnight.
When she does, she loses her shoe, and the prince seeks the girl whose foot fits into it.
Carter Beane has added some lines that make Cinderella a bit more forceful, with more backbone, than she sometimes appears. And there's a "new" song too: a Rodgers and Hammerstein number called ""There Is Music in You," written for a different show. English, who originally trained in opera, gets to sing it (as well as "It's Possible"). It's about self-empowerment.
"It's sort of the 'Climb Ev'ry Mountain' of 'Cinderella,'" English said. "The Fairy Godmother is a warm, motherly character, but she's also there to push her out of her own insecurities."
This is the 11th show English has done at Paper Mill, where Northwestern classmate Mark Hoebee is artistic director. Hoebee is also the director of "Rodgers + Hammerstein's Cinderella."
"I believe I'm setting the record with this show for a performer for most productions," she continued. "I feel really lucky to get to work at this wonderful theater 20 minutes from my house." Well, 20 minutes on a good day.
She played the wardrobe in last spring's "Beauty and the Beast." Hoebee casts really well, she said. She has worked with several people in the company before, including Chris Seiber, who plays the underhanded character Sebastian. Paper Mill-goers will remember him as Daddy Warbucks in "Annie " in 2017.  English also knows the dressers and crew.
"It's sort of like coming home here. The call me the 'Queen of Paper Mill,'" she said with a laugh. "They keep hiring me. I don't know why."