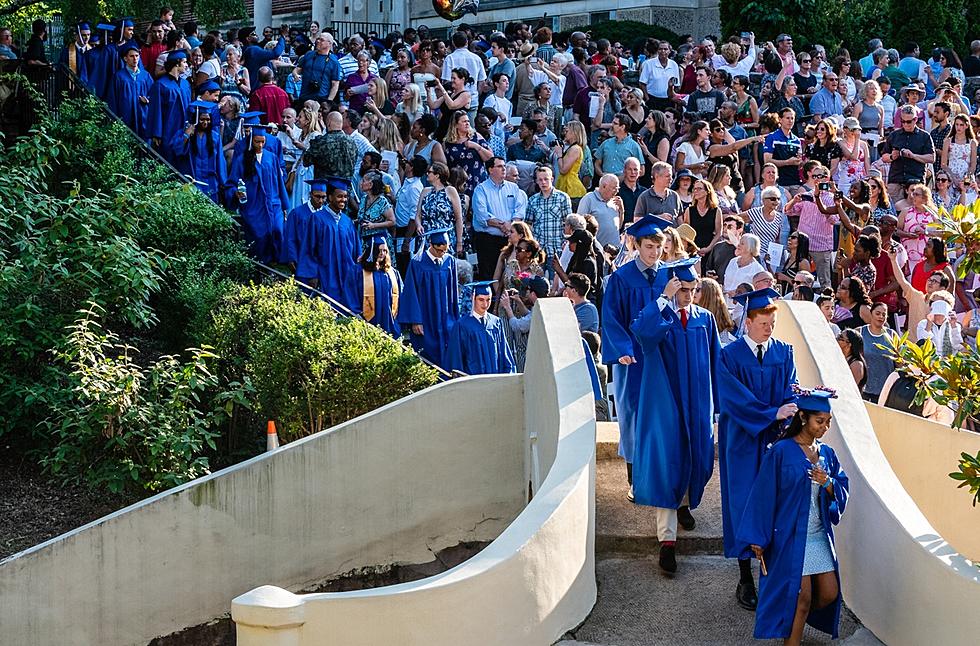 College report reveals more applications, but fewer acceptances for Class of 2019
Montclair High School Class of 2019 crosses the bridge for their Commencement and afterwards, Project Graduation, Weds., June 26.
By ERIN ROLL
roll@montclairlocal.news
Montclair High School's students are filing a greater number of college applications than in years past. And even though Montclair students' GPA and SAT scores have risen, college acceptances have dropped.
The Outcome Report — the class of 2019 college acceptance and post-secondary plans overview — was presented by high school director of counseling Dustin Bayer on Dec. 5.
In 2015, the first year the district began recording the Outcome Report, each student averaged 6.4 college applications totaling 2,844. Roughly 1,649 applications or 58 percent resulted in an acceptance to college.
In 2019, students submitted a total of 3,621 applications, an average of 7.6 applications per student. Thirty-three percent of those applications, or 1,194, resulted in an acceptance to college.
In 2018, 3,597 applications were submitted, an average of 7.4 applications per student. Of those, 40 percent, approximately 1,439 applications, resulted in an acceptance.
In 2017, 3,419 applications were submitted, an average of 6.8 per student. Forty-four percent, 1,504 applications, resulted in an acceptance.
In 2016, 3,089 applications were submitted, an average of 6.6 per student. Forty-five percent, or 1,390 applications, resulted in an acceptance.
Of the 474 members of the Class of 2019, the majority, 402, went on to attend four-year colleges, and 24 went on to attend two-year colleges. Twenty-five students went on to career education, seven went directly into the workforce, three entered the military and 13 took a gap year.
Among demographic groups, 92 percent of white students, 79 percent of black or African American students, 88 percent of Asian students and 70 percent of Hispanic or Latino students went on to attend college.
Black and Hispanic or Latino students had the highest representation in students going on to career education or trade school after completing their studies at Montclair High School. Of the student demographic groups, 12 percent of black students (16 out of 134 students) and six percent of Hispanic students (three out of 57) went on to career education after high school, compared to less than 1 percent of white students and zero percent of Asian students.
Higher GPA, SATs
The average GPA has risen over the last four years, from 3.534 to 3.741. The average SAT score has also gone up, from 1,123 in 2015 to 1,231 in 2019.
The acceptance rate of students at certain types of colleges has gone down between 2018 and 2019, Bayer said. Acceptances into "Most Competitive" schools on Barron's list dropped from 200 in 2018 to 163 in 2019, resulting from 1,238 applications. Acceptances into historically black colleges and universities (HBCUs) dropped from 45 in 2018 to 16 in 2019, resulting from 79 applications. Acceptances into Ivy League colleges dropped from 22 in 2018 to 16 in 2019, resulting from 240 applications.
At Montclair State University, the rate of applications has gone up since 2015, said Jeffrey Indiveri-Gant, the university's director of admissions. The university receives about 20,000 applications a year. In the past, prior to 2015, it was approximately 18,000 a year, he said.
Although the application process is not more competitive, over the past four years it has gotten more complex, said Indiveri-Gant. Since Montclair State University is an SAT/ACT-optional school, the university uses other criteria to determine whether the school and a prospective student will be a good fit. The student's GPA during their four years of high school is a factor, and the university also looks at what courses the student took, including honors, AP classes, and dual enrollment courses.
Indiveri-Gant said the process should be about finding which school is the right fit for a student. "What I would like [families] to know is...the practice of applying to 20 different schools, I don't think that really serves students and families well in the process," he said. In the springtime, a student may find that they are inundated with options. While it is good to have several options, he said, the focus needs to stay on finding the college that is best for the student.
Where are students going?
Of the students in the Class of 2019, the majority, 402, went on to attend four-year colleges and universities. More students in that group opted to attend college out of state than in-state, with 130 attending college in-state and 314 attending college out of state.
The universities with the highest numbers of applications from the Class of 2019 were Rutgers-New Brunswick, with 109 applications, followed by Northeastern University in Boston with 73 applications, Pennsylvania State University with 66 applications and Montclair State University with 55 applications.
The other colleges in the top 10 list, based on number of applications, were the University of Vermont, Syracuse University, New York University, Tulane University, Boston University and Temple University.
Among the students attending four-year colleges, just over half - 208 students - went on to attend a private out-of-state college. The rate of female students attending private out-of-state colleges was especially high, with 116 female students out of 202 attending those schools. In addition, 92 male students out of 200 attended private out-of-state schools.
More students are also choosing to take a gap year after high school, Bayer said. Students may spend their gap year doing work in other countries, or doing projects such as working with the homeless, he said.