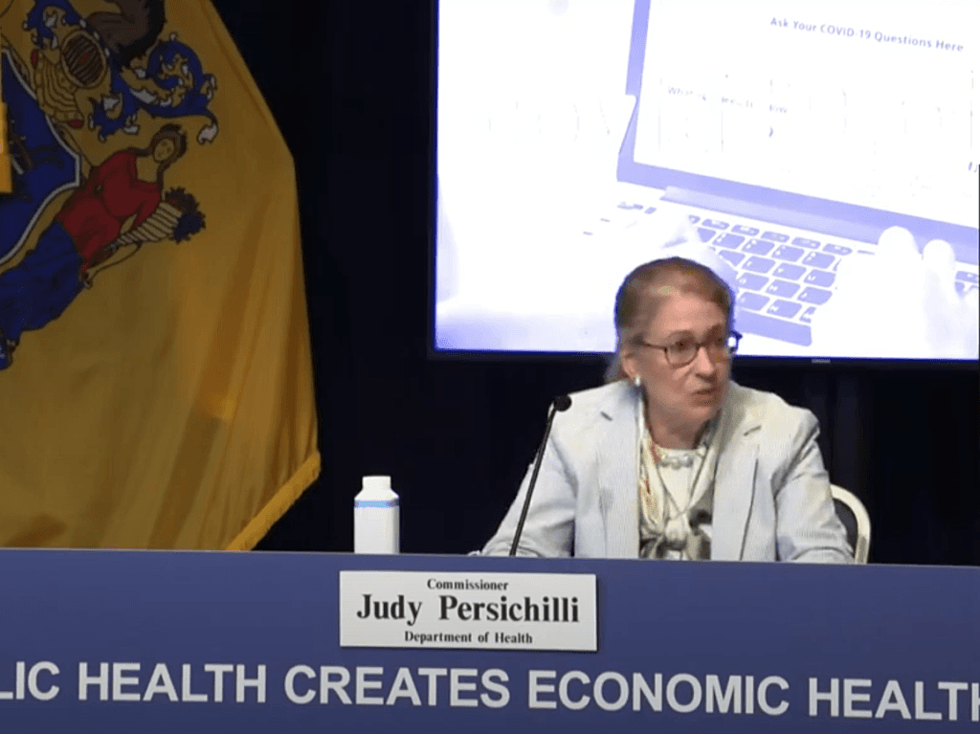 COVID-19: State launches new contact tracing dashboard
COURTESY STATE OF NEW JERSEY Health Commissioner Judith Persichilli speaks at a Aug. 7 press conference in Trenton.
By ERIN ROLL
roll@montclairlocal.news
New Jersey health officials emphasized the importance of testing and tracing in the state's fight against COVID-19 Friday, urging residents to get tested and to cooperate with health authorities if a contact tracer reaches out to them.
When a person tests positive for COVID-19, a contact tracer will ask that person for the names of all people they have had substantial contact with in recent days, so those people can then be notified and encouraged to seek testing. 
Health Commissioner Judith Persichilli urged everyone to cooperate with contact tracers, noting that if someone refuses to provide the names of recent contacts, it could jeopardize those people's health and the health of others around them. 
"That means all of those individuals don't know they were exposed to someone with COVID-19 and may be infectious," Persichilli said. Those individuals could be one's family and friends, she said. 
She said contact tracers are required to identify themselves as such. Furthermore, contact tracers will not ask for Social Security numbers, financial information, or immigration status, she said. 
State officials launched a contact tracing dashboard Friday, Aug. 7, viewable alongside New Jersey's COVID-19 data and trends at covid19.nj.gov, which shows the number of contact tracers currently deployed in specific counties and regions of the state, as well as the numbers of people who have been contacted by tracers, and who have agreed to provide names of their contacts.
As of Aug. 7, 63 percent of people contacted by tracers had been reached, and agreed to give information about recent contacts. But Gov. Phil Murphy said there are others who have either not answered phone calls from contact tracers, or who were reached but refused to give out information.
"We need to be perfectly clear. This is about public health. Period. We are not out on a witch hunt here," Murphy said. 
There were 1,336 total contact tracers at work as of Aug. 7. 
Earlier this week, health officials announced the launch of "For Each Other, For Us All:" a public awareness campaign to encourage residents to seek testing and to cooperate with contact tracers. 
Power restoration
As of Friday, Aug. 7, 310,800 New Jersey residents were still without power due to damage from Tropical Storm Isaias.
As of 4:30 p.m. there were 2,526 Montclair customers still without power, accounting for 13.12 percent of the town's 19,258 customers, according to PSE&G's outage map. However, a statement released by PSE&G at 5 p.m. said that 1,400 customers were still without power as of 3 p.m. 
"PSE&G is currently working on the remaining large jobs impacting customers numbering in the hundreds and expects to restore power to those customers today. PSE&G is also working in the Township on other jobs impacting customers in numbers between 100 and 10 and expects to restore their power by the end of today. Jobs impacting fewer than 10 customers and single houses will then be worked on and PSE&G expects to finish such jobs by Monday," the statement read.
The township has set up a station at the municipal building where residents can charge their devices, and bring containers to fill with ice. 
Murphy acknowledged that many residents who were still without power were feeling frustrated by the time it was taking to restore energy. He emphasized that the power needed to be restored in a way that did not put utility crews at risk. He added that there are many power lines that either fell down, or are tangled in trees, which presents an additional hazard. 
State Police Superintendent Pat Callahan said there was an incident in which someone was electrocuted in River Vale. 
Isaias knocked out power to an estimated 1.4 million people on Tuesday, Aug. 4. 
Landlord assistance
Landlords who own small residential rental properties will be eligible for financial assistance.
The New Jersey Housing and Mortgage Finance Agency has launched the Small Landlord Emergency Grant Program, which will provide $25 million in federal funds to eligible landlords who lost rental income because of COVID-19. 
The program is for landlords who own three to 10 units, especially those rented by low to moderate-income renters, and whose renters have incurred back rent due to COVID-19. 
Lt. Gov. Sheila Oliver said small landlords are especially vulnerable to financial downturns because they are usually left out of capital or federal assistance programs. She noted that many of those landlords are families and individuals, who often live in the property that they rent out, and not large corporations. 
The program will reimburse landlords whose renters missed payments between April and July. In turn, landlords must forgive their tenants for all missed rent and fees. 
Landlords will also be required to provide documentation that their tenants have missed rent, and that information will also be verified with tenants.
Today's numbers
As of today, Aug. 7, New Jersey health officials reported 384 new cases, compared to 350 on Thursday, bringing the state total to 184,061 cases. The positivity rate now stands at 1.95 percent, down from 2.57 on Wednesday, Aug. 5, and the virus transmission rate has declined to 1.15, from 1.32 on Wednesday.
Officials also reported 12 new deaths, compared to six on Thursday, bringing the total to 14,007 confirmed deaths. The number of probable deaths remains at 1,853.
Hospitals reported 551 patients as of 10 p.m. Thursday, Aug. 6, including 120 critical care patients and 73 ventilators in use. By comparison, hospitals reported 754 total patients at 10 p.m. on Wednesday, Aug. 5, including 127 critical care patients and 54 ventilators in use.  
Essex County health officials reported that the case numbers and death numbers were unchanged from Aug. 6 to Aug. 7: 19,715 total cases and 1,863 total deaths. 
Montclair health officials said that the total number of cases increased from 482 to 483 on Aug. 7, and the number of deaths remains at 54.