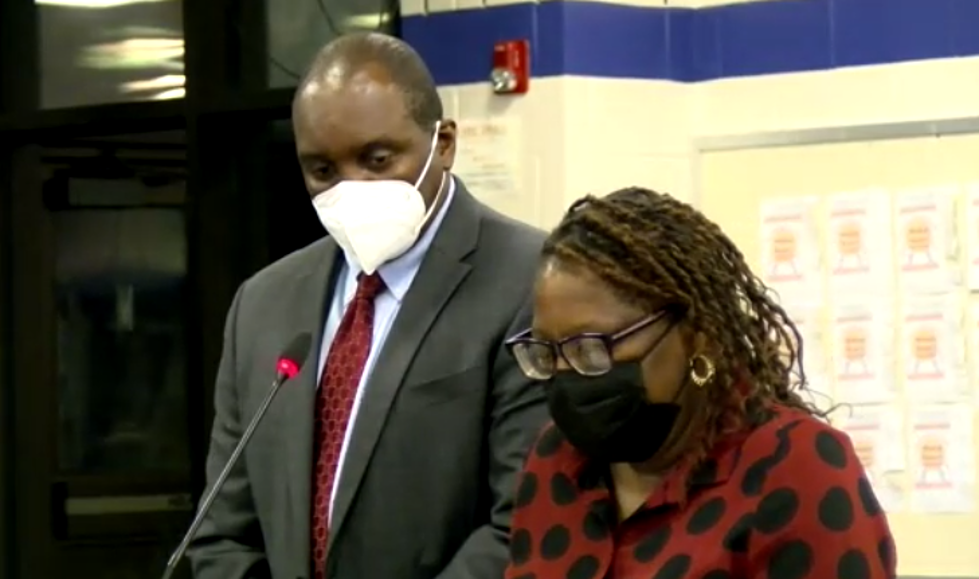 Coronavirus testing for Montclair schools approved: Time to opt-in.
Pooled coronavirus testing will begin in Montclair public schools Oct.11. District officials are confident they will receive consent forms from families before testing begins, Assistant Superintendent of Operations and School Support Services Felice Harrison-Crawford said at a Wednesday Board of Education meeting. (SCREENSHOT FROM OCT.6 BOARD OF EDUCATION MEETING)
By TALIA WIENER
wiener@montclairlocal.news
Voluntary pooled coronavirus testing will begin in Montclair public schools Oct. 11, with tests conducted outdoors, under tents.
At a Board of Education meeting Oct. 6, schools Superintendent Jonathan Ponds said families of 58% of the student population had indicated a willingness to participate in testing in what district officials described as "pre-consent" forms. "This shows the resolve and the strength of our district," he said.
Some board members and parents had argued for an opt-out system — where students would be tested by default, unless their families explicitly chose to withdraw them for participation. But the district still plans for an opt-in system, which Ponds has argued better respects families' rights to be informed about medical procedures. 
The pre-consent forms for testing were sent out to families earlier in the school year to gauge interest in test participation, Felice Harrison-Crawford, the district's assistant superintendent of operations and school support services, said at the meeting. Families will still need to formally opt-in through electronic consent forms sent via the district's digital portal, Genesis, in the next few days, Ponds said at the meeting. The consent forms will look the same as those used to opt into pooled testing last school year, he said.
Ponds had said in a Sept. 24 community bulletin that testing will take place weekly. He'd previously said the district would prioritize weekly tests for elementary school students as well as sixth and seventh graders (some of whom are too young to be vaccinated), and other students would follow after that. Montclair Local has sent his office a message seeking clarification on the schedule and is awaiting a response.
In pooled testing, participating students and staff members in a given classroom will self-administer a nasal swab, and all swabs will be placed in a combined container. The technique isn't used as an individual diagnostic, but to spot coronavirus in a population. If a positive test is found in a pool, the students in the pool will be given rapid antigen tests, a representative of synthetic biology company Ginkgo Bioworks, which will conduct the testing, said at a previous meeting. 
The Montclair Board of Education approved a contract for Ginkgo's Concentric testing program at the Oct. 6 meeting. Ginkgo conducted the pooled coronavirus testing in the district during the 2021-2022 school year as well.
Some board members expressed concern for the testing timeline. With board approval granted Wednesday night, consent forms to be sent out right before a three-day weekend and testing to begin Tuesday, there won't be much time for families to make the decision, member Crystal Hopkins said. Monday is a professional development day in the district. 
"We do have a large number of families that did not return back to the buildings and this will be their first time looking at any of this information," Hopkins said. "I do feel like we're gonna put ourselves in a situation where [with the] timelines, it's not going to work."
Board Vice President Priscilla Church said the timeline seems "not realistic."  
"I trust the fact that you're really working on it," Church told Ponds at the meeting. "I just want to be cautious because I want it to succeed. It's important that it succeeds from day one and that we don't have a misstep."
Since the consent process is already familiar to families, the process should move quickly, Harrison-Crawford said.
"I think we're good with our timeline," she said. "I know it's an aggressive timeline but I'm really confident that we can move forward."
Families will be notified at least 48 hours before the testing will take place, Ponds said. 
The Gingko Bioworks contract totals $287,302. Of that, $10980 pays for 726 rapid antigen test kits. The contract runs for 11 weeks with a possible extension. The district will reassess the testing needs and mandates from the state once the 11 weeks have passed, Ponds said. 
Testing costs will be covered by existing funding from the Elementary and Secondary School Emergency Relief Fund, Ponds said at the meeting. The district will be reimbursed by the state for at least some of the testing costs, but a timeline for that reimbursement has not been set, he said.
Elementary school students will be grouped by class, and middle and high school students will be grouped by homeroom, Harrison-Crawford said at the meeting. A team of one to two Gingko staff members will assist the school nurses with conducting the tests. They will be wearing proper personal protective equipment, she said. 
"We trust Ginkgo in their process and procedures for helping, making sure that we do this in a protected manner," Ponds said at the meeting. "Just like when you go into a doctor's office, it'll be the same stuff to make sure our students are taken care of."
Every school in the district has the tents necessary to conduct testing outside, business administrator Nicholas Cipriano said at the meeting. Most of the schools have already identified locations for tents to be placed, Harrison-Crawford said. 
"We're just kind of working through the process to ensure if there is inclement weather there is a backup plan," Harrison-Crawford said. 
Parents had been waiting to opt-in to testing, unsure of if it will take place outside, parent Lani Sommer-Padilla said at the meeting.
"I did not sign up to have my kids tested but I will now because the testing will be taking place outside," Sommer-Padilla said. "I would anticipate that a lot of parents will start signing up to have their kid tested in schools with it taking place outside."
Unsatisfied with the district's testing plans, Sommer-Padilla and other parents have launched weekly outdoor testing sites next to elementary schools in the district. 
The district has notified families as cases have been detected in schools. In the Sept. 24 bulletin, Ponds said the district had seen "well under 10" cases at that point. Asked how many cases there have been in all, district information secretary Jennifer Fusco told Montclair Local on Sept. 13 she couldn't comment on the medical status of staff or students due to confidentiality. She and Ponds haven't responded to a follow-up email seeking the same information shared with families via the notices.