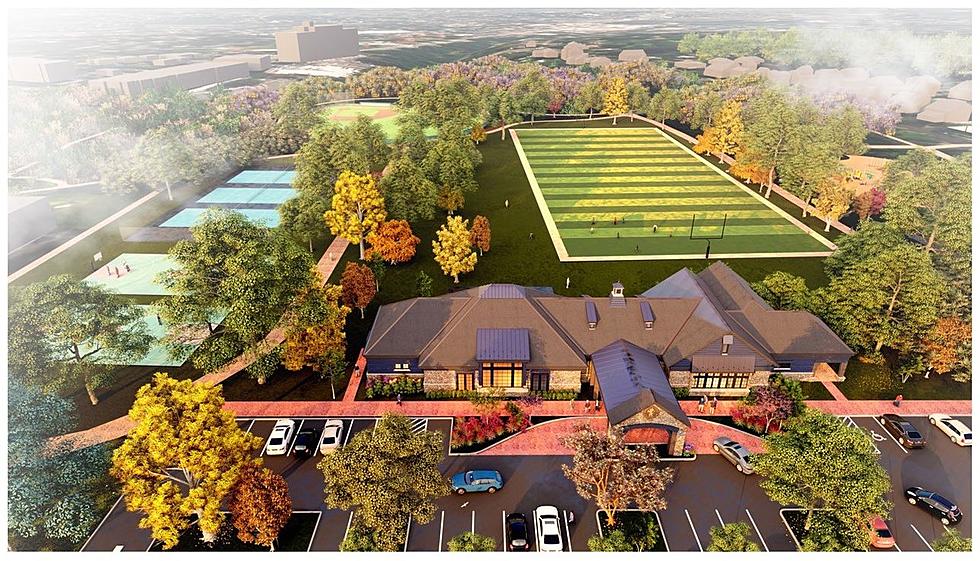 County breaks ground on new Wally Choice Center, Glenfield Park improvements
Essex County officials are planning a new, expanded Wally Choice Community Center. (ESSEX COUNTY)
Essex County and Montclair Township officials formally broke ground Friday on their project to replace the Wally Choice Community Center at Glenfield Park with a bigger building of the same name, modernize the park's football field and install a new 40-vehicle parking lot.
"The Wally Choice Community Center has been a hub of activity and social gathering for the community. The amount of use that the building receives has made it evident that a new, larger facility that provides a welcoming environment and ample space is needed," Essex County Executive Joseph N. DiVincenzo said at the ceremony. "After meeting with and getting input from residents from the neighborhood and organizations that utilize the facility, we have created a plan to provide modern meeting spaces, enhance access into the park and update the football field."
In 2009, the community center was named the Essex County Wally Choice Community Center in honor of the Montclair resident who had been president and executive director of Montclair Grass Roots, a community organization that has provided recreation and educational enrichment programs for children for half a century.
Choice's son, Wally Choice Jr., joined officials at the ceremony, thanking the county executive "for once again honoring my father's legacy, his contributions to the community and his love of this park."
"This project reminds me what government should do on behalf of our families and children. It's an opportunity for environment justice by providing the public with open spaces where they can breathe and exercise," state Senate Majority Leader and county Deputy Chief of Staff Teresa Ruiz said at the event. Brendan Gill, a county commissioner who lives in Montclair, said the improved physical structure alone "is nothing without the people in the community making is a special place."
Councilman David Cummings, who represents Montclair's Fourth Ward, where Glenfield Park is located, said he'd walked the site a year ago with DiVincenzo and Albert Pelham, then the president of the Montclair chapter of the NAACP as well as head of the Montclair Neighborhood Development Corporation. Pelham died in August of last year.
Once this new center opens children will have a place where they can go and learn," Cummings said.
The Rev. Craig Dunn, Pelham's successor at the Montclair Neighborhood Development Corporation, described the plans for the new building as a "huge development for Glenfield Park."
"This type of investment is amazing and will show children that they can set roots in the community but also have wings and explore what is beyond Montclair," Dunn said.
Will Young, director of the Montclair Cobras youth football program, described the project as "all about doing what's best for the children"
On May 10, the Essex County Board of Commissioners voted to accept a $10.6 million bid by Grove Contracting to build the new center. The building will be 10,000 square feet, about twice the size of the current Wally Choice center, and will expand parking for 40 more cars.
Field upgrades including a synthetic grass surface and sports lighting will allow for soccer, football and lacrosse usage.
— Based on information provided by Essex County and prior reporting by Montclair Local
Journalism like Montclair Local's is only possible because of the continued support of our members. Sustaining memberships of $10 a month or more entitle you to our print edition, and help provide us with the stable, predictable financial base that helps us plan to bring you important journalism for years to come. If you value this article or others from Montclair Local, consider becoming a sustaining member; sign up with the form below.