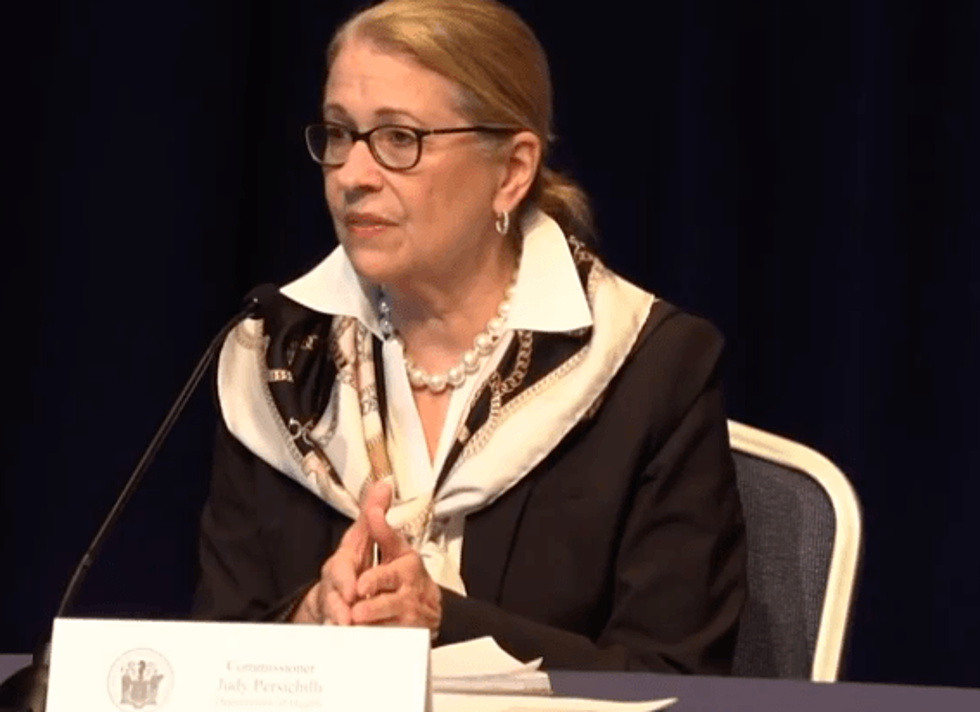 COVID-19: Reported virus-related deaths double statewide
Health Commissioner Judy Persichilli at today's press briefing.
By JAIMIE JULIA WINTERS
winters@montclairlocal.news
New Jersey reported its highest number of deaths related to COVID-19 today, April 2, at 182, doubling yesterday's number of 91 new deaths. Officials noted, however, that the numbers reported today could reflect a lag in test result reporting, meaning the increase may have been spread out over the past few days.
The total number of deaths to date stands at 537 in New Jersey, said Health Commissioner Judy Persichilli at the press briefing.
"We could lower these numbers. Please God, stay at home," Gov. Phil Murphy said at today's press briefing.
On Thursday, New Jersey reported 3,489 new cases, slightly down from yesterday's increase of 3,649. The statewide total is now 25,590. Test results are now taking upwards of 14 days. It was 12 days ago that the state shut down businesses and enacted a stay at home order, therefore Gov. Phil Murphy said they are about a week away from knowing the effects that social distancing has had on the spread or the containment of the virus.
Today, Bergen and Essex counties saw a slightly lower number of cases reported earlier in the week with Bergen at 300 and Essex at 205. Yesterday, Bergen reported 338 and Essex 277.
Essex reported the highest number of cases of any county on both Monday (280) and Tuesday (237).
The Montclair Health Department did not provide Thursday's updated numbers on residents affected by COVID-19. On Wednesday, the total number of cases testing positive was at 102 up from 96 reported Tuesday. The number of individuals who did not survive the illness remained at 13.
Bergen County had the highest number of deaths reported at 45, with Essex County having the second-most at 30. Those numbers represent significant increases in both counties from Wednesday, when Bergen reported 33 new deaths and Essex reported 22. 
Of the 537 total deaths statewide, 59 percent were male and 41 percent were female, Persichilli said yesterday. Forty-seven percent of the deaths were in people 80 years of age and older, and of that number, 35 percent had pre-existing conditions. Fourteen percent were from long-term care facilities.
Out of 56,915 total tests results reported to date, 23,395 were positive, giving a positivity rate of 41 percent. Six out every 10 tests are negative, said Persichilli.
Bergen County has the highest number of residents testing positive at 4,099, and the highest number of deaths at 120. Essex County is second in both categories with 2,617 positive test results and 99 deaths to date.
Persichilli said regions of New Jersey could expect a surge in COVID-19 cases over the next week, with northern New Jersey expected to see a surge during the first week of April. 
UNEMPLOYMENT, ESSENTIAL WORKER SERVICES
Murphy said unemployment benefits are slow with 362,000 applications now being filed. The state's COVID-19 job bank now has 44,000 jobs posted from 500 different companies, he added. 
New Jersey Departments of Children and Families (DCF) Commissioner Christine Norbut Beyer said that 600 childcare centers have now been certified to care for children of essential workers. 
Essential employees who are in need of emergency care services must complete an online registration form available at www.childcarenj.gov/emergency. State-supported, county-based Child Care Resource and Referral agencies will reach out to those who register to assist with enrollment and placement.
"Our essential workers are keeping our state running every day and every night," said Murphy. "We are establishing this new Emergency Child Care Program to support them and their families as they continue to serve the residents of New Jersey."
For the month of April, under the program, the state will pay the rates of $336 for a school age child up to $450 for an infant per week. Once final details are available on federal funds available through the CARES Act, this information will be updated for future months. 
A NEW PROGRAM FOR AT HOME LEARNERS
The governor announced "Learning Live," a partnership with the Department of Education, the New Jersey Education Association and NJTV, which will go live on Monday giving students in grades 3-6 an hourlong lesson in math, science, english, social studies, and art, music and PE each day. Students can tune in to NJTV Monday through Friday — 9 a.m. third grade, 10 a.m. fourth grade, 11 a.m. fifth grade and noon sixth grade — for lessons. 
NONCOMPLIANCE
Yesterday, state police arrested six individuals for threatening police contending they are COVID-19 positive and then spitting or coughing on the officers. They now face $5,000 to $10,000 in fines and up to 18 months in prison, Murphy said. The act is no longer a disorderly offense and is now treated as aggravated assault, said acting State Police superintendent Patrick Callahan.
Montclair Capt. David O'Dowd said no Montclair police officer has experienced a suspect spitting or coughing on them.
Another funeral was shut down in Lakewood with 15 people being charged, said Callahan. 
EFFECTS OF ISOLATION
Norbut Beyer also said that the state shutdown has been particularly hard on children experiencing abuse in the home and victims of domestic violence.
Because the teachers, nurses, doctors and coaches are missing the face-to-face connections with students and they are the ones who typically report suspected abuse, abuse will go undetected. March typically sees the highest rate of domestic violence and child abuse reports, said Norbut Beyer, but those numbers are down by 34 percent this March compared to last March.
SHOULD YOU WEAR A MASK?
Mask-wearing for the general public was also discussed following the mayor of Los Angeles' directive today for all residents there to wear masks when out of the house. Murphy said that the state doesn't have enough masks and it is a matter of source control — they are needed for essential workers, medical staff, and bus drivers. 
Persichilli said masks are used to protect others from the individual wearing the mask from droplet infections. 
"I would never put out a recommendation that everybody must mask, but if you have one it wouldn't hurt. It doesn't take the place of social distancing however," she said.
Many Montclair residents however are following DIY mask making videos and making them at home, stating it couldn't hurt to wear one.