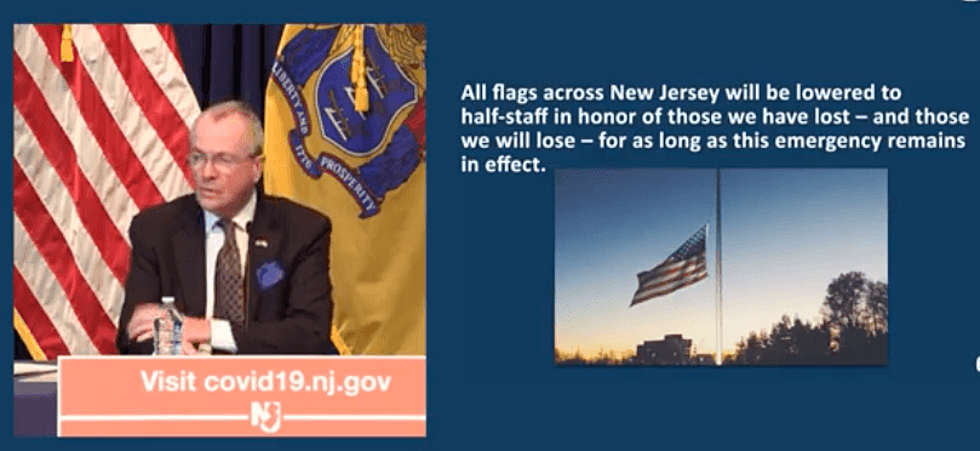 COVID-19: Flags to be flown at half-staff for the 646 who have not survived the virus
Gov. Phil Murphy at today's press debriefing announcing that flags will be flown at half-staff as a memorial to COVID-19 victims.
BY JAIMIE JULIA WINTERS
winters@montclairlocal.news
Calling for a constant and visible memorial in recognition and mourning of all who have lost their lives to COVID-19, Gov. Phil Murphy ordered that the U.S. and New Jersey flags be flown at half-staff at all state buildings and facilities indefinitely starting today, April 3.
"This is one of the greatest tragedies to hit our state, and the nation indeed," he said. "We must have a constant and visible memorial of the tremendous personal toll that COVID-19 is having on our communities."
Today, April 3, the state reported 113 new deaths related to COVID-19, down from yesterday's reported numbers of 182, with the total number of deaths now at 646. The deaths reported could be spread across a few days, said Health Commissioner Judy Persichilli at today's press briefing.
To date, Bergen is still reporting the highest number of deaths at 132 and Essex at second in the state at 118. Essex reported 19 new deaths today, while Bergen reported 14. Yesterday, Bergen County reported 45 new deaths, with Essex County at 30. 
Montclair reported today that 17 residents have not survived the illness.
"Since families at this time can't even hold a funeral, this is a small way to make sure their loss is not forgotten," Murphy said about the flags being flown at half-staff.
On Friday, New Jersey reported 4,372 new COVID-19 cases, up from the 3,489 reported on Thursday. The statewide total is now at 29,895. Test results are now taking nearly two weeks. It was 13 days ago that the state shut down businesses and enacted a stay at home order, therefore Murphy said they are about a week away from knowing the effects that social distancing has had on the spread or the containment of the virus.
Today, Bergen and Essex counties saw a higher number of cases reported than earlier in the week with Bergen at 576 and Essex at 328. Passaic reported 370 new cases. Yesterday, Bergen reported an increase of 300 cases and Essex 205. Essex reported the highest number of cases of any county on both Monday (280) and Tuesday (237).
Today, Montclair reported 24 new COVID-19 cases, which now totals 142. 
Of the deaths statewide, 60 percent were male and 40 percent were female, and 34 percent had underlying health conditions, Persichilli said yesterday. Out of 64,827 test results reported to date, 27,219 have come back positive, giving a positivity rate of 41.99 percent. 
According to Persichilli, there are currently 3,016 COVID-19 patients hospitalized, which is 12 percent of the total hospitalized population. The same number of patients are under investigation. Forty-one percent of the patients are on ventilators, she said. 
To date, 79 people have been charged for violation of the governor's order of the non-essential business shut down or for gatherings.
Murphy said he had no issue with people wearing masks as long as they were not N95 or surgical masks due to the shortage the state is facing. But, he said, social distancing is the only sure measure to stop the spread. "Don't assume it makes you superman."
Essex County reported the following cases this morning at 9 a.m. Friday, April 3:
             Municipality    4/2/2020 5pm   4/3/2020 9am     deaths
             Belleville          177                    194                 2
             Bloomfield       161                     180                10
             Caldwell          23                       24                   1
             Cedar Grove    44                       42
             East Orange    291                     310                 3
             Essex Fells       8                          8
             Fairfield          25                        29
             Glen Ridge      13                        15
             Irvington       237                       255                 2
             Livingston     132                      145                 10
             Maplewood    61                         69                   1
             Millburn        54                          56
             Montclair    117                        130                 12
             Newark     863                         946                 21
             North Caldwell 14                       15                  1
             Nutley       126                          137                 6
             Orange     145                          163                  1
             Roseland    22                            23                  1
             South orange 29                         31
             Verona      34                             35
             West Caldwell 29                        30                   2
             West Orange 179                      194                   1
             Total      2784                         3031                  74