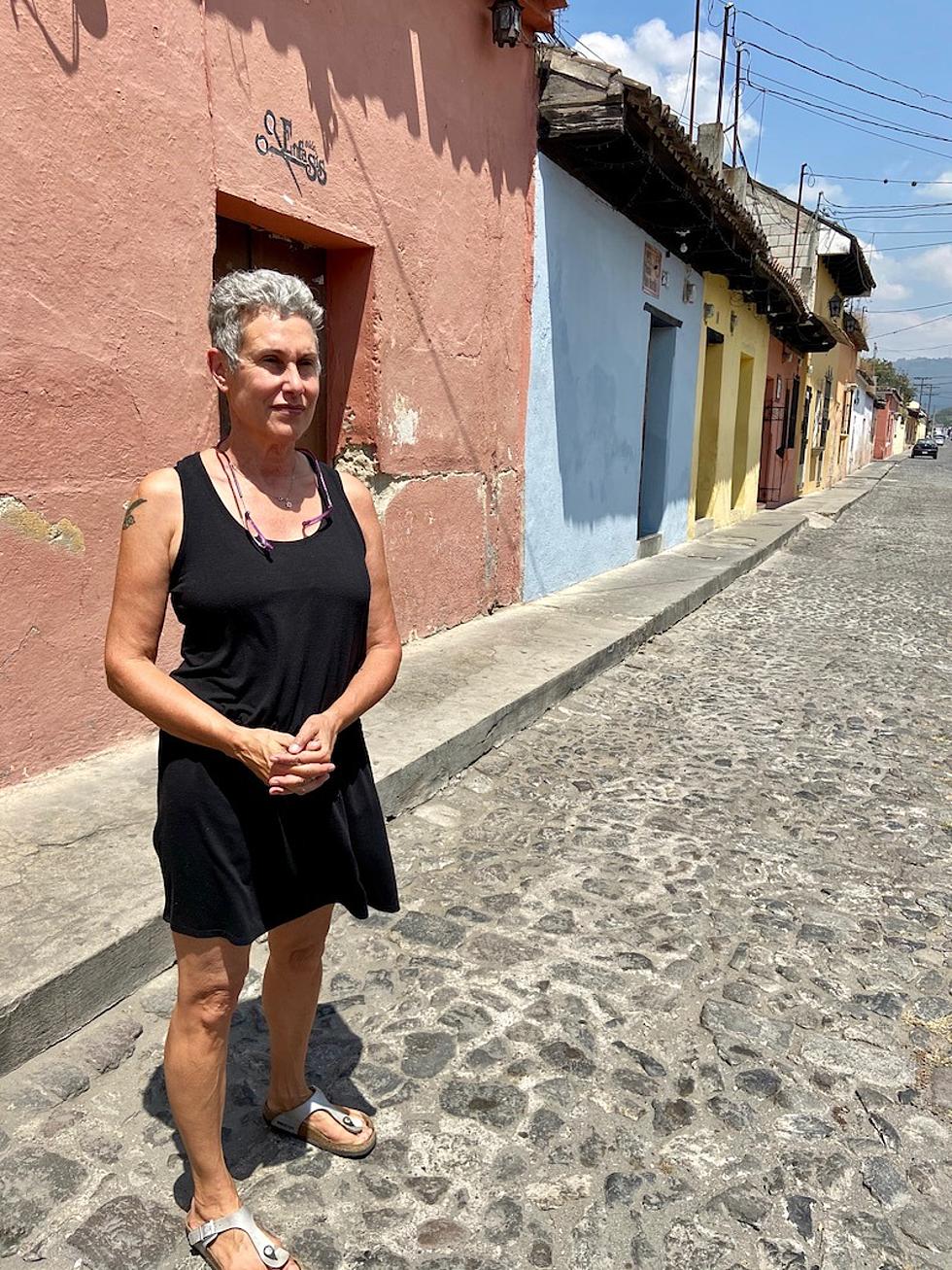 COVID-19: Vanguard Theater manager stuck in Guatemala
Jessica Sporn stands on a shutttered 2a Calle Poniente in Antigua, Guatemala. COURTESY JESSICA SPORN
By GWEN OREL
orel@montclairlocal.news
Since Guatemala closed its airport on March 16 out of concern over the COVID-19 pandemic, foreign citizens visiting the Central American nation have been unable to return home.
Among the people who are stuck: a church group from Platte, Mo., Canadian citizens from Halifax and Alberta, and a woman from Nashville, Tenn.; a Facebook group titled  American Citizens Stranded in Guatemala 3/17/2020 has nearly 800 members as of Saturday, March 21.
So too is Jessica Sporn, a Montclair resident and general manager of Vanguard Theater Company, a nonprofit youth company dedicated to diversity. And she will be there at least until the airport reopens, which won't be until March 30 at the earliest.
Her family arrived on Feb. 6, and expected to stay for seven weeks. But the closing of Guatemalan borders by President Alejandro Giammattei has made their return date uncertain. Their return flight on March 27 has been canceled. The airports are closed from anyone flying in and out of countries with outbreaks, and that includes the United States.
She and her family have been going to Guatemala for about 10 years, to do volunteer service work, help build schools, and work at the medical clinic. They recently bought a house there.
Some people who are stranded have been driving to Mexico and flying from there, but, Sporn said, she's hesitant to drive there and fly into a country which is "behind the 8-ball."
"I actually feel safer here than I think I would feel in New Jersey."
There have been eight confirmed cases in Guatemala, and all of them came from a flight from Italy, she said. Everyone on the flight was put into quarantine.
________________________________________________________________________
READ: COVID-19: ARTS AND CULTURAL ORGANIZATIONS REACT
READ: VANGUARD'S 'RUNAWAYS' BUILDS EMPATHY
_______________________________________________________________________
Immediately after the passengers were quarantined, President Giammattei, who is a doctor, went on the news and urged everyone to stay home. He announced that all non-essential services would be closed. Firefighters spray the streets with Clorox and disinfectant, and everyone has been told to wear masks to prohibit the spread of the virus, Sporn said.
She has been keeping up with the news on CNN, on sometimes spotty internet, and reading The New York Times on her phone. She FaceTimes with family.-
"People think of Guatemala... it is a third world country, but it has behaved a lot better than a lot of other countries. From the day after the announcement, you could only buy one four-roll package of toilet paper at a time, and only two bottles of hand sanitizer. There was no opportunity for hoarding," she said.
But of course, life has changed. The streets are quiet. The supermarket is open, but the shops are closed. All of the schools have closed.
"Yesterday, we bought a lot of groceries and sent them up by taxi to a village where two of the families we sponsor live," she said. "There is no public bus service, so people can't come down.
Sporn does stand out as a white woman, and some people call her "Senora Gringa," though not in a pejorative way, she said. The Guatemalan president went on TV and told people not to be mean to strangers.
What worries her is that Vanguard Theater Company recently signed a lease for 180 Bloomfield Ave., the site of the old Mogul Theater.
"The plan was to have renovations, to get people in there and do classes and workshops. It's a scary thing. We wonder how we will make a go of this.
"Hopefully when all the restrictions lifted Montclair will embrace its art community and help not just us, but Studio Montclair and everyone else."