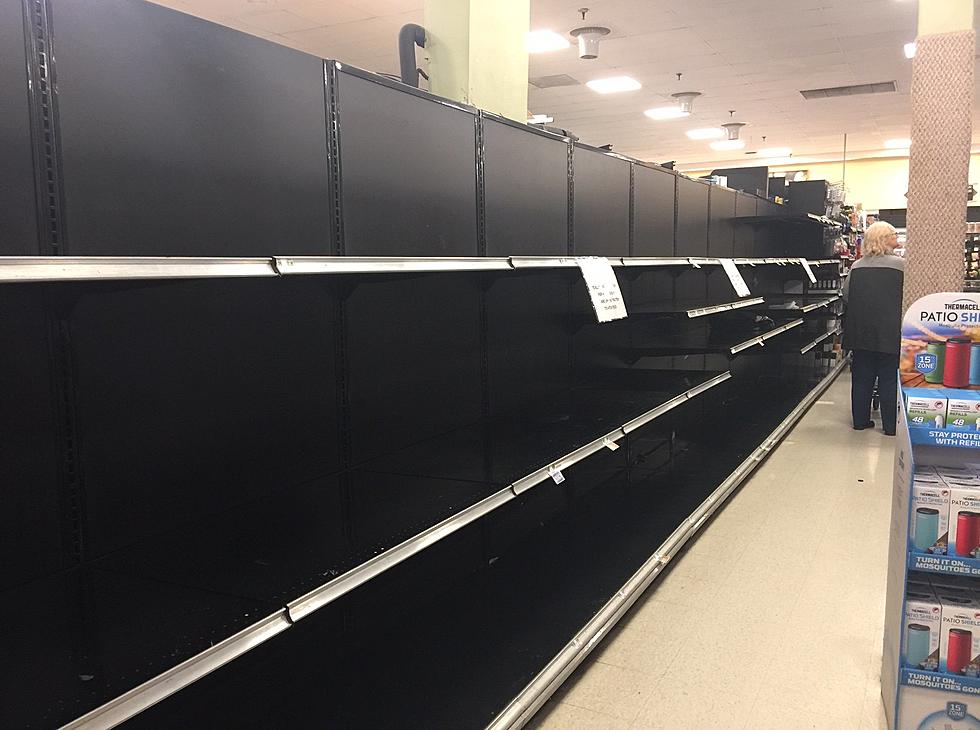 COVID-19: Montclair businesses see impact of outbreak
ERIN ROLL/STAFF The cleaning products aisle at Kings was emptied of paper towels and toilet paper as of early Friday evening, March 13, amid growing concerns about the COVID-19 outbreak.
By ERIN ROLL
roll@montclairlocal.news
The prospect of a COVID-19 outbreak in Montclair and the rest of New Jersey has led to a change in business for many Montclair stores.
Hair salons and exercise studios are being vigilant about cleaning and disinfecting their facilities, and restaurants and stores are offering home delivery and/or curbside pickup.
For small business owners, there are concerns that the outbreak could lead to a drop in business, which would in turn have long-term consequences for their financial situation.
Mike Guerriero, the owner of Gelati Montclair, said via social media that he and his staff had noticed a drop in walking traffic this week, with fewer people eating in and more families sending in a family member to pick orders up. "The biggest issue we see, is that this is going to hurt the Easter/Passover holiday season. If cases go up, and things get worse which they are expected to, it could wipe out the bump/start to the season that many businesses rely on."
On Saturday, some small businesses and cafes were reporting a small rebound in business, following a drop in business on Friday. However, at least two businesses reported over the weekend that they would close. On Saturday, the Montclair Social Club announced that it would temporarily close after the Saturday night dinner service. "This has been an extremely difficult time and determination, but we believe this decision is in the best interests of our restaurant and the public," Jason Miller, the Montclair Social Club's president, said in a statement.
Paper Plane Coffee Company announced late Saturday night that the coffee shop's physical location on Claremont Avenue will close for two weeks, but online orders would be filled, and gift cards were available for purchase. "On any given day our cafe sees over a hundred visitors. Even with our precautions, if only one of those people manages to infect two, five, or ten people that becomes a thousand in only a matter of time," said Jonathan Echeverry, Paper Plane's owner. The store's staff will continue to be paid for the duration of the closure, Echeverry said.
Several restaurants on Church Street had empty tables on Friday night, hours after two new cases were announced in Montclair, and that the schools would be closing.
Montclair's first case of COVID-19 was announced on Thursday, March 12.
Restaurants have asked their staff to wipe down certain surfaces, including tables and water pitchers, three times per hour.
Concerns about COVID-19 have led to stores running out of certain items, most notably hand sanitizer, hand soap, paper towels and toilet paper.
Despite store placing limits on the number of purchases for items such as paper towels, toilet paper and water, at the ACME on Valley Road, the store was almost completely wiped out of toilet paper, paper towels, hand soap and hand sanitizer on Thursday evening, and there were long lines at the checkout lines.
On social media, residents reported going to grocery stores for early morning grocery runs, only to find that many items were sold out, and that there were long lines.
Kings was almost completely out of paper towels, toilet paper, hand soap and certain household cleaners as of early Friday evening, and items such as bread, frozen vegetables, pasta and pasta sauce were also greatly depleted. But most other areas of the store were still well-stocked.
The CVS locations in Montclair have posted signs saying that hand sanitizer and face masks may be limited due to high demand.
Customers at CVS and ACME have been asked to limit their purchases of hand sanitizer, when available, to five items. Kings posted a similar request for paper towels and toilet paper, asking customers to limit their purchases to four items.
Some smaller stores, such as some of the Krauszer's locations, were also out of toilet paper.
American Royal Hardware announced on social media that they carry items such as Purell and Lysol wipes year round. The store advised customers to call ahead to ask about availability of those items.
But on Friday, the hardware store saw long lines of customers buying Lysol wipes, Purell packs and jugs of bleach. The shelf of Lysol and Purell at the front of the store was being emptied almost as quickly as the store staff re-filled it.
Doctor's offices have advised patients not to enter the office if they are displaying flu-like symptoms, and to call their doctor to arrange a telemedicine appointment. At Summit Medical Group's office on Fairfield Street, a notice at the entrance advised patients with symptoms associated with the coronavirus not to enter the building, but instead to call a designated phone number and receive instructions on going to a medical facility that is prepared to receive COVID-19 patients.
Starbucks, Java Love and Marcel's Bakery have asked customers to refrain from using reusable mugs for their coffee orders for the time being.
At the Parlor Hair Studio on Glenridge Avenue, owner Wendy Fox-Warfield said the salon was about 75 percent busy as of Saturday afternoon. Some clients called to cancel appointments, she said.
The salon is very vigilant about cleaning and sanitizing, she said.
However, the outbreak could have a financial impact. Fox-Warfield said she was also working on the logistics of making sure her staff would continue to get paid, including receiving sick pay and other benefits, in the event that the salon had to close. She said she had spoken to other salon and barber shop owners in the area; some were staying open unless forced to close, while at least one area barber shop has already decided to shut for health reasons.
Employees at the Clairidge Cinema, which is run by Bow Tie Cinemas, said Saturday that it was open, but would close if directed to by the Essex County Department of Health and Rehabilitation.
Eateries such as Stuffed Burgers and Marcel's Bakery announced they would be offering curbside pickup and/or home delivery, where applicable, for customers who do not wish to go into the shop in person.
The Eclectic Chic Boutique will be offering craft classes virtually, and will also be creating craft kits available for home delivery. The yarn shop Yarnia LLC announced a personal shopper service with curbside delivery. "We are also looking into how we can host an online Knit & Crochet gathering, to help mitigate that social isolation," the shop's owners said on social media.
"We have changed our marketing focus to solely concentrate on businesses that are changing their models (and encouraging them to) to offer and include, curbside pickup, delivery, or even just spread the word about their new and updated preventative measures, cleaning, gloves, masks, etc...to help quell fears," Jason Gleason, the executive director of the Montclair Center Business Improvement District, said Friday. "My board is also discussing many measures that we plan to bring to, and work hand in hand with township on to help relieve some of the tensions being felt in real time by our business community. We will be focusing all of our attention in the coming weeks to helping our stakeholders weather this storm.
More than half of the complaints on file with the Division were reported after the State of Emergency was declared Tuesday. Investigators are inspecting stores and other businesses in response to consumer complaints.
The state of emergency places restrictions on price increases on all consumer products and services. So far, the Division has received the most complaints about price increases on surgical masks, cleaning products, such as hand sanitizers, disinfectant sprays and wipes, as well as food and bottled water.