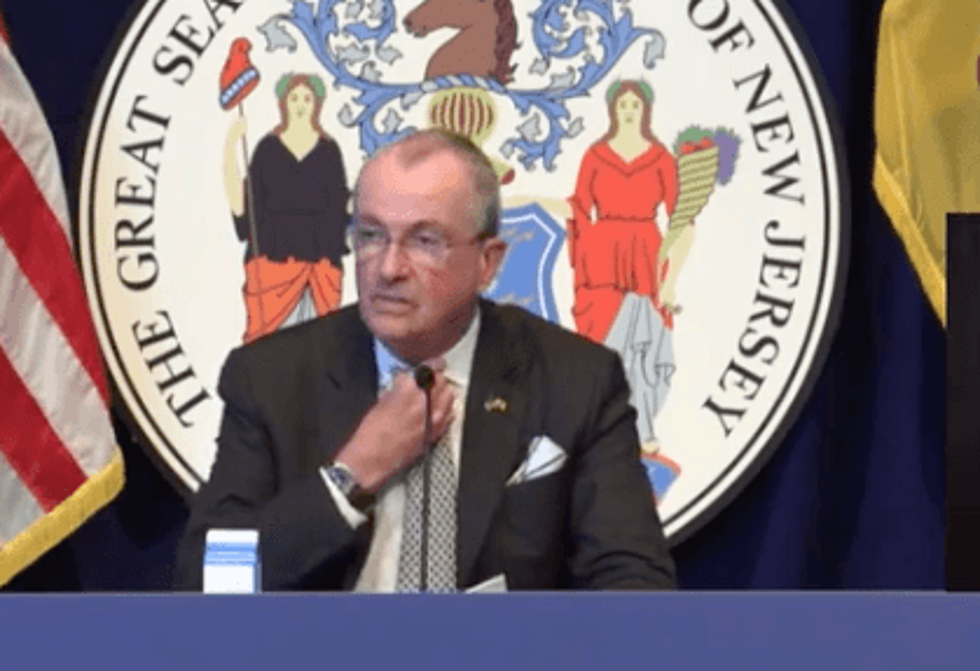 COVID-19: More of NJ opening up
Gov. Phil Murphy announcing more openings at today's debriefing.
BY JAIMIE JULIA WINTERS
winters@montclairlocal.news
As barber shops and salons, no-contact sports practices and swimming pools began opening today, Gov. Phil Murphy announced that restaurants can begin serving indoors next Thursday, July 2. Casinos, catering halls and racetracks will also be allowed to open that day, at 25 percent capacity.
Murphy is also allowing for an increase in indoor and outdoor gathering capacity limits. The current indoor gathering limits of 50, will now be upped to 25 percent of capacity up to a maximum of 100. Outdoor gatherings, which had been limited to 100 people, can now include up to 250 persons. 
Outdoor religious services and political activities will continue to have no numerical limits. 
The announcement comes as dozens of states that opened up earlier than New Jersey are now seeing a spike in cases, and as Murphy described behavior in which residents in the southern part of New Jersey "have let their hair down a little bit too much" at bars, beaches and boardwalks.
"We don't want to look like the states that have gone through hell and now are going back through hell," he said. 
The factors guiding state officials in the state's reopening are the rate of spread, the test positivity rate, and the number of residents being hospitalized, all of which are down, said Murphy. 
The rate of spread for every one positive COVID person is now 0.78, down from 5.31 in March. The statewide positivity rate is 2.42 percent, down from positivity rates of 50 percent in March. And hospitalizations continue to decline, with the most recent numbers showing just over 1,000 people hospitalized, down 87 percent from the peak in mid-April.
New Jersey is also one of four states — along with Massachusetts, Michigan and New York — rated by COVID Act Now, a volunteer-led web-based initiative to modeling COVID-19 data, that is "on track to contain COVID-19." 
"While we are still in the midst of the COVID-19 pandemic, the commonsense public health measures that New Jerseyans have been complying with are now allowing for us to expand capacity limits," said Murphy. "We will continue to evaluate and make reopening decisions based on data, science, and facts. I thank the people of our great state for the collective effort that has enabled us to take steps like these."
Health Commissioner Judy Persichilli said the rise other states are seeing also includes a rise of the virus among a younger population, many of whom are asymptomatic.
She added that she was particularly concerned with the positivity rate of 5.37 percent in the southern part of the state. Persichilli said that the increase could be due to fewer people getting tested, or could be the result of a rise in seasonal workers coming in from out of state. 
Murphy said he hoped it wasn't a "canary in the coal mine" on Shore-related infections. 
New Jersey superintendent Pat Callahan said that because asymptomatic and young populations play a large role in transmission of COVID, law enforcement is concerned to see large crowds not social distancing and not wearing face masks.
Today's numbers
On Monday, June 22, state officials reported 359 new COVID cases, up from the 308 reported on Sunday. Officials reported 27 new deaths, also an increase from the 13 deaths reported yesterday. The state's totals are now at 169,415 cases and 12,895 deaths. Of these, 57 percent had cardiovascular disease, 44 percent had diabetes, 17 percent had chronic lung disease and 14 percent had chronic renal disease. 
Long-term care facilities saw 40 new positives, upping the total there to 35,954, and 16 new deaths, now totaling 6,198. 
Sunday, Father's Day, marked the first day since March that family members could visit loved ones at the facilities, though with restrictions and in outdoor settings only. 
Hospitalizations as of Sunday night were at 1,029, compared to 1,105 on Saturday. The number of patients in intensive care was 287, of which 213 (74 percent) were on ventilators. On Saturday, 219 of the 278 patients in ICU were on ventilators. Last night, 46 patients entered the hospital and 70 were discharged. 
Today, Montclair Health Department officials reported three new cases, now totaling to 439; the number of individuals who did not survive the illness remains at 50.
On Monday, Essex County officials reported a total of 18,593 cases, an increase of 11. The number of deaths is down from the 1,761 reported yesterday, and is now being recorded at 1,750.
Today, state officials reported one new case of multisystem inflammatory syndrome in children, and the number of cases remained at 44. All have tested positive either for COVID or COVID antibodies.