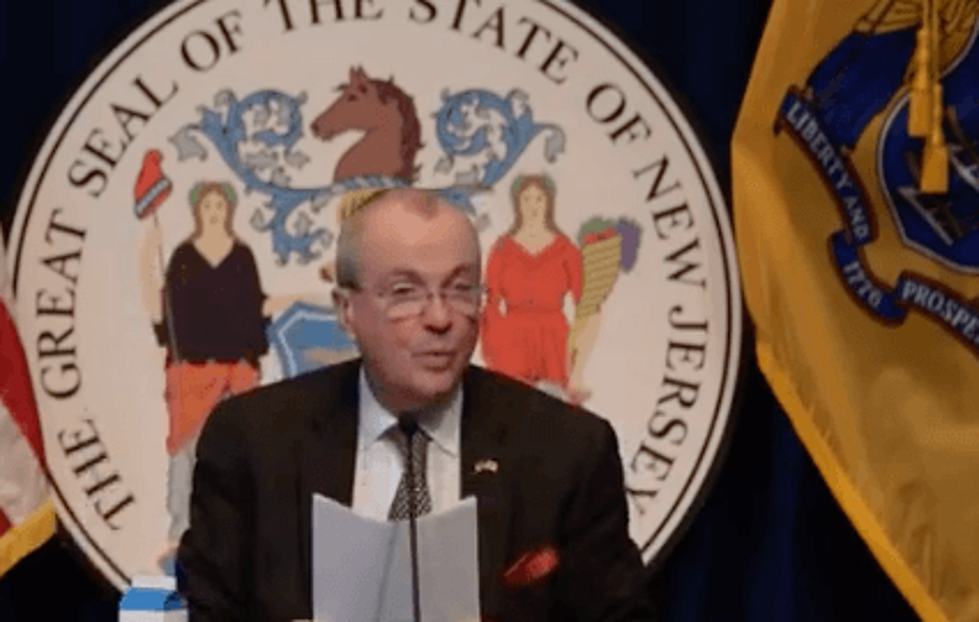 COVID-19: Numbers look promising, but graduation gatherings still canceled
Gov. Phil Murphy at today's debriefing
BY JAIMIE JULIA WINTERS
winters@montclairlocal.news
While proms and graduations are prohibited under Gov. Phil Murphy's Executive Order banning gatherings, State Director of Emergency Management Col. Patrick Callahan said Monday the popular drive-bys that have been occurring throughout the state and in Montclair, like those celebrating birthdays, would not be prohibited.
Callahan said that they could not prevent drive-bys, but are discouraging any gatherings that go against Executive Order 107, which bans all in-person graduation ceremonies and celebrations of any kind.
After districts reported confusion over allowable graduation celebrations, Callahan clarified the statement made over the weekend concerning graduation celebrations at the Monday, May 11, COVID-19 briefing.
"A wave parade is allowed that does not summon people to assemble in front of schools, parks, football fields," he said. "Any gathering where people get out of their cars [is banned]."
Wave parades going by seniors homes where the families congregate on the porch or front lawn as well wishers drive by in vehicles would be acceptable, he said. 
In the previous statement issued to districts on May 9, Callahan wrote: "In the best interest of the health and safety of the public, in-person ceremonies, including graduations, all parades, including 'wave parades,' that invite people to gather at a certain location, proms, and other similar celebrations violate the enumerated conditions of the order, and should therefore be cancelled or postponed until such time as these restrictions are lifted. Until such time, virtual celebrations and other remote forms of recognition should take the place of any in-person or public ceremonies."
In a statement issued on May 9, AbdulSaleem Hasan, the assistant commissioner of the Department of Education's Division of Field Services, said that only "virtual graduation ceremonies can be planned at this time," because Gov. Murphy's emergency executive orders remain in effect.
Recognizing that high school graduation is a milestone for students and families, the DOE released tips and suggestions for holding virtual graduation ceremonies and related celebratory activities during the COVID-19 emergency:
Stream your ceremony on your district website, local TV station or on another streaming service that includes pre recorded speeches or messages 

Consider reaching out to celebrities or public figures to record speeches or messages for seniors in your school district 

If resources allow, your district may consider developing a virtual-reality graduation, where within a virtual graduation environment, student avatars participate in a graduation ceremony 

Schools can also consider asking members of the graduating class to take a leading role in the graduation ceremony. Senior students can be asked in advance to send video messages wearing their cap and gown and/or other regalia. During the virtual ceremony, students and their families will hear pre-recorded messages from speakers, edited together in the flow of a traditional graduation ceremony, and students' names as well as messages will be announced with their photo displayed. 
The department also suggested that the community plan a recognition project for the seniors such as posting banners with students' senior pictures around the school community, listing the names of graduates in the local newspaper, and creating yard signs for all students to post. 
Montclair school officials did not return a request for comment on what they are planning for the class of 2020.
TODAY'S NUMBERS
At the May 11 briefing, Gov. Murphy announced 1,453 new positive COVID-19 tests, up slightly from the 1,447 announced on Sunday. The total number of cases is now at 139,945 in New Jersey. 
Mortalities in New Jersey appear to be on the decline.
Deaths reported today were at 59, far less than 139 deaths reported on Sunday. But state officials said that Monday's numbers are typically light reports, as the state catches up to weekend reporting. New Jersey's death toll is now at 9,310. 
The positivity rate reveals a decline, of the 425,933 tests reported to date the positivity for COVID-19 is now down to 26 percent, said Murphy. Testing sites have now opened up to asymptomatic people. 
Today, Montclair officials township reported the confirmed number of COVID-19 cases in Montclair did not increase today and remains at 391; the number of individuals who did not survive the illness remains at 46. 
Essex County remains the county that has the most mortalities, reporting eight more deaths and now totaling 1,431. It has the third-highest number of positive cases at 16,082 with 558 new cases reported today. 
For the second day in a row, the number of patients in critical care on ventilators statewide remained below 1,000; it stands now at 970. Hospitalizations are at 4,195, with 179 new patients being admitted last night, and 227 discharged.
Essex County residents can now be tested for COVID-19 even if they are asymptomatic. Testing is available at Essex County Weequahic Park on Mondays, May 18 (no testing on Memorial Day, May 25); Wednesdays, May 13, 20 and 27; and Fridays, May 15, 22 and 29. Screenings are for Essex County residents and are by appointment only. They will be scheduled from 9 a.m. to 12 noon; 600 tests will be available each day. Residents must arrive by car.
CELEBRATING HOSPITAL WORKERS
As this week is National Hospital Week, Commissioner of the New Jersey Department of Health Judith Persichilli gave homage to the 154,000 people who staff New Jersey's hospitals. She said that number consists of not only medical staff, but also the meal providers, security and housekeepers. 
"They are our neighbors, our friends and our family members, they have demonstrated, and at great personal risk, unwavering dedication and resiliency," she said. "They are renovating hospital cafeterias to put in hospital beds, they have shown great empathy and compassion by bridging the gaps between patients and their loved ones who have been unable to visit them. They have continued essential services like bringing new babies into the world and keeper their emergency rooms open." 
She asked that New Jerseyans continue to support all hospital workers with drive bys, and donations of masks and food.