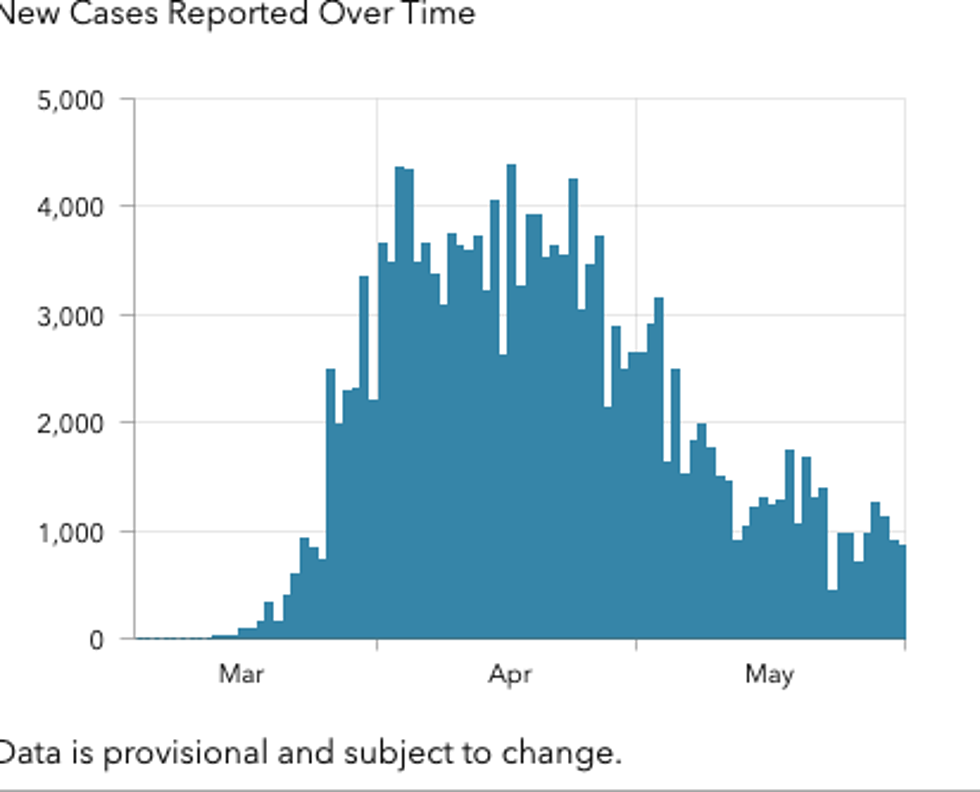 COVID-19: testing available, numbers going down
The curve appears to be going down. COURTESY STATE OF NEW JERSEY
By GWEN OREL
orel@montclairlocal.news
As Gov. Phil Murphy urges all New Jerseyans to get tested to help with contract tracing, numbers continue to go down for hospitalizations and deaths, while the number of people released from hospitals is up.
New Jersey reported 837 new cases on Sunday afternoon, May 31, 64 more than the number of cases reported Saturday. The total number of cases of COVID-19 in New Jersey is 160,445.
State officials reported only 64 new deaths Sunday, bringing the state's total to 11,634. The death total is less than the the 103 reported yesterday, and 113 Friday.
Montclair reports 415 cases, and 49 deaths, the same number of deaths now for two days.
Hospitalization rates, too, continue to be encouraging. The state reported Sunday that 2,469 New Jersey residents were hospitalized with COVID-19, with 522 of those in critical care. At the peak of hospitalizations on April 13, the state was reporting 7,986 patients hospitalized and 2,080 in critical care.
The number of hospitalizations dipped from Saturday's total of 2,629, while there were 150 fewer patients in intensive care today compared to Saturday. As of Sunday, 378 people are on ventilators, using 12 percent of the state capacity. This makes a significant decrease from yesterday's reported number of 544 ventilators in use.
As of Saturday, May 30, Montclair was reporting 416 cases of COVID-19, with 49 residents having died as a result of the virus.
Essex County has reported the third-most cases in New Jersey, 17,649, and the 1,664 deaths of county residents is the most in the state, 85 more than Bergen County.
According to the state's COVID-19 dashboard, Essex County has had 46 long term care facilities with outbreaks; Bergen County 63. Black and Hispanic people make up 37 percent of deaths, white people 53 percent, Asians and others 9 percent.
Testing for COVID-19 is now available at local pharmacies, including CVS, Rite Aid, Walgreens and Walmart. On Wednesday, 26,000 New Jerseyans were tested. Murphy's stated goal was to conduct 25,000 tests per day by the end of June. As of Friday, there were a total of 208 test sites open to the public.
In Essex County, there is a community testing site for county residents at Weequahic Park. Residents must make an appointment in order to receive testing there.
A complete list of testing locations is available at covid19.nj.gov/testing.
On Friday, Murphy announced that daycare centers for children of non-essential workers can reopen on June 16, and organized sports  practicecan open on June 22. Day camps (not sleepaway camps) could reopen on July 6. Houses of worship can raise the number of people who can attend, beginning June 12. All of these reopenings are contingent on the numbers of cases continuing to decline.
This weekend, Murphy did not hold COVID-19 briefings. Numbers below are taken from the state COVID-19 dashboard and from numbers sent by Essex County officials.
Essex County Coronavirus Cases
Updated: Sunday, May 31, 2020
Cumulative Confirmed COVID-19 Cases ad Deaths 

Essex County, NJ

Municipality
5/30/20 5Pm
5/31/20 9am
Deaths 5/31/20am
Belleville
961
962
58
Bloomfield
1047
1044
62
Caldwell
104
105
7
Cedar Grove
409
403
100
East Orange
1851
1859
199
Essex Fells
21
21
2
Fairfield
130
131
17
Glen Ridge
36
36
8
Irvington
1329
1332
139
Livingston
481
480
64
Maplewood
297
298
25
Millburn
136
138
7
Montclair
407
409
44
Newark
7254
7266
586
North Caldwell
39
39
4
Nutley
465
466
34
Orange
952
952
73
Roseland
86
87
15
South Orange
96
96
4
Verona
116
117
13
West Caldwell
227
226
39
West Orange
1181
1182
163
Total
17625
17649
1663
Negative tests (County)
40,266
40,717
Statewide positive
159608
Statewide deaths
11634
Social distancing, hand hygiene, and other steps to prevent infection must be followed at all times in all municipalities regardless of the number of cases.
The number of infected individuals in any municipality is likely to be much greater than indicated as this data ONLY includes persons who have been tested and whose lab results have been reported in the State's data system.
This data will not match any other report since cases are continually entering the system and local health departments may reassign place of residence as appropriate during their investigations.