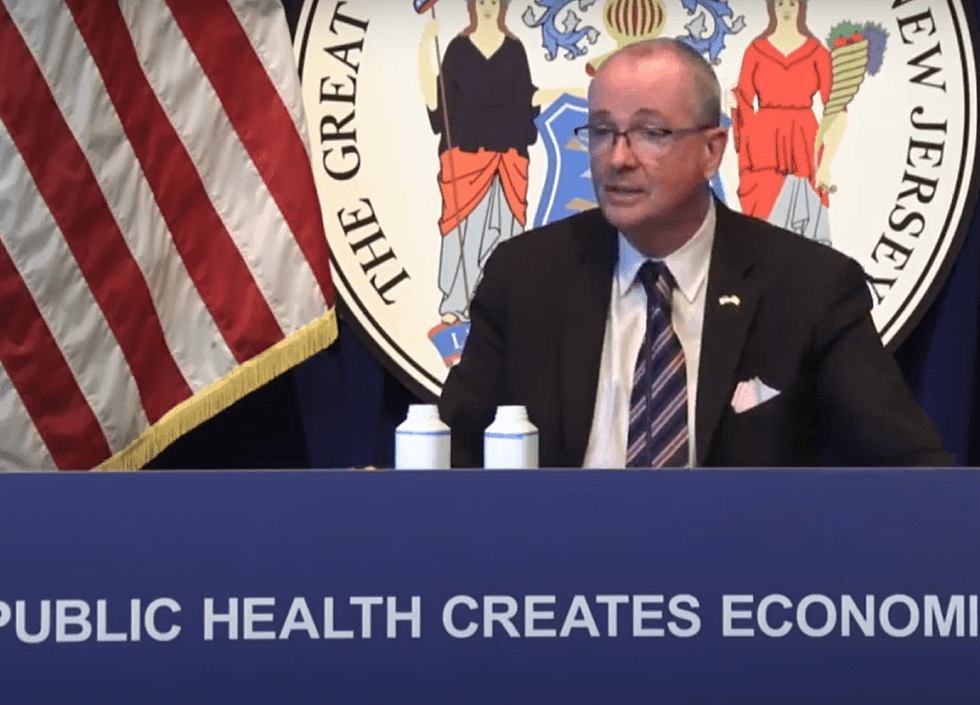 COVID-19: New Jersey launches vaccine tracker on state COVID-19 information page
COURTESY STATE OF NEW JERSEY Gov. Phil Murphy announces the rollout of a new vaccine tracker on the state's COVID-19 website on Jan. 11.
By ERIN ROLL
roll@montclairlocal.news
New Jersey's COVID-19 recently launched vaccine tracking dashboard reports that 18,874 doses have been administered to county residents. Essex County is second in the number of vaccines it has dispensed to date, behind Bergen County which has administered the most at 23,784.
Statewide, as of Jan. 11, a total of 214,433 vaccine doses had been administered. Of those, 199,293 were first doses, and 14,984 were second doses. The vaccines were 54 percent Moderna doses, and 46 percent Pfizer doses. 
The gender breakdown of recipients is 64 percent female and 36 percent male. The ethnic and racial breakdown is six percent Asian, four percent Black, five percent Hispanic or Latinx, 16 percent other, 20 percent unknown, and 48 percent white. 
Because of the high demand, the vaccine is only being made available to healthcare workers, sworn firefighters and police officers, and residents of congregate living settings, such as long-term care facilities. But Montclairians can also register for the vaccine by logging onto covidvaccine.nj.gov.
Health Commissioner Judith Persichilli said the demand for the vaccine currently far outpaces the supply, and she urged residents to have patience as they waited for their turn. "Everyone will be vaccinated. We will have enough. It's just a matter of time," she said." 
Graduation requirements
Students in their senior year will not have to take graduation assessment tests before they can graduate, and Student Growth Objectives (SGOs) will not be included in educators' evaluations.
SGOs are meant to provide an additional measure of a student's academic performance, outside of a student's performance on academic tests. Additionally, SGOs are prepared for all subjects, not just those that are tested in standardized tests. 
Examples of SGOs according to the Department of Education include having first-graders all reading at a certain level; sixth-graders understanding concepts of Algebra I; and ninth- and tenth-graders completing a series of writing assessments for a language arts class. 
Additionally, certified teachers will be able to serve as substitutes for longer periods, up from the 20 day limit per a classroom, until the end of the public health emergency. 
Gov. Phil Murphy said the disruptions due to the pandemic mean it will not be feasible to conduct assessments as they were done in the past. 
Seniors will still have to meet all credit requirements, curriculum requirements and attendance requirements in order to graduate. 
Montclair Schools Superintendent Jonathan Ponds said he approved of the governor's move to relax some of the requirements. "I am thankful and grateful for our governor's thoughtfulness during these trying times," Ponds said. 
Acting Education Commissioner Angelica Allen-McMillan said that teachers have done "yeoman's work" during the course of the pandemic. 
Today's numbers
On Jan. 11, Montclair health officials reported seven new cases, down from the 15 new cases on Jan. 10, bringing the total to 1,444. The death toll remains at 62. 
Essex County health officials reported fewer cases and deaths today, at 314 new cases and four new deaths. Yesterday the county reported 410 new cases and nine new deaths. The total county totals are 51,565 cases and 2,188 deaths.
Statewide, officials reported 5,042 new positive cases confirmed through PCR testing, up from 5,032 on Jan. 10, bringing that total to 532,959. Another 540 probable cases were identified through rapid-result antigen testing, compared to 753 the day before, bringing that total to 57,206. 
The rate of transmission has now risen to 1.09, up from 0.96 on Jan. 6. The positivity rate now stands at 11.32 percent, compared to 14.9 percent on Jan. 6. 
Officials reported 51 new deaths, compared to 32 on Jan. 10, bringing the total to 17,873 total deaths. There are also 2,059 probable deaths.
Hospitals reported 3,653 patients, including 649 in critical care and 438 on ventilators on Jan. 10, compared to 3,589 patients, 629 critical care and 431 ventilators on Jan. 9. 
Today, Montclair released new guidance from the CDC on quarantining.
"The safest option is to stay home for 14 days. If you cannot stay home for 14 days due to economic or other hardship, and you have no symptoms, there are two options," Montclair Health Officials said.
The two options are:
Notest option - Stay home for 10 days. If you stay symptom-free for 10 days, quarantine ends. Monitor symptoms, wear a mask, and social distance through day 14.

Test option: Stay home for seven days. Get tested at Day five, six or seven. Stay home while awaiting results. If the test is negative and you stay symptom-free, quarantine ends. Monitor symptoms, wear a mask, and social distance through day 14.
"Shortened quarantine is not recommended for high-risk residential settings such as long term care, corrections, and group homes/shelters," according to officials.