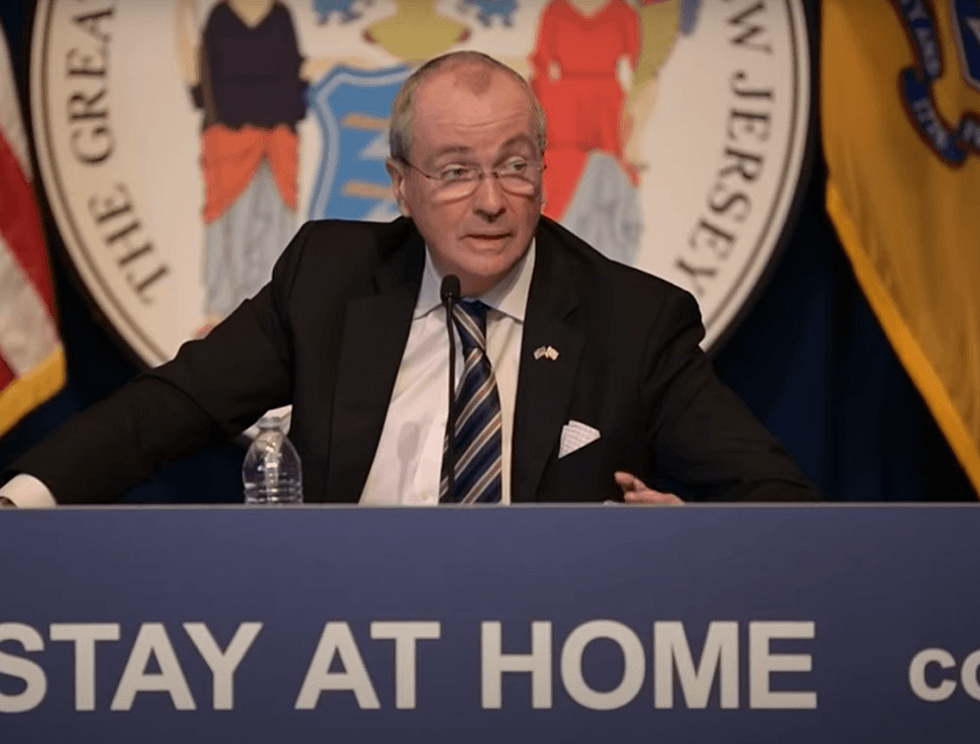 COVID-19: Curve flattening, but NJ "not even meaningfully close to claiming victory," Murphy says
COURTESY STATE OF NEW JERSEY Gov. Phil Murphy speaks during a Wednesday, April 22 press briefing in Trenton.
By ERIN ROLL
roll@montclairlocal.news
New Jersey state officials were encouraged on Wednesday by COVID-19 cases and hospitalization rates remaining steady, but Gov. Phil Murphy said that the state needed to start seeing a large decrease in cases before the state could even consider taking steps to eventually re-open.
The state is also wary of a potential spike in cases that could come with a re-opening of the state, or even a possible second wave of the virus later in the year.
As of Wednesday afternoon, 3,551 more residents have tested positive for COVID-19, down from the 3,643 new positive cases reported on Tuesday, bringing the state total to 95,865 total cases.
There were also 314 new deaths, down from the 371 reported on Tuesday, as the state total rose to 5,063.
As of 10:30 p.m. on Tuesday, 7,210 New Jersey residents were hospitalized, of whom 1,983 were in critical care. Of those 1,983 patients in critical care, 1,570 were on ventilators. Additionally, 84 people were being treated at field hospitals.
The number of patients discharged on Tuesday was 745, more than double the number of new patients admitted to hospitals with the virus, 361.
The number of hospitalizations dropped by more than 700 since Monday, though the number of patients in critical care and the number of ventilators in use were both up slightly.
Murphy and Health Commissioner Judith Persichilli said the rate of hospitalization was holding steady at the rate it had been for the past four days, but what was needed was for the rate of cases to start showing a significant decrease.
"We're not even meaningfully close to claiming victory," Murphy said.
As of 9 a.m. Wednesday, Essex County was reporting a total of 11,305 cases, up from 11,222 the day before. That figure represents 83 new cases since Tuesday, down from the 231 new cases reported the day before.. The county also reported 34 additional deaths, bringing the county's reported total to 881.
Montclair is reporting 314 cases, up from 308 cases on Tuesday. The number of fatalities remains the same at 34.
The top six counties for infection rates continue to be Bergen, Hudson, Essex, Union, Passaic and Middlesex. Murphy noted that the number of deaths in Bergen County was greater than the death toll in some countries.
He also noted that Essex County had just surpassed Bergen in the number of deaths, with Hudson County not being far behind. The state's COVID-19 dashboard recorded 888 deaths in Essex County as of Wednesday, followed by 876 in Bergen County.
Persichilli said six hospitals had gone on divert status. Of those, four of them were located in the state's central region.
Long-term care facilities continued to be hit hard, with Persichilli reporting that 438 long-term and assisted living facilities had reported at least one COVID-19 case, with a total of 11,608 cases and 2,050 deaths being reported for those facilities.
REPORTING DEMOGRAPHIC DATA
The state will now require hospitals to report all demographic data on COVID-19 patients, people who are tested, as well as those who sought testing but weren't, and deaths, in response to ongoing concerns over how the outbreak is disproportionately affecting communities of color in New Jersey.
Murphy said the state was in the process of finalizing a plan for re-opening the state, noting that there will be a spike in new COVID-19 cases when the state does re-open.
Additionally, the Office of Emergency Management has just received another shipment of 500 ventilators, and the Army Corps of Engineers is working with the state to open up new hospital beds, including at East Orange General Hospital.
"Here's what we're all worried about. What if this thing comes back?" Murphy asked, referring to a possible second wave of COVID-19 that could occur in the fall or winter months.
Murphy noted that Congress was in the process of approving a nearly $500 billion COVID-19 aid package, and he thanked all involved. However, he said, the package does not include direct federal aid to states.
Murphy had harsh words for Senate Majority Leader Mitch McConnell, who on Wednesday said it would be a good course of action to allow states to declare bankruptcy instead of receiving federal aid.
"Number one. Come on, man. That's completely and utterly irresponsible," Murphy said. "Secondly, as usual, he's dead wrong. Because that's not going to happen."
But instead of New Jersey declaring bankruptcy if the state did not receive much-needed federal aid, Murphy said the state would be forced to "gut the living daylights" out of much-needed services for New Jersey residents.
"We will cut, cut and cut," he said. "At our most profound hour of need, we will leave our citizens on the beach without any help."