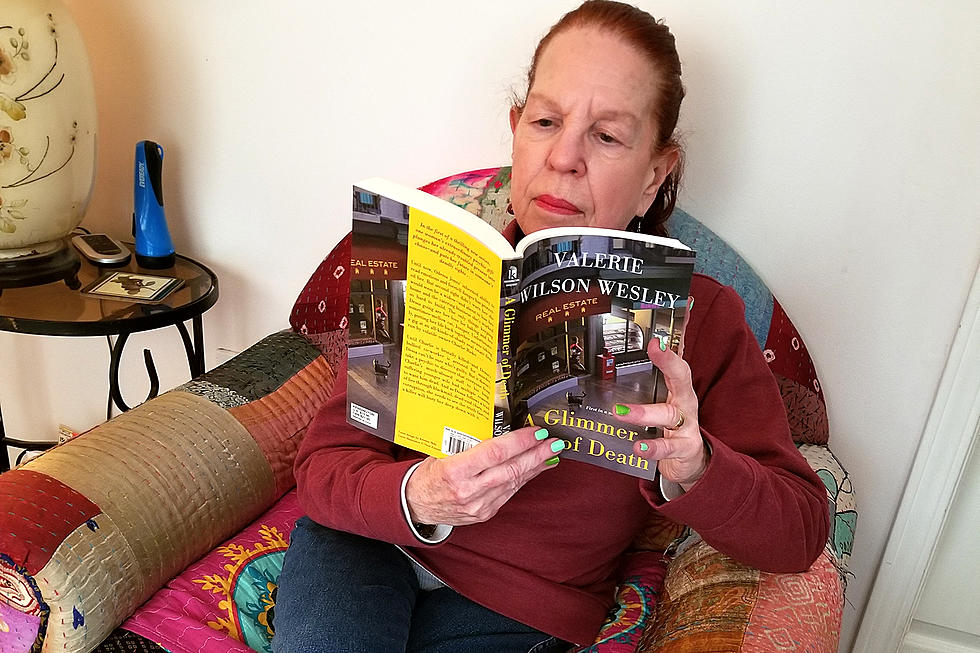 Cozy up to a new mystery by a Montclair's Valerie Wilson Wesley (Robin's Nest)
Robin Woods enjoying "A Glimmer of Death," first in a planned three-book series by Montclair resident Valerie Wilson Wesley. (COURTESY OF ROBIN WOODS)
By ROBIN WOODS
For Montclair Local
Reading is one of my favorite pastimes, especially when I can sit outside in the sun, getting my dose of vitamin D while starting a freckle collection on my face and arms. 
To me, there's nothing better than sitting down with a new book while enjoying my first cup of morning coffee or afternoon tea. I love the feel of a book in my hands, as I let my imagination take me on a journey as I read about the new characters created by one of my favorite authors, Montclair's own Valerie Wilson Wesley.
A former executive editor of Essence magazine, she graduated from Howard University and earned master's degrees from Bank Street College of Education (my alma mater) and the Columbia School of Journalism.
We met in 1996 at the historic YWCA facility, now the Geyer Family YMCA located on Glenridge Avenue. Wesley's children's book, "Freedom's Gifts: A Juneteenth Story," was released in 1997, and she visited our Afterschool Rainbow child-care program to read it to the children. She also donated copies of the book to our little library for the children to borrow and enjoy. Some of her published books deal with Black history and feature many African American characters, both real and fictional.
Wesley is also known for the Tamara Hayle mystery series, which takes place in Newark. I couldn't wait to read the first of her planned series of three new books featuring amateur detective Odessa (Dessa) Jones, released in February. The genre it belongs to is known as "cozy" mystery novels, dealing with crime-solving that takes place in a small town. 
I was a fan of Jessica Fletcher and "Murder, She Wrote" on TV, and looked forward to reading about another woman who has mysteries follow her around. Wesley's characters live in fictional Grovesville, N.J., "stuck between struggling Clifftown and affluent Bren Bridge," as described on page two of "A Glimmer of Death." I recognized a lot of the local color and people, which somehow remind me of Montclair and Glen Ridge.
Writing from her home office in town, Wesley spends the morning having coffee and reading newspapers. She usually writes from early afternoon until late evening, a set time every day. She said, "I have to do a certain amount of pages a day. I'm on pressured deadlines with a whole lot of eyes on my work. It's a group process. Each publishing house has an editor who works with me, and then there's copy editing, cover art and marketing plans to work on."
When I asked Wesley to explain a cozy mystery to me, she said, "Cozies are a little softer than some mysteries dealing with private investigators and police procedurals. They involve an amateur sleuth such as Dessa Jones, and don't contain a lot of violence, explicit sex or cursing." Murder and mayhem take place off-scene, giving the reader a chance to imagine how they occur. 
Another aspect of this cozy mystery is that her protagonist has a paranormal gift, of second sight, inherited through her maternal line. The smell of nutmeg always makes Dessa think about murder and  impending doom.
I enjoyed the way Dessa's character and quirks were developed in the book. She is easy to like, gentle and sensitive, still mourning the recent death of her husband, Darryl. The young widow's second sight did not foretell her losing him, and their catering business, D&D Delights, failed after his death.
Dessa needed a job to make ends meet and works at Risko Realty, a somewhat shady and sleazy second-rate real estate agency. Baking is what she really wants to do. Her love of cooking and baking tie her to Lennox Royal, owner of Royal's Regal BBQ. 
He's a retired police detective who helps Dessa with her attempts to solve the mysteries that keep happening around her. He enjoys Dessa's baked goods enough to order her wonderful cakes, cookies and pies to replace the so-so and sometimes terrible-tasting choices at his restaurant, becoming one of her best customers. 
Dessa wants to salvage D&D Delights and get out of the real estate office, with its heavy atmosphere of negativity and meanness.
Her Aunt Phoenix is a strong, outspoken woman who uses her gift of second sight to play the lottery, and frequently wins. She can't convince Dessa to do the same, and sends her niece cryptic and sometimes odd text messages. These messages are right on the money when it comes to future events.
I learned about the calming effects of lilac from Aunt Phoenix, who suggests that Dessa carry it with her at all times. Cat owners will enjoy reading about Juniper, Dessa's cat, who spends most of his waking hours begging for Temptations cat treats, which mellow him out a bit.
After you go through all of the plot twists and turns, you can also re-create and bake Dessa's Go-To Cake, a Wesley family recipe. It bakes quickly and can be taken anywhere. You'll find the recipe at the end of the book. It's also known as a 7Up Cake, or "soda pop" cake by Aunt Phoenix, a pound cake so delicious that I foretell that you'll ask for a second slice, even though I don't have second sight. 
Don't worry, there isn't any nutmeg in this cake. Take the time to treat yourself to some, and to a very good read.
Robin Woods is a local girl-about-town, writing about activities, stores, restaurants and interesting people that catch her eye. She's written memoirs and music and fashion columns for various New York City newspapers, and received the Shirley Chisholm Award for Journalism in 2015. She won the 2019 Director's Award in the Essex County Legacies Essay Contest, along with first-place awards in 2017 and 2018.