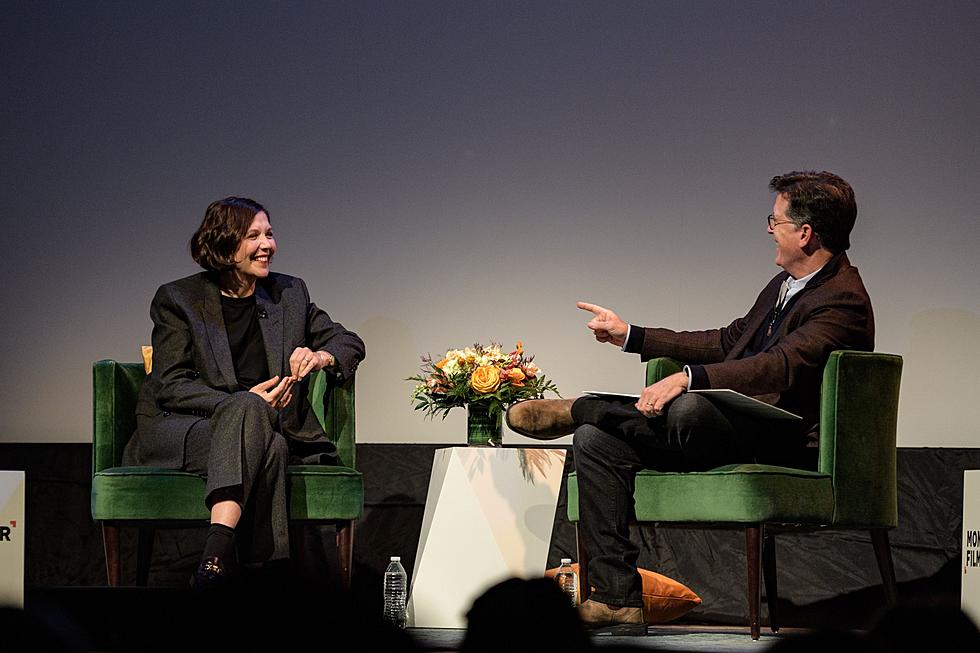 Creating space with Maggie Gyllenhaal for 'Lost Daughter'
Maggie Gyllenhaal, left, speaks with television host and Montclair resident Stephen Colbert about her work writing and directing "The Lost Daughter," a film based on a novel of the same name by Elena Ferrante. The event, held at Montclair Kimberley Academy's Upper School, was part of the 10th annual Montclair Film Festival. (NEIL GRABOWSKY/COURTESY MONTCLAIR FILM)
By TALIA WIENER
wiener@montclairlocal.news
While prepping for her directorial debut, Maggie Gyllenhaal knew she wanted to give her actors what she had always wanted most on a set — space to flourish. 
"It's not just about a director having a fantasy of what the scene is about and you following the lines that the directors decided before you got there," Gyllenhall said Sunday night before an audience at Montclair Kimberley Academy's Upper School. "If you want to make something really great, you're going to take the artistic minds and spirits and hearts of everyone who's involved, and try and create an environment where they feel safe and free and open enough to risk the most possible."
Gyllenhaal spoke with television host and Montclair resident Stephen Colbert about writing and directing "The Lost Daughter," a film based on a novel of the same name by Elena Ferrante. The event, held at Montclair Kimberley Academy's Upper School, was part of the 10th Annual Montclair Film Festival. Colbert's wife, Evelyn Colbert, is president of Montclair Film's board. 
"The Lost Daughter" tells the story of a college professor confronting her memories of motherhood after meeting a young mother and daughter on vacation. The theme of mothering is central to the film, but also to Gyllenhaal's experience as a director, she said. 
"As a director, it's almost like being a mother or father," Gyllenhaal said. "Being loving is the key."
That director and actor relationship is so valuable, Colbert said. So, he asked: Why doesn't it happen more often?
"It seems like a very, as you said, loving and very inviting, and very nurturing way to do it," Colbert said. "Is it just the mechanics of shooting with the pressure of getting things done?"
Being a director is a hard job, Gyllenhaal said, and it's hard to "imagine what it feels like to be a performer" if you haven't been in that position yourself. 
Gyllenhaal worked with actors individually, encouraging them to infuse their own artistic vision into the film, she said. She only cast people for the film whom she could sense were excited for that process, she said. 
"Maggie would just let us dance," actress Dagmara Domińczyk said after a screening of the film Sunday. "There was no wrong way to film it as long as we were truthful about what was happening between us."
Utilizing her experience as an actor, Gyllenhaal made everyone feel comfortable and heard, Domińczyk said. Domińczyk, who plays Callie in the film, lives in Montclair with her husband, actor Patrick Wilson, and two children. 
"Maggie is fluent in director, first time out of the gate, but also fluent in actor," Domińczyk said. "She's got your back twofold."
Being a director has made Gyllenhaal reflect on her acting career in new ways, she said Sunday. 
"I realize the extent to which I have been compromising," she said. "Very few directors like actresses with a lot of ideas. … I think it's rare that I felt really satisfied as an actress."
For her directorial debut, Gyllenhaal wrote a script that would give actors space to practice their art and emulate the type of films she likes most — the "ones where you have to use your own mind, your own heart, your own brain" to figure out what's going on. "The Lost Daughter" is not forthcoming with character backgrounds or extensive dialogue, but instead relies on viewers to piece together character relationships and experiences on their own. 
"I wanted to write a script that would appeal to me as an actress, which is meaning something that is not literal," she said. "I want to have the space to express 100 things in between this line and this line."
Ferrante's book gave her the groundwork to create a film that explored motherhood in a new way, a way that often goes unverbalized, Gyllenhaal said. 
"The things she was saying, I had never heard said out loud before, about being a woman in the world, as a mother, as a lover, as an artist as a thinker," Gyllenhaal said. "If she's writing it down, someone else must feel this way, too."
Gyllenhaal wrote to Ferrante, asking for permission to write a screenplay based upon her book and to direct the film. Ferrante granted Gyllenhaal permission, but only if Gyllenhaal directed — if not, the contract would be void.
Ferrante wanted Gyllenhaal, a woman and a mother herself, to tell the story in her own way, Gyllenhaal said. And that permission was a vote of confidence that motivated Gyllenhaal throughout the film's production, postponed and complicated by the coronavirus pandemic.
But Gyllenhaal's goal, to share Ferrante's work on screen and create spaces for viewers to experience the lives of the characters, never changed, Gyllenhaal said. 
"You could be sitting next to your mother, or your husband, or your daughter, or even a stranger, who you feel having a reaction to it," Gyllenhaal said. "I thought that would be a really radical thing to try to create." 
The interview with Gyllenhaal was one of the easiest he has ever done, Colbert said at the end of the event. 
"Your answers were so deep and thoughtful and beautifully expressed," Colbert said. "You made it really easy for me."
Gyllenhaal was awarded Montclair Film's Breakthrough Director and Writer Award.
More about the Montclair Film Festival:
• A joyous return to in-person film
• A first look at the newly reopened Clairidge Cinemas
• Our Montclair: 10 years, plenty of new beginnings for MFF
• 'Rocky Horror' is coming back to Montclair
See the full MFF schedule at MontclairFilm.org. Scroll down to the bottom of this post for more highlights from the festival.