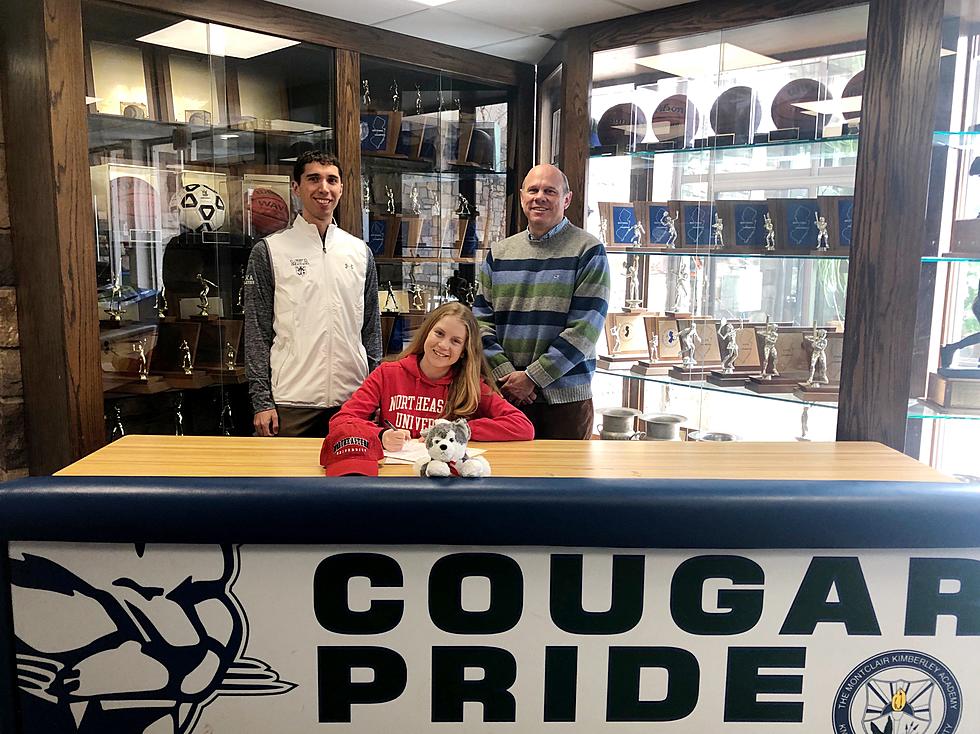 Montclair Cross Country: MKA's Schaller commits to Northeastern
MKA senior Anna Schaller, flanked by coach Matt Bach (left) and athletic director Todd Smith (right) recently committed to Northeastern University where she will run distance events next school year.
Courtesy MKA Athletics
by Andrew Garda
garda@montclairlocal.news
Montclair Kimberley Academy senior distance runner Anna Schaller had to find just the right fit when it came to her college, but when she visited Northeastern University in Boston, Mass., she knew she'd found the right fit.
"I loved the [school] programs," explained Schaller, who recently accepted an opportunity to run for the Huskies. "I'll be taking environmental sciences and international affairs and they're really good in both of those [areas]."
She also really wanted to go to school in a city, and Boston felt right.
"I really liked Boston, just as a city," she said. "Great running routes, lots to do."
As much as she sought strong academics and a great location, Schaller also wanted to make sure she would get the most out of her time as a runner. She might like the school, but the distance running program had to work for her as well.
"I think running is a very individualistic sport. Some things work for some people and not for others," she said. "I wanted a program that focused on the individual, so Northeastern has great communication between coaches and athletes. It's a very individualized training approach, so different athletes are doing different things. I really liked that because it gave me confidence that no matter what I and the coaches decided I needed, I was going to be able to get that and not get there, train differently than I am used to and get injured."
Injury was a concern for Schaller. She said a lot of runners get to college and discover the way the distance program is run doesn't fit their needs. They tend to plateau, take a step back, or worse, end up hurt.
That was not the experience she wanted.
"I meshed well with the coaches, and I liked their approach to training and I thought it was a place where I could really see myself improving.  I wanted to for sure improve and make sure I am set up for that."
"I'm thrilled with her decision," said Matt Bach, her distance running coach for the last few years. "She's going to an excellent college both academically and athletically. It seems to be a real good fit for her with both the team and the coach."
Finding that fit was important to Bach, and something he emphasized with her before she started researching colleges.
"You really want find a program where you talk to the coach about their training approach and philosophies. And make sure it jibes with your own understanding of yourself," he said. "You don't want to get there after the fact and find out that it doesn't. It's hard top backtrack and transfer out."
Bach knows of what he speaks. He went to Penn State and decided to run as a walk on. The fit wasn't good for him and he decided to stop running in college. He didn't want that experience for Schaller.
Now that Schaller has made her choice, she can turn her full attention to this Spring's track season. She said she will be looking to beat some personal best times, and feels like without the difficult decision of what college she will attend out of the way, she will run lighter, faster and better than ever before.