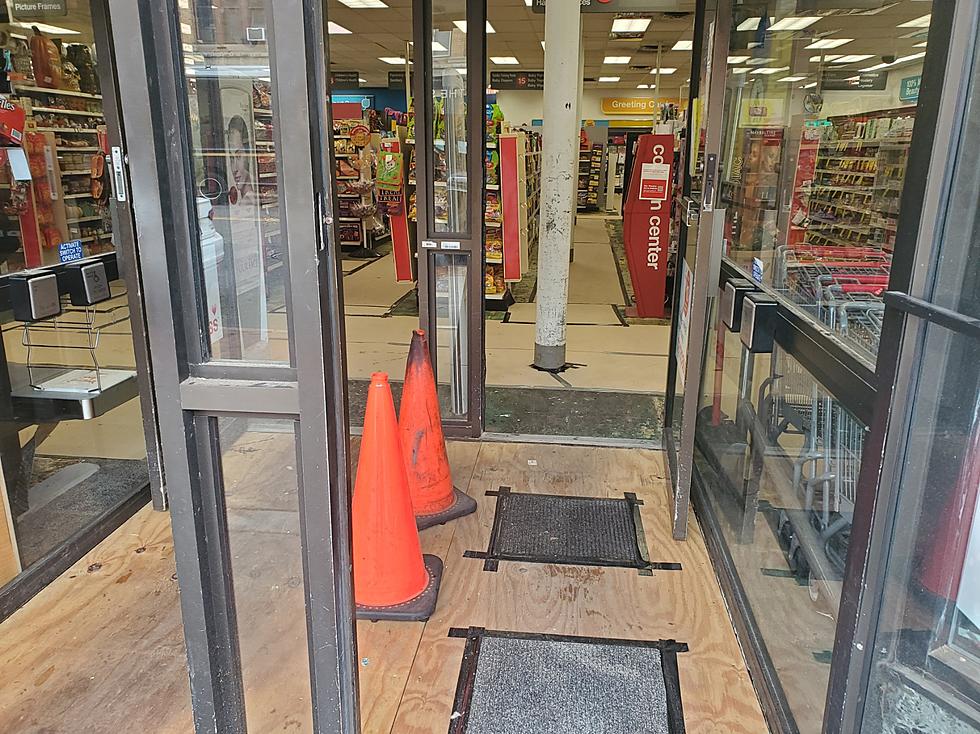 CVS on Bloomfield Ave. in Montclair rips out carpet, customers described 'awful' stench after Ida
The CVS on Bloomfield Avenue in Montclair suffered flood damage when Ida hit the northeast. A week after the storm, carpets were pulled out of the store. (LOUIS C. HOCHMAN/STAFF)
By LOUIS C. HOCHMAN
hochman@montclairlocal.news
Carpeting has been pulled out of the CVS on Bloomfield Avenue in Montclair, where some customers said they worried mold or other contamination from the Sept. 1 Ida floods could be a hazard to workers.
The carpet removal began Wednesday, Sept. 8 — one week after floodwaters overwhelmed much of Montclair, damaging many homes and businesses — and was completed the following day, Amy B. Thibault, senior corporate communications manager for CVS said. She said the carpets would be replaced as soon as possible.
Emails from Thibault didn't address questions from Montclair Local asking whether any customers had expressed concerns about workers' safety. But Iris Lewis, who lives near the store, said she'd personally called a corporate office, and as of Thursday, Sept. 9, hadn't heard back.
Lewis said she'd been in the CVS on Sunday, Sept. 5, the same day she posted to the private "Secret Montclair" Facebook group with concerns about the conditions at the location. The thread she started prompted more than 70 replies, with many others describing smells at the location as "awful" or "intense."
Lewis told Montclair Local she's in the CVS "all the time for the little things," and has gotten to know its workers.
"As soon as I walked in, it smelled really bad. The carpeting was still in there at the time. I spoke to one of the employees, and he said it had been horrible," Lewis said. "They're in there for hours under those conditions. I said, 'CVS has the money to fix this. You shouldn't be working under these conditions.'"
Lewis said that she was in the store for five minutes, but her chest hurt for the rest of the night.
Follow developing news about Ida's impacts in Montclair
The CVS, near the corner of Bloomfield Avenue and Park Street, is part of a block that saw some of the worst damage Ida inflicted on Montclair — though businesses on that block were far from alone, with floodwaters filling basements and ground-level storefronts throughout town. Waters in nearby North Fullerton Avenue deck's ground floor reached above cars and SUVs, and in some cases trapped people in adjacent buildings until the floods receded or first responders could arrive.
The CVS location was closed Thursday, Sept. 2, the day after the storm. Thibault said it was "cleaned thoroughly" before reopening.
In Lewis's Facebook thread, several people encouraged one another to contact Montclair's and Essex County's health departments. However, township and county officials told Montclair Local neither had received complaints about the location. A call to the Occupational Safety Heath Administration seeking information on any possible complaints has not yet been returned.
Lewis said when she called CVS's corporate office, before the carpets were ripped up, she "told them there's obviously mold, and it's not safe for people to be in there."
Keith Costello, Montclair's acting health officer, said his department hadn't gotten complaints about any businesses after damage from Ida.
Amy Thompson, technical assistant to Montclair's construction official in the township's building department, said four structures were deemed unsafe after the storm. One of those was the nearby 511-515 Bloomfield Ave., slated to become the home of a new Ani Ramen location. A planned grand opening of that location was put off, and it remained closed as of the end of this week.
The building department had also flagged damage to Montclair's Bradford Elementary School, after an electrical panel was damaged by the flood, which Thompson said had since been resolved.
The gymnasium at Edgemont Montessori School was deemed unsafe after a tree fell on the building. Thompson said as of Thursday, her records still showed that repairs were needed before the gym could be used, but a community update from schools Superintendent Jonathan Ponds the night before said inspections were complete and the full building could be used.
A home on Edgemont Road had also been declared unsafe after being struck by a tree in the storm. Thompson said that building remained considered unsafe until required permits were submitted and approved.