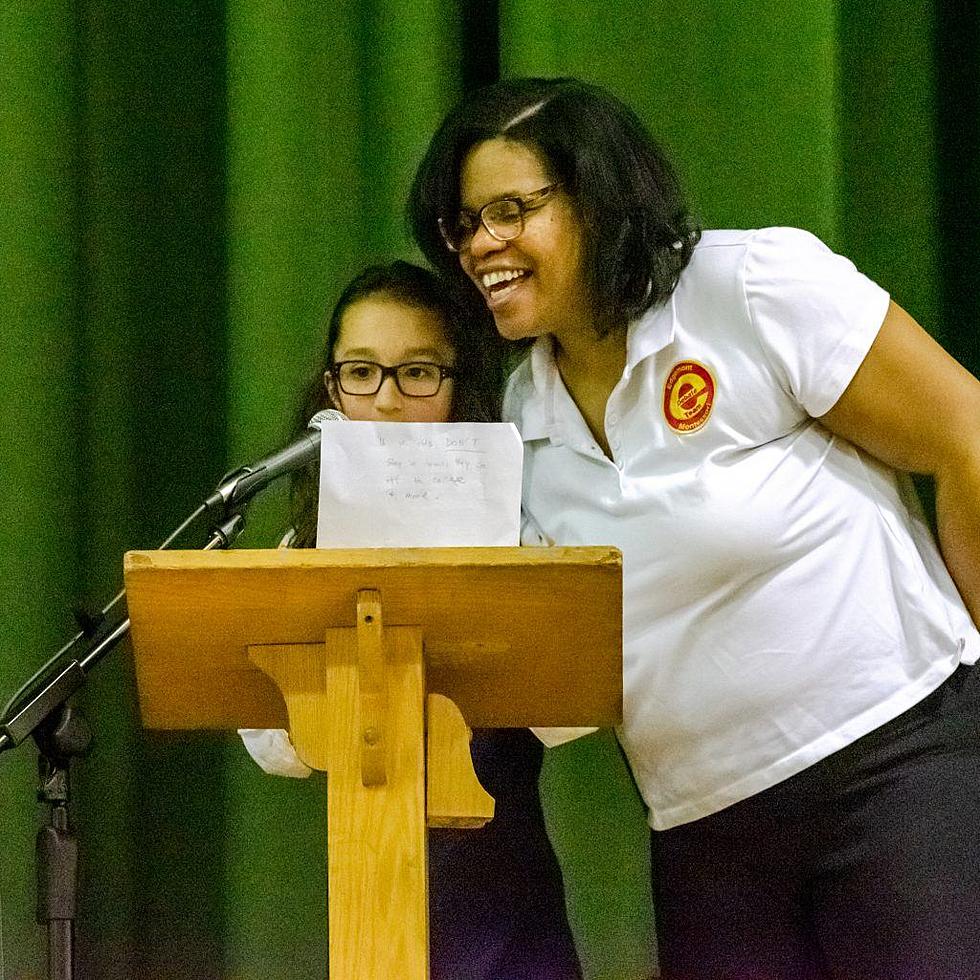 Forensics: Debate competition is a tie
Edgemont Montessori school's team advisor Regina O'Connor, right. After arguments pro and con on pass/fail grades and the voting age, Edgemont School and Lacordaire Academy fourth grade teams split wins of their annual debate, at Edgemont Montessori School, Wednesday night, Dec. 19. ADAM ANIK/FOR MONTCLAIR LOCAL
By GWEN OREL
orel@montclairlocal.news
At first it was a rout.
There were two issues tackled in the fourth- and fifth-grade debate competition Dec. 19 between Lacordaire and Edgemont schools: "No grades in school" and "Lowering the voting age to 16."
The December debate involved a panel of four judges, including two Edgemont alumni, a local lawyer, and this reporter.
The fourth-grade students from Edgemont crushed the opening debate on the subject of grades.
But Lacordaire made a strong comeback with their presentation on the voting age. The school had a secret weapon in the dynamic comments of fourth-grader Alexa Whitworth.
For each question, the team members took turns giving their response, then, after the other team, conferred and then gave a rebuttal. While teams conferred, the audience was treated to entertainment. Elias Lewin, 12, an Edgemont graduate, played saxophone. Valerie Pera, 10, played the piano.  
For the question of grades, Lacordaire took the lead, arguing that grades were good.
Unfortunately, their delivery was a little sing-songy, occasionally hard to hear, not impassioned. Edgemont students, on the other hand, had obviously given thought to their presentation: each speaker on the team began with a rhyme. "Don't give me an A; tell me what to say." Or "When you compare, it's not fair." The team of nine Edgemont students held good eye contact with the audience. The judges easily handed Edgemont the win.
Judges had been given a rubric on which to score the teams with points from 1 to 5, in the categories of "Respect for Other Team," "Information," "Rebuttal," "Use of Facts/Statistics," "Organization," and "Understanding of Topic," with descriptions of how to assign points. To get a 5 for Information, "All information presented in this debate was clear, accurate and thorough." In contrast, a 1 for Information would be given if "Information had some major inaccuracies OR was usually not clear."
Despite their weak opening, Lacordaire came from behind with a strong presentation on the question of lowering the voting age to 16. "Sixteen-year-olds can drive and pay taxes," said the first student. Not to be allowed to vote was "taxation without representation."
________________________________________________________________________
READ: MONTCLAIR KIDS GO DEEP IN 'A WRINKLE IN TIME' BOOK CLUB
READ: PLAY TIME; HOW SHOULD MONTCLAIR SCHOOL'S OFFER RECESS?
_______________________________________________________________________
Lacordaire cited National Youth Rights, a national organization, and told the audience that 16-year-olds paid $730 million in taxes. The audience also learned that 15 states already allow 17-year-olds to vote during primaries.
On this question, Edgemont's choice to begin with couplets from "You Are 16 Going on 17," from the Broadway show "The Sound of Music," seemed to trivialize the subject. Edgemont's answer that high school was too stressful to add voting to it, and that juniors would not even know what unions were, was not convincing, considering that the argument was being made by elementary school students much younger than 16.
So the second trophy went to Lacordaire, their comeback complete.
The event was tied, with no overtime. Each school went home for a victory lap with a well-deserved trophy.
OK, this isn't really a sports story.
But it was a competition. Students wore uniforms. Teams had clearly practiced and worked together.
They were judged on sportsmanship. When they won their trophies, they high fived and cheered — and shook hands with the other team.
Mary Thornton, the coach for Lacordaire, clearly was proud of her team.
Regina O'Connor, a third-grade teacher at Edgemont School, said she began the program six years ago as a way to involve students in an enrichment program who didn't want to sing or perform.
"Montclair State had a grant for collaboration, and I thought of the fact that there was money for art, but nothing for students who were more academically inclined," O'Connor said. "We started the debate team and the math club."
The first year, it was too big, she said. Now, it is part of the PTA enrichment, so it is smaller: about 10 students per school are involved.
Different schools have participated in the competition over the years: Bradford's team became too big to debate Edgemont. Watchung School has participated. Lacordaire has been the main opponent for two years.
The debate has really helped the kids' confidence with public speaking. "Every year, I make sure to do this. There's a diverse group, economically, racially and academically. I had one student classified as dyslexic, and with all of us working together, the student was able to participate fully. I couldn't have been more proud," O'Connor said. "It's giving an opportunity to kids who might not otherwise have one, see what talents they have. They come to find out, 'Hey! I like public speaking!' I might have some future politicians on my hands."