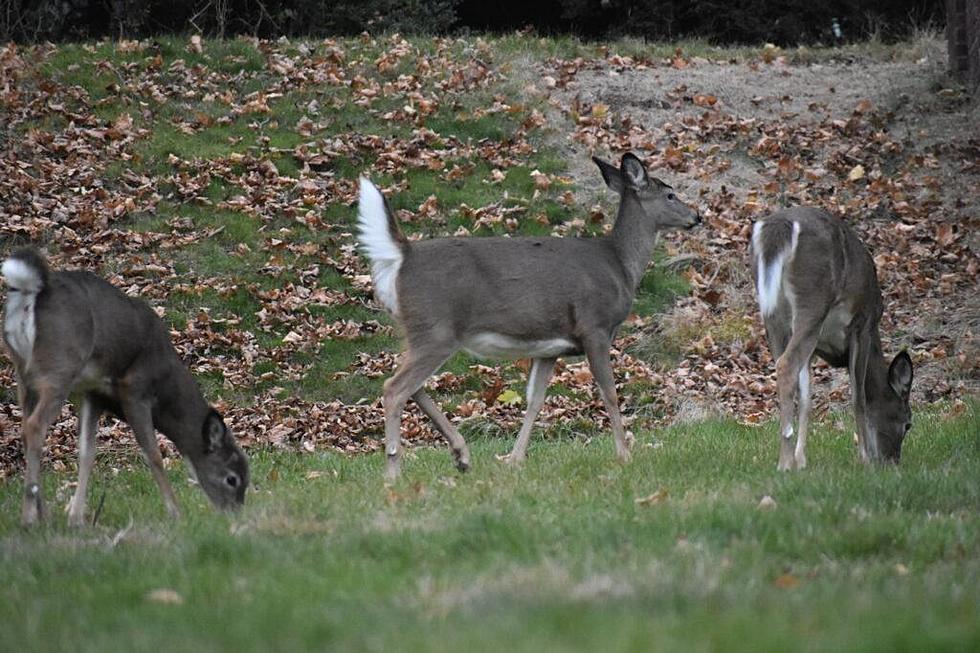 County cancels deer hunt this winter
For the first time in 12 years, the county will not hold the annual deer management program at South Mountain and Hilltop reservations. Experts say the deer population could increase by 30 percent as a result.
ANDREW GARDA /STAFF
BY JAIMIE JULIA WINTERS
winters@montclairlocal.news
Although the deer population number is predicted to be high, Essex County will not conduct its annual culling beginning in January, saying that manpower is instead needed for COVID-19-related events such as testing and distribution of vaccines when they become available. 
The hunt was expected to take place at South Mountain Reservation and Essex County Hilltop Reservation. Officials had mulled including Eagle Rock Reservation as well.
It will be the first time in 12 years that the program will not be held. Since 2008, Essex County has conducted the program January through March, typically 12 days in total, to reduce the number of deer at South Mountain Reservation, located in Maplewood, Millburn and West Orange, and Hilltop Reservation, in Cedar Grove, North Caldwell and Verona. Due to a lower deer population, the program has not been held at Eagle Rock since 2012, when 23 deer were removed.
The pause in the program is expected to result in a 30-percent increase in deer in the area.
In the culling held in winter 2020, 37 deer were killed at South Mountain and 55 at Hilltop, for a total of 92. Fifty-five of the deer killed were pregnant. The cost was $96,101.
In 2019, the deer-culling program took 99 at Hilltop and 101 at South Mountain; 100 of the killed deer were pregnant, according to the county's report. In 2018, during a five-day hunt, 87 deer were killed at South Mountain and 52 at Hilltop, with 73 pregnant. In 2017, 48 were killed at South Mountain and 57 at Hilltop.
Due to the pandemic, a spotlight census count of the deer population was not conducted this year in May and is not scheduled for next year as well. 
South Mountain Conservancy President Dennis Percher, who has also been the recorder for census counts, said that the numbers last year were down due to the high number of acorns available, which the deer prefer to the corn used at the baiting stations used to draw deer closer to marksmen.  
"Last year's hunt wasn't very successful," Percher said. And following that, a count could not be completed to further assess the hunt's effect on herd numbers. 
In the last census count in 2019, 32 deer were observed in the 2,047-acre South Mountain Reservation, 25 were counted on the 265-acre Hilltop property and five were observed at 408-acre Eagle Rock. 
But the spotlight counts don't reflect the true number of deer, especially at Eagle Rock, where many areas are inaccessible. Percher said the number of deer can be better extrapolated from hunt numbers. 
Percher also uses a complicated calculation factoring in the number of deer from the count, the acreage of the properties and accessibility to get more realistic numbers. He said the current numbers are probably higher. Under his calculations, there are likely 29 deer per square mile, for a total of 92 deer, at South Mountain; 50 deer per square mile, for a total of 114, at Hilltop, and 29 per square mile, for a total of 20, at Eagle Rock.
Daniel Bernier, a wildlife management consultant, wrote in the 2020 Essex County Deer Program Report: "Forest ecologists recommend a deer density no greater than 20 deer per square mile in a healthy forest ecosystem. In a forest that is damaged by overbrowsing by deer, as is certainly the case at South Mountain and Hilltop reservations, the density might need to be reduced to as low as five deer per square mile in order for forest regeneration to succeed." 
Bernier had different estimates on the deer populations in the three reservations. For South Mountain, he estimated the overwintering population for 2020-21 at 104 deer, which is 40 more than the recommended population of 64 deer for the park to have a healthy ecosystem. At the five deer per square mile density recommended for an impaired ecosystem, there is an excess of 88 deer, he said.
At the Hilltop property, the 2020-21 overwintering population of deer is probably at 40, or 38 more than the two recommended for the 0.44-square-mile area.
The 2020-21 overwintering population at Eagle Rock is expected to be 35 deer, which is 32 more than the recommended population for the 0.68-square-mile park. Although in 2019 Bernier  suggested returning to hunting at Eagle Rock in 2021, he said he was hesitant to recommend it due to minimal population data.
With no hunt in 2021 and two spotlight counts canceled, Percher has proposed to the county an infrared count done by drone and conducted by Raritan Valley College. Such a count would be  more accurate because the drones can cover inaccessible areas within the reservations. 
"People are reporting larger congregations of deer. And last year's hunt wasn't as successful as in years past. We need a count," he said.
Even one year without a hunt can have a profound effect, leading to an increase in the population by 30 percent, he said. 
"In three years, they can more than double the size of the herd," Percher said. 
In the meantime, Essex County has established 42 fenced enclosures throughout South Mountain and five in Eagle Rock in which native plantings have been installed to jump-start the forest's recovery from the impacts of deer.  
The county has also installed detection devices that reflect motor vehicle headlights and emit a high-pitched noise to scare deer away from the road when cars approach. 
Since 2008, 2,824 deer, of which 1,043 were pregnant, have been culled in Essex County utilizing the services of experienced marksmen who volunteer their time.