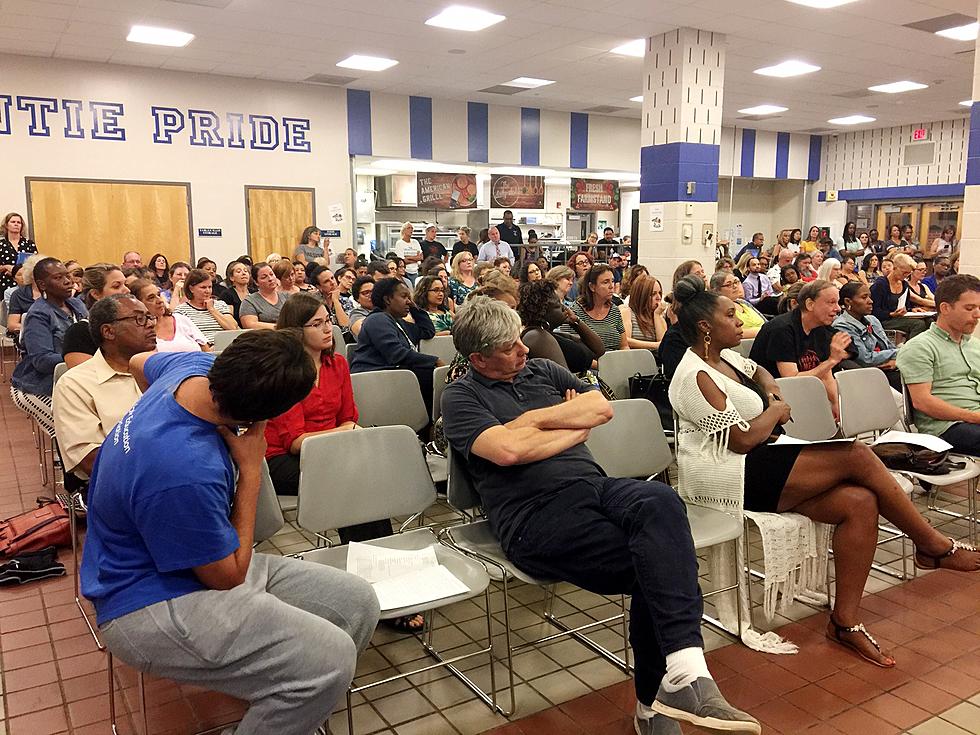 Teachers want answers to delay in pay raises, problems with new contract
A large crowd gathers in the atrium at the George Inness Annex on Monday, Sept. 23. Teachers and staff voiced their anger over not receiving contractually obligated pay raises for the 2019-2020 school year, and receiving their 2017-2018 pay instead.
PHOTO BY ERIN ROLL/STAFF
By ERIN ROLL
roll@montclairlocal.news
Teachers claim their new contract documents received in August contain inaccurate numbers, missing stipends and other incorrect data. Some say they opened their documents to discover someone else's paperwork inside. Worse is that they will have to wait to get their raises, which were supposed to come with a newly approved contract.
Due to contract negotiations, Montclair's teachers were working under the terms of a July 2015 through July 2018 contract for the 2018-2019 school year.
The new 2018-2021 contract, with pay raises, was to take effect at the start of this school year after it was adopted by the BOE this summer. The pay increase was also to be retroactive.
However, on Sept. 6 Montclair Education Association employees were told that instead of receiving the contractually obligated pay raises they were to have received for the 2019-2020 school year, they would receive 2017-2018 pay rates instead until district officials could verify the new contract details.
Montclair Education Association communications director Beth Albert did not respond to inquiries about the contractual pay raises or issues with the contract, deferring questions to the central district office.
The new contract was tentatively agreed upon in June. In August, Evelyn Martinez, assistant to the business administrator, denied Montclair Local's request for a copy of the contract, stating details were still being settled by the attorneys and therefore it could not be released.
The BOE apparently has still not approved the new salaries.
"We are working diligently to ensure that new salaries for 2018-2019 and 2019-2020 are accurate for submission to the Board of Education for their approval in accordance with the ratified contract," stated from Business Administrator Emidio D'Andrea and Personnel Manager Yesenia Budhu-Howell in a letter sent to employees. "Upon board approval, we will process the salary adjustments accordingly in the most efficient manner possible."
MEA employees will receive their 2017-2018 pay rate for the time being, while the district verifies the correct pay rates for MEA staff, D'Andrea wrote.
At the first BOE meeting of the school year on Sept. 23, teachers and staff members told BOE members they were unable to make rent or mortgage payments, not able to buy enough food, and struggling with medical bills and their children's tuition bills.
"For the first time since college, I cannot pay my electricity bill, and I cannot pay my daughter's lunch bill," said Delia Maloy Furer, a science teacher at Glenfield.
Requests for comments following the meeting from BOE President Eve Robinson and D'Andrea on the status of the contract, and what led to contract paperwork errors received by the teachers were not answered.
But at the meeting board member Jessica de Koninck admitted the board had "dropped the ball" for failing to verify with the central office that the teachers' 2019-2020 pay rates would go into effect as scheduled
And at the meeting, teachers and staff alluded that the errors were made by personnel staff in the district's central office.
On Friday, Sept. 13, employees received their first pay stubs of the year, with an additional incorrect health benefits deduction. Employees had to go to the central office building on Valley Road to receive paper checks reimbursing them for the deducted amount.
Melissa Hodgins, a fourth-grade teacher at Charles H. Bullock School, said the salaries do not keep up with health care increases. Without her wife's salary, she would not be able to make car payments and mortgage payments.
Gina Testa, who just started her first year as a Montclair High School guidance counselor, described how she signed her contract, only to discover that her salary was lower by seven salary steps than what she was entitled to. "This is not how I hoped to begin a long career in the Montclair schools," she said.
Board President Eve Robinson said the board had been assured that the correct steps were being taken over the summer to ensure that teachers would get the new contract pay. "We were given assurances that these processes were taking place," she said.
Interim Superintendent Nathan Parker said he met with district employees on Sept. 12 to discuss the issue of salaries and payroll. "I understand why there's not trust. And there's nothing more uncomfortable than when you don't get your paycheck," he said.
After the meeting, Parker said he could not comment on the circumstances that led to the problems with the paperwork errors, as the district is still determining the cause. He did confirm the district is currently interviewing for a new interim director of personnel.
For the 2017-2018 school year in Montclair, according to the contract between the district and the Montclair Education Association, a first-year teacher with a bachelor's degree had a starting salary of $55,025. Conversely, a teaching staff member with 18 years of experience and a doctorate would receive a salary of $108,330.
MEA employees are paid on a salary scale, with each teacher or staff member being paid commensurate to their years of experience and the degrees that they have attained. The different tiers on the salary scale are known as steps.