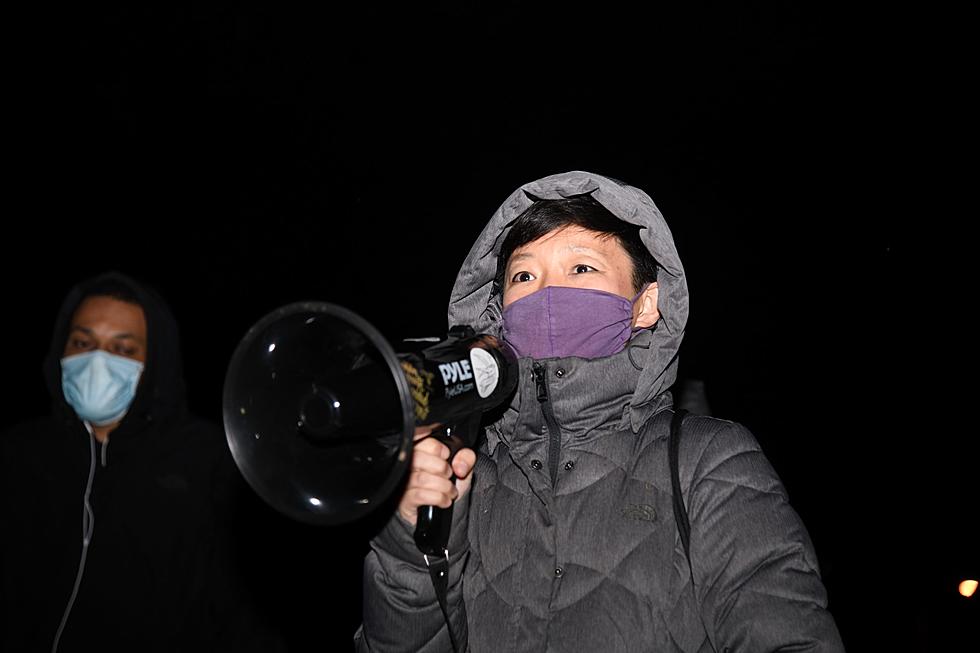 Demand a transparent Montclair budget, not blind funding of police (Letter)
Lily Chiu invites attendees to share their thoughts at the megaphone during an April 21 Montclair Beyond Policing gathering, held after Minneapolis Police Officer Derek Chauvin was found guilty in the murder of George Flord. (KATE ALBRIGHT / FOR MONTCLAIR LOCAL)
The Montclair Township Budget will be brought up for a vote on Tuesday, May 4. To call the budget process opaque would be an understatement. The date of budget presentations was long unknown, despite repeated inquiries over several council meetings. When the time finally came to propose the budget on April 6, most of the departments made presentations, but not all — just the "most important." No numbers were presented, and very few specifics.
Notably absent was the library department. Any library users hoping to hear a coherent account of the massive defunding this crucial public service has undergone were disappointed. According to the budget proposal recently released, the library budget has been slashed from $3,515,910.44 (in the 2020's originally passed budget) to $3 million — a devastating cut of over 14%. 
And last fall, the seniors of Montclair were denied a senior community center. Mayor Sean Spiller indicated that the township could not afford it because of revenue loss due to the pandemic. While it's certain that there have been financial difficulties in the township, this shows a complete lack of imagination and commitment to the well-being of those most impacted by this public-health crisis. 
Meanwhile, Montclair Police Department's budget, already historically the largest of any single department, has increased by $156,561 for a total of $16,170,750.30. Part of this total — a substantial $519,131.84 — is earmarked for an unspecified "other expenses." Additionally, the township is funneling yet another $582,000 toward the police department for body camera storage and "police heavy vehicles." This sum, squirreled away in the budget proposal under "capital improvements," would alone more than cover the library shortfall. 
Montclair municipal tax bill could rise 2.5%
Given Montclair Police Department's April 6 budget presentation, one would be hard-pressed to understand how their exorbitant funding is paying off. For the duration of his 5-minute presentation, Chief Todd Conforti displayed a single slide that read, in its entirety, "COVID-19. Protests and large gatherings. Community outreach. NJ State Association of Chiefs (Re-accreditation). Body cameras." Notably, none of the activities Conforti discussed necessitates the deployment of armed officers: enforcing COVID-19 compliance; assisting people experiencing homelessness, people struggling with addiction and people in mental health crisis; and, in a stunningly perverse moment of self-congratulation, managing the "challenge" of protests that emerged after the police killing of George Floyd in Minneapolis — protests where attendees chanted "Defund the police!"
This moment requires that we take a close look not only at our budget, but at our priorities as a community. The murder of George Floyd sparked protests worldwide; now, one year later, we must make good on our collective vow to rethink public safety. According to Mayor Spiller, Montclair is "known nationally as one of the foremost progressive American communities." How could anyone possibly make such a claim if at this moment in history, we allow our Township Council to approve even more funding for police? On May 4, we implore Montclair residents to demand more budget transparency at the very least and, ultimately, a budget reflecting our values.
Lily Cui and Anneliese Scherfen
Montclair Beyond Policing
---
Montclair Local's Opinion section is an open forum for civil discussion in which we invite readers to discuss town matters, articles published in Montclair, or previously published letters. Views expressed and published in this section are solely those of the writers, and do not represent the views of Montclair Local.
Letters to the editor: To submit a letter to the editor, email letters@montclairlocal.news, or mail "Letters to the Editor," 309 Orange Road, Montclair, NJ, 07042 (email is preferred). Submissions must include the name, address and phone number of the writer for verification. Only the writer's name and town of residence will be published. Montclair Local does not publish anonymous opinion pieces.
Letters must be no more than 500 words in length, and must be received by 5 p.m. Monday to be eligible for potential publication in that week's Thursday print issue. Letters may be edited by Montclair Local for grammar and style. While our goal is to publish most letters we receive, Montclair Local reserves the right to decline publication of a letter for any reason, including but not limited to concerns about unproven or defamatory statements, inappropriate language, topic matter far afield of the particular interests of Montclair residents, or available space.
Town Square: Montclair Local also accepts longer-form opinion essays from residents aiming to generate discussion on topics specific to the community, under our "Town
Square" banner. "Town Square" essays should be no more than 750 words in length, and topics should be submitted to letters@montclairlocal.news at least seven days prior to publication.