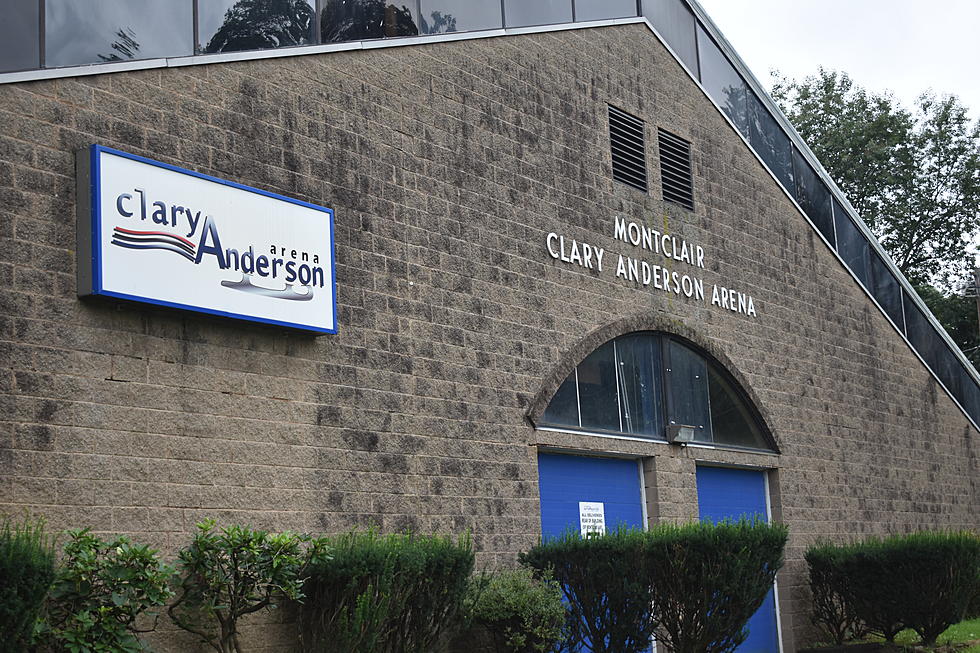 Devils jersey stolen from Clary Anderson Arena, police say
Clary Anderon Arena (ANDREW GARDA / FILE PHOTO)
The management of Clary Anderson Arena reported that a personalized New Jersey Devils jersey that hung in the lobby of the Chestnut Street venue was stolen Oct. 9, police said.
Surveillance video shows that at 1:39 p.m., a man used a hammer to break the plastic cover of the display case and removed the jersey from it, police said. The man was last seen walking toward the Walnut Street NJ Transit train Station.
The man is between 5 feet and 10 inches, and 6 feet and 2 inches, police said. He's thin, with a muscular build and a thin goatee. He was wearing glasses and a baseball cap with a circular design on the front. He also had on a zip-up hooded sweatshirt with white draw strings around the hood, black sweatpants with the Nike symbol on the left leg, and black and white sneakers, police said.
The stolen jersey was a personalized New Jersey Devils hockey jersey with "CLARY ANDERSON" and "1" sewn on the back. The jersey was a gift from the Devils organization, but is valued at approximately $300. The display frame was also a gift and valued at approximately $200.
The following additional activity has been reported by Montclair Police in their weekly blotter:
THEFTS
Wednesday, Oct. 6 — A man reported that his bicycle was stolen from the bike rack in the garage of his apartment building on Bloomfield Avenue. The green Trek 1200 was valued at $300 and was reportedly stolen sometime between Oct. 1 and Oct. 3.
Friday, Oct. 8 — An employee of Whole Foods on Bloomfield Avenue reported that her Apple iPhone 11 was stolen while it was being charged inside of the market. The phone was left inside of a restricted area and was valued at $750.
Sunday, Oct. 10 — A man reported that he was alerted by an anonymous person that two males were seen going through his bag that he had put down on South Park Street. After checking his belongings, the bag's owner discovered a set of AirPods were missing. The first male was described as in his teens, with a medium build, approximately 5 feet and 8 inches, wearing ripped blue jeans and a dark hooded sweatshirt. The second male was described as thin, in his teens, wearing tight light gray sweatpants, a light gray hooded sweatshirt and dark sneakers.
SUSPICIOUS INCIDENT
Sunday, Oct. 10 — A Montclair man reported that he received an alert from his home security system of motion in his driveway on Edgecliff Road. He observed a small sedan pull up in front of the residence. A male got approached the resident's vehicle, and proceeded to enter it and rummage through the car. Nothing was reported missing. The male was thin, wearing a blue or green hooded sweatshirt with the hood up and dark pants.
ELUDING OFFICERS
Thursday, Oct. 7 — Officers conducting traffic enforcement near Nishuane School observed a vehicle with fictitious license plates and attempted to conduct a motor vehicle stop. The operator failed to stop and continued at a high rate of speed, ultimately eluding the officers. He was last seen entering West Orange. Shortly after, officers located the vehicle and the operator on Chestnut Street in West Orange. The 27-year-old man from West Orange was charged with contempt and a multitude of motor vehicle violations.
ASSAULTING LAW ENFORCEMENT
Thursday, Oct. 7 — A 75-year-old from Montclair was charged with assault, resisting arrest, and assaulting a law enforcement officer stemming from a dispute at the MC Hotel on Bloomfield Avenue.
Saturday, Oct. 9 — A 29-year-old from Wharton was charged with disorderly conduct, obstruction the administration of law, terroristic threats, and assault on a law enforcement officer following a dispute at Just Jake's on Park Street.
The police blotter is based on information provided to Montclair Local at the discretion of the Montclair Police Department, and reflects events as described by the department. It may not reflect the complete scope of police activity. Any descriptions of wrongful activity are merely allegations, and any persons mentioned in the blotter are presumed innocent until proven guilty in a court of law. The MPD encourages anyone who wishes to report criminal or suspicious activity, or who has information pertaining to an ongoing investigation, to call 973-744-1234. In an emergency, residents are urged to call 911.