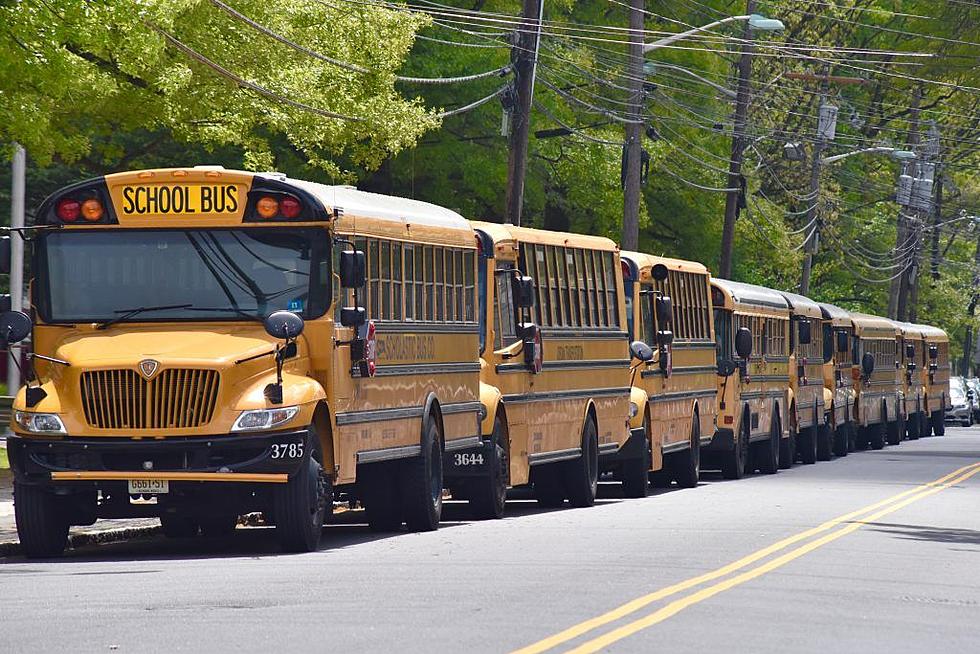 Parents wonder if district busing expansion plan will be enough
FILE PHOTO
School buses wait to pick students up.
By ERIN ROLL
roll@montclairlocal.news
Parents and students are contending that, even with the district setting a wider radius to allow more students to get bused, many could still end up walking long distances to school. 
Last month, Montclair school officials announced the distance requirement reduction, saying it would provide free busing to more students, who have fought for the change for years.
Students now living 2.25 miles or farther from Montclair High School will be eligible for free busing this year. Families who live closer than 2.25 miles, however, will still need to pay for subscription busing if they want their children to take the bus to school. 
Part of Montclair's South End, an area whose residents have appealed for the expansion of busing, is still within 2.25 miles of the high school, and therefore may not meet the distance requirement for free busing. 
The district did not respond to questions from Montclair Local on approximately how many new families, or which new streets, would be included in revised busing routes.
Families were expected to receive their new bus stops and routes via the district's Genesis portal in October.  
Transportation eligibility is determined by the shortest walking distance between the student's home and the high school. 
District officials said that several existing routes have been reworked to increase efficiency, with the goal to make routes take less time while transporting more students. 
"This allowed us to clear up several routes that were then used to create the additional routes to the high school. Since no new routes had to be contracted out, there was no change in the overall cost of transportation," Superintendent Jonathan Ponds said.
The rerouting plans started in the summer and are still being finalized, Ponds added.
For Jennifer Jensen, whose daughter is a sophomore at the high school, one source of confusion is how exactly the new bus routes are being calculated. As of Monday evening, Nov. 2, she said she and her family had not yet received any information on new bus routes from the district. 
Jensen said she lives on the last block in Montclair, on High Street near Amelia Street, at the town line with West Orange. That particular block is within a 2-mile radius of Montclair High School; however her daughter's walking route to or from school is a 2.7-mile trip, taking about an hour. 
The family previously lived in Upper Montclair, north of Alexander Avenue, an area eligible for free busing. When the family moved to Montclair's South End, Jensen said she assumed busing would be supplied there as well, and was disappointed to find that was not the case. 
Because of Montclair's geography, most of the South End, with the exception of a few streets along the town line with West Orange and East Orange, sits well within 2.25 geographic miles of the high school. 
Parent Ashok Pitchamani said the district's plan does not go far enough. He said that allowing students who live beyond 2.25 miles to have free busing still leaves out a very large number of students in the South End who live closer than 2.25 miles.
"The busing issue is an obvious equity issue that has been raised by the high school students who don't have easy access to their education in a town like Montclair. Any incremental improvement is good. We can acknowledge that. But to claim it as a victory that addresses and solves the problem somehow, it is misrepresenting the facts, or at least not being transparent to the subject matter as a whole," Pitchamani said. 
James Harris, the chair of the Montclair NAACP's education committee, said that the lack of free busing to the South End has represented an equity issue for a long time. The South End, in addition to being home to many families of color, is of lower socioeconomic status than other areas of town, and is therefore more likely to be disproportionately affected by a lack of reliable transportation. 
Students at the high school have advocated for expanded access to busing for many years, saying that the long walking distance puts students from the South End at a disadvantage for school attendance and ability to participate in extracurricular activities. In 2018, NJ Transit agreed to add a stop near the high school on its 33 route, to coincide with school arrival and dismissal times, but school and township officials said that was meant to act as a stopgap measure. 
Pitchamani suggested expanding the free busing eligibility to students who live 1 mile or more from the high school. "From my perspective, the goal should be the same as the middle school kids and the elementary school kids -- 1 mile. Would that be a fair, equitable goal to strive for as a community?" 
Students have said that it can take as long as an hour, depending on traffic, weather and other factors, to walk to or from the high school. 
Relying on NJ Transit could be unreliable, students said, and MHS did not always have the discounted tickets available to the students for purchase in the guidance office.