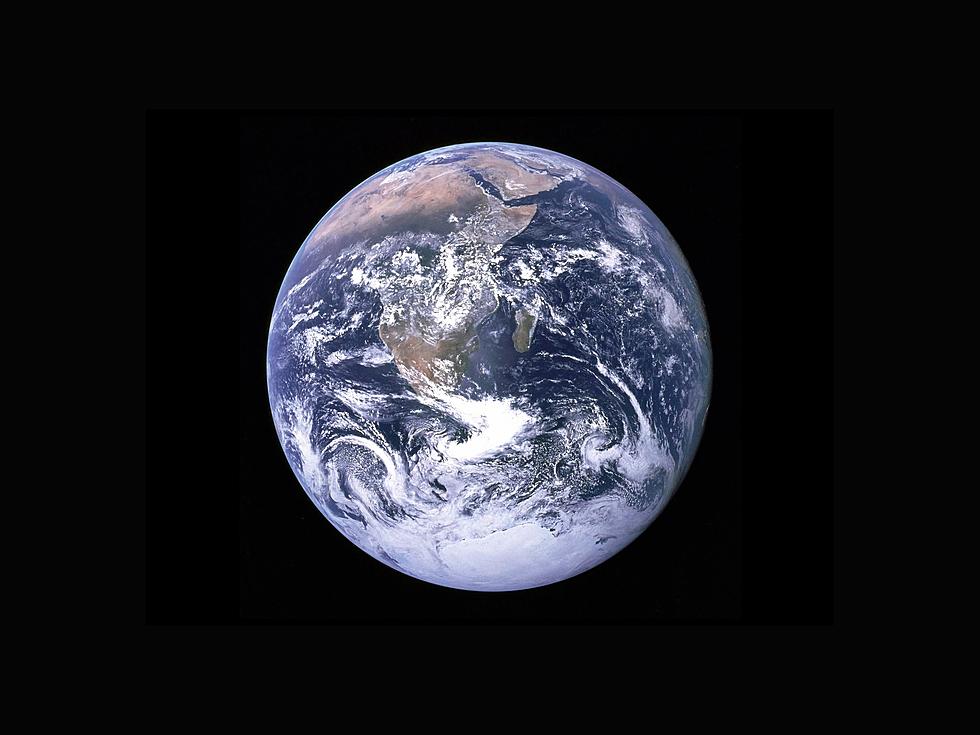 Earth Day 2022 events in, around Montclair
(NASA)
Montclairians can participate in a variety of events around town marking Earth Day, Friday, April 22.
Among the events, to be held over the next few days, including on Earth Day:
MONTCLAIR FAITH LEADERS JOIN PROTEST IN NEWARK
Faith leaders from synagogue Bnai Keshet in Montclair will be joining peers from Jewish, Muslim and Christian faiths in and around the Newark Area for a public action to demand that Chase Bank and Wells Fargo end their investments in fossil fuels and invest in clean energy and green jobs. As religious communities celebrate Passover, Ramadan and Easter, they will act in partnership with more than 20  similar efforts around the country supported by Greenfaith and Dayenu.
"This event, co-sponsored by the Newark Green Team, brings people of faith together with local climate justice advocates who are calling for an end to polluting facilities in Newark and investment in local climate solutions that generate green jobs, especially for Black, Brown and low-income communities," organizers said in an announcement of the events"
Participants will assemble Thursday, April 21 at 4:30 p.m. in front of the Chase and Wells Fargo branches at 550 Broad Street in downtown Newark. Participants will enter branches to sing, pray, deliver letters to the CEOs and share personal testimony about the impact of the climate crisis.
AT MONTCLAIR COMMUNITY FARMS
Montclair Community Farms will honor Earth Day with a hands-on youth gardening workshop upcycling an indoor kitchen herb garden, a pop-up plant sale and activities for all community members to learn about composting, pollinators and beekeeping on Friday, April 22, from 11 a.m. to noon at 16 Miller St. The event will also include an interactive, community-based PhotoVoice project, as well as games, arts and crafts, and a door raffle. $4 youth in advance, $5 at the door, adults free. Youths must be accompanied by an adult. Rain or shine. More information: montclaircommunityfarms.org, click on "register & shop."
AT THE LIBRARY PLAZA
The Montclair Public Library is offering Celebrate Earth Day Everyday on Friday, April 22, from 2 to 4 p.m. The community is invited to stop by the main library plaza to plant seeds to start a garden at home and pick up a recycled materials craft.
For all ages.
EAGLE ROCK CLEANUP HIKE
In celebration of Earth Day, the League of Women Voters of the Montclair Area is holding its first "We Love Eagle Rock Reservation" program, a cleanup hike to prepare the reservation for the spring and summer seasons, on Saturday, April 23, at 9 a.m. The League's partners in the event are the Essex County Department of Parks, Recreation and Cultural Affairs and the New Jersey chapter of the Sierra Club. The community is invited to participate and asked to meet at the 9/11 Memorial. More information: Ron Pate, eaglerockconservancy@gmail.com. 
EARTH COALITION EVENTS
The Northeast Earth Coalition invites the community to join its 2022 Earth Day celebration on Saturday, April 23, from 10 a.m. to 3 p.m. at the Crane Park Demonstration Garden, at the corner of Glenridge Avenue and Lackawanna Plaza. There will be environmental displays and planting of native species. More than 120 volunteers from Montclair and surrounding communities will do cleanups in nearby parks. There also will be an exhibit of the 2022 Toyota electric car prototype and music from three local bands. Community groups will have tables, and the NEEC will honor Councilmen Bob Russo and Peter Yacobellis; Tom Mulligan, an NEEC board member; and the Community Outreach Program of Our Lady of Mount Carmel Church. U.S. Rep. Donald Payne Jr., D-10, will be a special guest. More information: neearth.org.
CLIMATE ACTION BIKE RIDE
Bike&Walk Montclair and Montclair Climate Action will offer their first Climate Action Bike Ride on Sunday, April 24, at 1 p.m. On the mostly flat 8-mile led ride, bicyclists will visit climate-related spots around town, including rooftop solar panels, the Drive Electric Earth Day event at Lackawanna Plaza and Montclair Community Farms to learn about composting. The ride will start and end at the Walnut Street Train Station. Please make sure your tires are pumped; bring your helmet and water. More information: info@bikewalkmontclair.org.
ELECTRIC CARS AT LACKAWANNA
A Drive Electric Earth Day event will be held on Sunday, April 24, from 1 to 4 p.m. at the Lackawanna Plaza parking lot. The community is invited to meet Montclair residents who have electric vehicles, check out their cars and learn about the benefits of going electric. There will be a variety of makes and models, including Tesla, Ford, Chevy, Audi, Hyundai, VW, Cooper-Mini and more, as well as e-bikes. For kids, there will be an ice cream truck for treats and a fire truck for examination. Sponsored by Montclair Climate Action, the Sierra Club and GreenFaith. More information: info@montclairclimateaction.org.