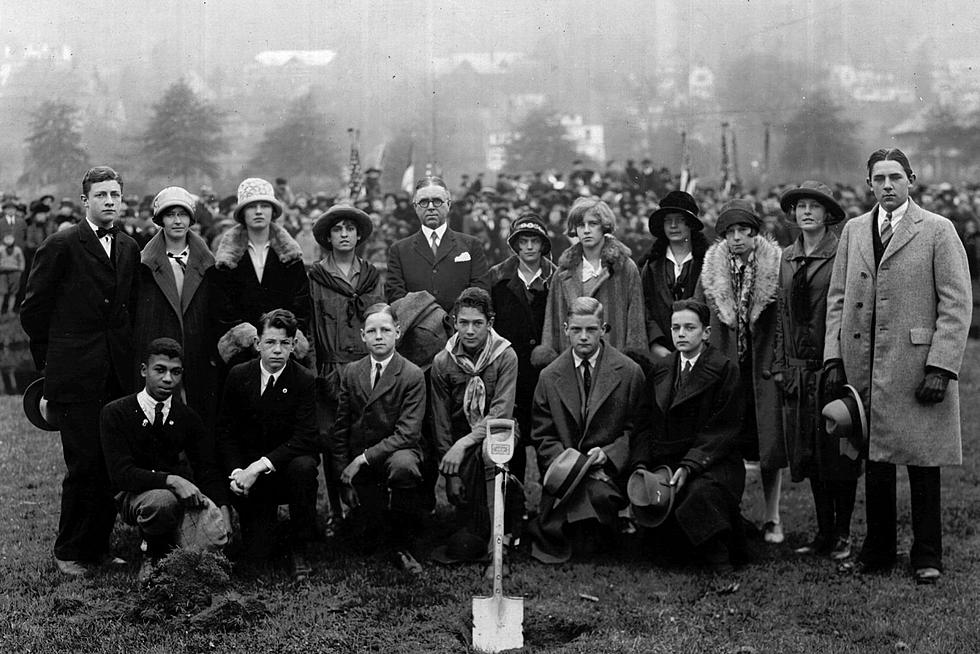 Edgemont war memorial as powerful now as in 1925 (History and Heritage)
A photo taken around 1924 captured some of those taking part in the groundbreaking for the war memorial at Edgemont Park. (Courtesy of Montclair History Online)
By MOLLY HONE
For Montclair Local
While looking for historic Montclair photographs that would serve to properly celebrate springtime, I searched high and low for parks, gardens and other flowery images. I ended up coming across this photo from circa 1924 of the groundbreaking for the World War Memorial at Edgemont Park. While it didn't fit my original spring theme, I was fascinated by the image, and decided I had to write about it.
Edgemont Memorial Park on Valley Road is home to footpaths, a playground, the Edgemont Park House, which serves our local seniors, and more. The park was established in 1906; the land had previously been used as a golf course. William B. Dickson, a resident of Llewellyn Road, played a significant role in the establishment of Montclair's parks by referendum, including Edgemont. 
A 1936 Montclair Times article called Edgemont Park "an heirloom of goodwill that will be admired and pleasurably remembered as long as commemorative ideals live," and its memorial, "beautifully situated, mirrored in the quiet water and framed by the sensitive weeping willows, breathes beauty, truth and inspiration." We certainly agree with this description in 2021.
As you can see in the background, the groundbreaking event approximately 95 years ago attracted a large crowd of all ages. The World War Memorial was finished and dedicated in 1925 and bears the inscription "In Grateful Tribute to the Men of Montclair Who in the World War Paid the Last Full Measure of Devotion in Defense of the American Principles of Liberty and Justice for All." Tablets were later added to honor those who served in World War II, Korea and Vietnam. 
The memorial, "Winged Victory," was designed by sculptor Charles Keck and constructed in 1925.
As the Montclair History Center describes the monument: "The tall granite obelisk is topped with a bronze figure of Liberty, standing on a globe upheld by eagles. A grouping of bronze figures stands at the base and includes a figure of Columbia, wearing a helmet and holding a round shield, standing protectively behind and above a uniformed sailor and a soldier carrying a rifle. The base of the tower is engraved with the insignia of various military units. This memorial is now integrated into the official logo for the Township of Montclair." 
The memorial is actually one of several throughout Montclair dedicated to those who served in World War I. 
Sometimes the inscriptions on the backs of old photos indicate names and other information about the people in them. Unfortunately, this one does not have that information. If you recognize someone here, please let the Montclair Public Library know.
To see more historic photographs, visit Montclair History Online. In partnership with the Montclair History Center, the library offers over 11,000 digitized photographs, city directories and more. Email localhistory@montclairlibrary.org or call 973-744-0500, ext. 2234, with Montclair history questions.
Molly Hone is the head of adult services at the Montclair Public Library. She enjoys helping library customers with the many different questions and research needs they have every day. When not at the library, she likes to read mystery novels and spend time with her dog, Penny.