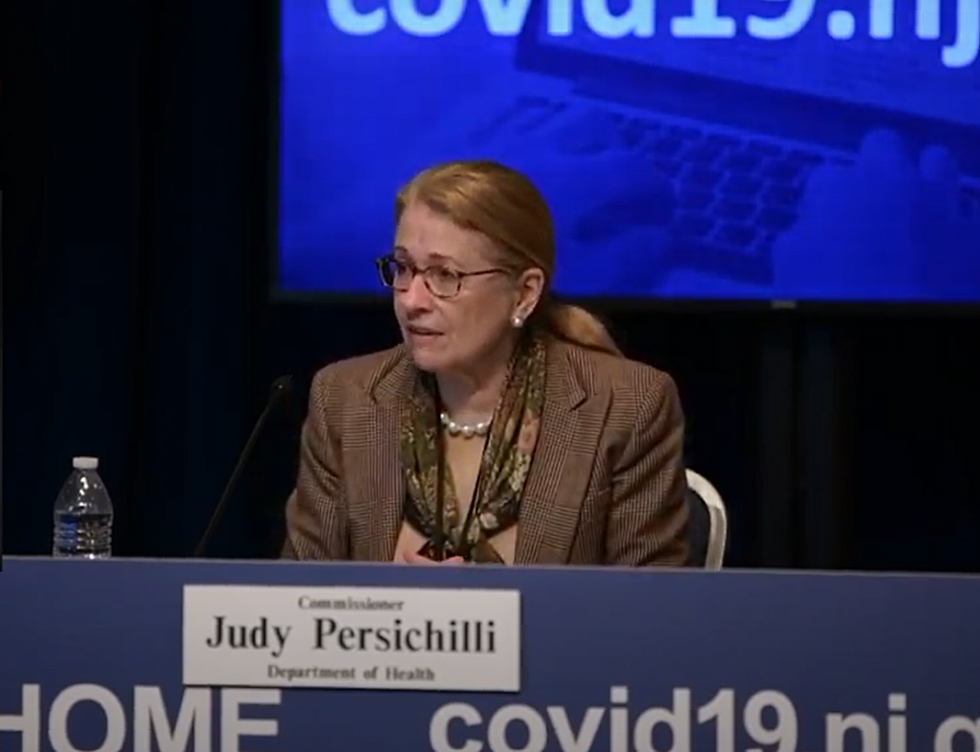 COVID-19: Essex County has highest number of deaths among New Jersey counties
COURTESY STATE OF NEW JERSEY Health Commissioner Judith Persichilli addresses the audience at a Tuesday, April 21 press briefing.
By ERIN ROLL
roll@montclairlocal.news
Essex County, while ranked third in New Jersey for the overall number of COVID-19 cases, now has the highest number of deaths for any New Jersey county.  Today, New Jersey officials also reported 379 new deaths throughout New Jersey, the highest number of deaths for any given day.
As of Tuesday, Essex County now has 849 recorded deaths, according to state data, followed by Bergen County with 835 deaths and Hudson County with 525.
As of Tuesday, Montclair was reporting 308 cases, an increase of five new cases reported on Monday. The number of fatalities has increased from 32 to 34.
On Tuesday as of 9 a.m., Essex County was reporting 231 new cases, down from the 425 reported on Monday and 398 on Sunday. The county is also reporting 96 additional deaths, which now totals 847.
New Jersey reported 3,643 new positive cases on Tuesday, up from the 3,528 new cases reported on Monday, bringing the state's total up to 92,387 positive cases.
Today's reporting of new deaths brings the state's total to 4,753. On Monday, the state reported 177 new deaths.
"While it is never abstract, these are human beings, these are precious lives,"  which Gov. Phil Murphy said was said of the number of deaths.
While the state had reported yesterday a decline in hospitalizations over the weekend, the number of people hospitalized, including the number of people in critical care, has risen between Sunday night and Monday night.
As of 10 p.m. Monday, 7,954 people were hospitalized with COVID-19, 1,930 of whom were in critical care. There were 1,501 ventilators in use. Additionally, 72 patients were at field hospitals, and 630 people were discharged. Additionally, 751 new patients were admitted to the hospital that day.
By comparison, 6,986 people were hospitalized on Sunday night, compared to the 7,495 on Saturday and 7,718 on Friday. There were 1,093 people in critical care on Sunday, down from 1,940 on Saturday and 2,024 on Friday.
Health Commissioner Judith Persichilli said 78 percent of critical care patients were on ventilators, which she said is the lowest percentage that has been seen in some time. By comparison, she said, last week that percentage was as high as 93 percent.
Persichilli said that nationwide, poison control hotlines have seen a 20 percent increase in calls resulting from exposure to household cleaning products and disinfectants.
New Jersey has released a county-by-county list of long-term care facilities and assisted living facilities that had reported at least one case of COVID-19.
New Jersey students who are facing hardships in paying student loans, and who weren't eligible under the CARES Act, are now eligible for assistance.
State Police Superintendent Pat Callahan said that many people were experiencing stress, anxiety and depression due to the outbreak. He encouraged those who were in need to call the New Jersey Mental Health Cares helpline at 866-202-HELP.
When the state does re-open, Murphy said, it will not be done all at once, but in stages. Additionally, he said, residents can expect a new normal, which will be different from what was done before the pandemic.
Regarding the re-opening of businesses and institutions, particularly schools, Murphy said the state would not do so unless absolutely assured, through scientific data, that it was safe to do so. And even then, he said, there might be additional measures taken, including requiring students or staff to wear face coverings, or reconfiguring classrooms. This was not just to protect students and staff, he said, but also to protect students' families and staff members' families.
Murphy added that he had heard from many families with high school students who were concerned about missing the last months of sports season, or of milestones like senior prom and graduation. "I get this. But we cannot rush this. We can't," Murphy said. He added, "Public health creates economic health. Public health creates educational health."