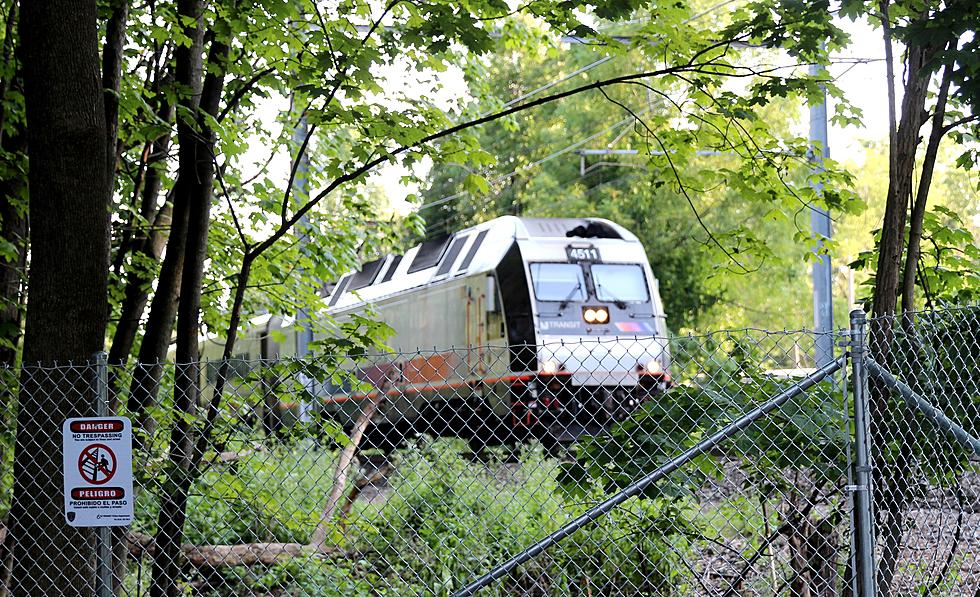 After fatalities, NJ Transit installs fencing near Watchung Avenue Station
ERIN ROLL/STAFF
A westbound NJ Transit train passes the end of Bruce Road. NJ Transit installed fencing and additional warning signs on Bruce Road and Appleton Place in the wake of recent fatalities on the Montclair-Boonton Line near Watchung Avenue Station.
By ERIN ROLL
roll@montclairlocal.news
In the wake of two train fatalities in Montclair in less than a year, NJ Transit has installed fencing and additional warning signs at the end of two streets near Watchung Station where the train accidents occurred. In June, barricades went up at Bruce Road and Appleton Place, where officials said accesses were used as shortcuts to get across the rails.
The fencing was erected at the request of Montclair Township officials, said a NJ Transit spokesperson.
Joan Juengling, a 28-year-old Montclair woman, died after being struck by a train in the early morning hours on Nov. 13, 2018.
On May 13, Stephen Korbel, a 53-year-old Montclair man, died after being struck by an eastbound train, also in the early morning hours.
Over the past 20 years, eight people have been hit by trains while on the tracks near Montclair train stations. Six of those people died, with five occurring at or near Watchung Avenue Station. The other occurred near Mountain Avenue Station.
Three of the fatalities occurred near milepost 13, which encompasses the area of track from just west of Watchung Avenue Station, according to NJ Transit records. With the other incidents, the exact milepost number near the Watchung station was not provided in the reports.
Two people were hit, but survived. In 2006, a woman survived being struck while walking on the trestle bridge near Watchung and this year a man was struck on Jerome Place.
Fatalities
In 2018, 19 people were killed by trains in New Jersey, according to the Federal Railroad Administration. Last year, Middlesex County had the single highest number of fatalities of any county, with five fatalities, followed by Bergen County with four. All but three of the fatalities were on NJ Transit property; the remaining three involved Amtrak and the Consolidated Rail Corporation.
In 2017, New Jersey recorded 12 fatalities, five of which were on NJ Transit property. The other fatalities involved Amtrak, SEPTA, CSX, the Southern New Jersey Light Rail System and Norfolk Southern. Four of the 12 fatalities occurred in Mercer County, followed by three in Middlesex County and two in Bergen County.
In 2016, New Jersey recorded 20 fatalities. Ten fatalities involved NJ Transit, followed by Amtrak with four. Middlesex County had the highest number of fatalities, four, followed by Essex County with three.
Of the five deaths near Watchung Avenue Station since 2002, one was ruled an accident, one was ruled undetermined, and the other three had the circumstances redacted in NJ Transit's records.
Tony Anastasopoulos, a 17-year-old Montclair High School student, died when an oncoming train knocked him off the Valley Road trestle bridge in July 2002. News reports at the time reported that he and a group of friends used the trestle as a shortcut, and that he was unable to get off the tracks in time after helping a friend get her foot unstuck from the tracks. NJ Transit ruled the student's death an accident.
Patricia Baker, a 51-year-old Livingston woman, died on the tracks on the evening of Jan. 5, 2015. NJ Transit records said she was lying on the tracks at milepost 13.21.
In the case of Juengling's death last year, NJ Transit records said she was lying on the tracks at an "undisclosed milepoint and covering her face."
According to reports, Korbel "ran up the embankment near milepost 13.23 and into the path of an oncoming eastbound train."
Eamonn Wholley, an 18-year-old Montclair High School student, died in May 2015 after he scaled an embankment near the Watchung Train Station and stepped onto the tracks as a train was pulling into the station, according to news reports at the time. Train crews told police that the student stepped deliberately onto the tracks and made no attempt to move as the train pulled in. NJ Transit however has the incident near Montclair Heights, which is two miles and four station stops north of Watchung Avenue. But media reports at the time, along with a notice from then-Superintendent Penny MacCormack, indicated that the student accessed the tracks at Watchung Avenue.
In one non-fatal incident at Watchung Avenue, in November 2006, a woman was injured as she was walking along the eastbound tracks on the trestle bridge overlooking Watchung Plaza and Park Street. The 51-year-old woman was struck in the buttocks by passing rail cars. This year's non-fatal accident occurred just after midnight, when a 15-year-old boy was struck and injured on Jerome PLace.
No access?
The Montclair Police Department did not return requests for information on where exactly the people involved in the train strikes may have accessed the tracks.
But the barricades were placed at Bruce Road and Appleton Place, both of which terminate in cul-de-sacs next to the tracks just west of Watchung Avenue Station at Milepost 13. NJ Transit crews, working with Montclair public works crews, began installing the fencing on June 18 and finished the following week, NJ Transit spokesperson Kate Thompson said.
At the end of Appleton Place, there is thick undergrowth, with narrow gaps that a person could possibly slip through prior to the installation of the fencing. At the end of Bruce Road, there was little to no brush between the street and the tracks and the track embankment is low.
"It's a matter of safety and an attempt to put an end to trespassing, or at least try to deter people from trespassing," said Township Communications Director Katya Wowk.
Areas with a point of easy access, should now be secured, Wowk added. "Even if it's a matter of kids walking the tracks, which sometimes kids do, because they're not aware of the danger."
At both locations, the fencing is connected to existing fences on residential properties facing the tracks.
At Watchung Avenue Station, some of the commuters waiting for trains on Sept. 5 had not witnessed any pedestrians trying to walk out onto the tracks near the station.
"I think [my children] would be too scared," said commuter Joseph Nicholson, in response to stories of high school students in years past using the tracks as a shortcut.
Michael Coelho, who recently moved to Montclair from New York, said if " there are spots that are vulnerable to people stumbling out onto the tracks, I think they definitely need to be looked at."
Montclair has been designated as a "Quiet Zone," which means trains may not sound their horns while traveling through Montclair, except for one short blast while approaching a station, or when required in an emergency.
According to NJ Transit documents, trains may not sound their horns between Milepost 15 and Milepost 11.9, which includes all of Montclair's train stations from Bay Street Station to Montclair Heights.
In 2015, NJ Transit began requiring train crews and railroad employees to report any signs of people walking on the tracks, so that law enforcement could respond.
Starting in 2013, NJ Transit began working with NJ Hopeline to increase outreach efforts at train stations for people who may be contemplating suicide. All train stations in the NJ Transit system, including all of Montclair's stations, have signage with the phone number for NJ Hopeline's 24-hour hotline number.
At the time of the announcement of the NJ Hopeline partnership, NJ Transit said that nine of the 11 pedestrian fatalities on NJ Transit tracks in 2011 were confirmed as suicides.
In recent months, NJ Transit has also embarked on partnerships with the Mental Health Association of Essex and Morris Counties, including on a public art project that went on display at Bay Street Station earlier this year.