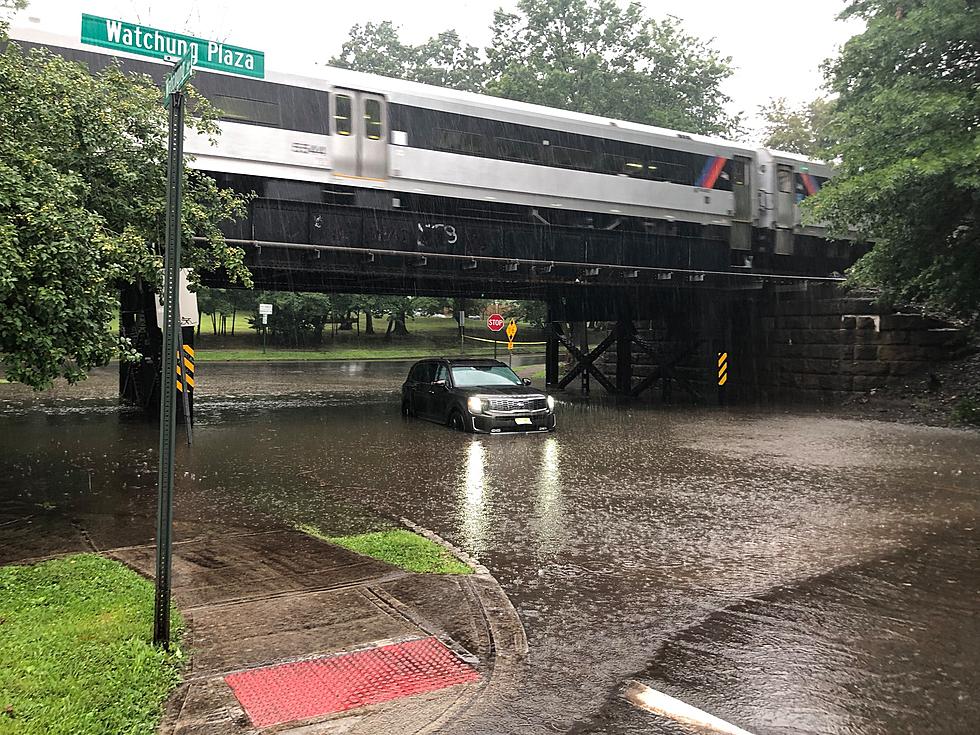 Flash flood watch in effect for areas including Essex County Monday and Tuesday
A vehicle was trapped in the floods by Watchung Plaza, under the NJ Transit overpass during a summer storm night. (COURTESY JOSHUA CRANDALL)
The National Weather Service has issued a Flash Flood Watch and Hazardous Weather Outlook for much of New Jersey, including Essex County.
Montclair Public Schools and Montclair Kimberley Academy additionally closed Tuesday because of the storm.
The watch is in effect from 8 p.m. Monday to 5 p.m. Tuesday for Atlantic, Bergen Burlington, Cape May, Essex, Hudson, Hunterdon, Mercer, Middlesex, Monmouth, Morris, Ocean, Passaic, Somerset, Sussex, Union and Warren Counties.
A gale watch is posted for the Raritan Bay, New York Harbor, Delaware Bay and Atlantic Coast waters Tuesday and Wednesday.
Heavy rain Monday and Tuesday may cause flooding in urban locations, low-lying areas, places with poor drainage, roadways and small waterways. Rainfall of 1 to 4 inches is possible statewide, with locally higher amounts possible.
Gov. Phil Murphy Monday declared a state of emergency effective at 8 p.m., in preparation for the storm. The state of emergency applies to all New Jersey counties and allows his administration to mobilize resources.
"The anticipated Nor'easter storm is forecasted to bring significant flash flooding, coastal flooding, and wind gusts across New Jersey," said Governor Murphy. "Residents should stay off the roads, remain vigilant, and follow all safety protocols."
During flash floods caused by Ida, tropical storm Henri and an earlier serious storm in July, Montclair saw roads shut down — locally and on nearby highways — and cars stuck in roadways.
Anyone in an emergency related to a storm should can  911 or the township's number for general assistance, 973-744-1400. Downed wires can be reported to PSE&G at 800-436-PSEG (7734), via the utility's mobile app or via the PSE&G website. Outages can be reported to the same number, by texting OUT to 4PSEG (47734) or on the utility's site as well.
Northern New Jersey residents can monitor U.S. National Weather Service information at weather.gov/okx. The state issues alerts and shares information on resources at ready.nj.gov.
Thunderstorms are possible Monday night. Winds may gust 20 mph to 45 mph Tuesday afternoon and Tuesday night.
— Includes information provided by Montclair Township